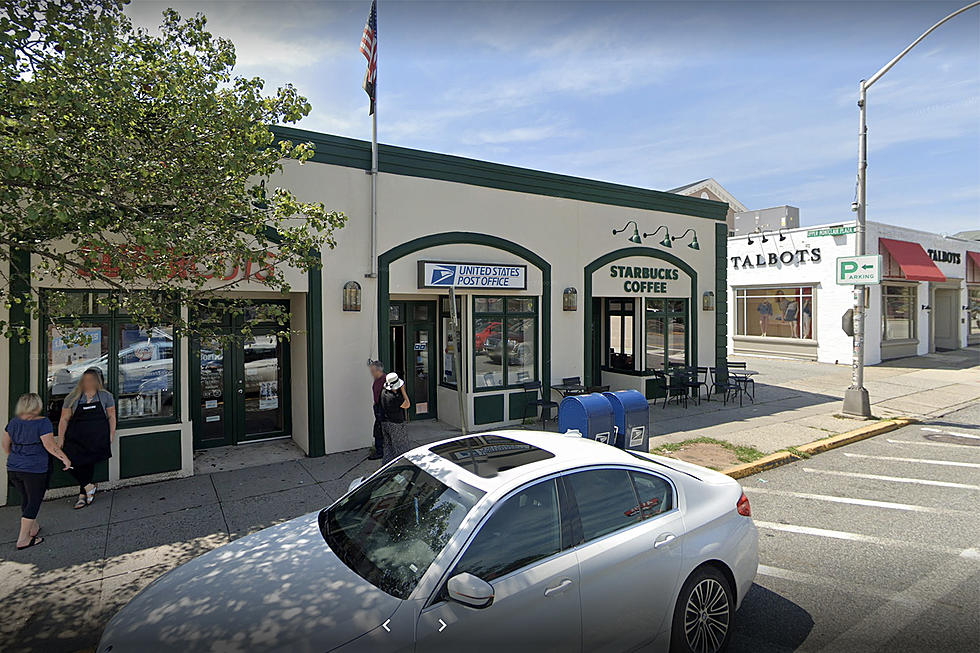 Montclair residents, businesses suffer fallout after checks stolen from USPS mailboxes
Two mailboxes are seen outside of Montclair's Valley Road post office. Authorities say they've seen several recent incidents of stolen checks, though they're not limited to any one location. (GOOGLE STREET VIEW)
By TALIA WIENER
wiener@montclairlocal.news
Montclair residents continue to see their checks stolen in the mail, with several saying they've been forced to open new accounts and navigate complex bank processes. Some business owners say the problem has left them struggling to pay employees and to make ends meet.
Reports of stolen mail started in October, and Montclair police continue to get daily reports of thefts, acting Lt. Terence Turner told Montclair Local Jan. 4. As of Tuesday, there had been more than 100 mail thefts in Montclair alone. Note: This article has been updated to include updated comments from Turner. 
"So yes, it is a continuing problem," he said.
The investigation remained "very active," conducted both by Montclair and Verona Police, with the help of the United States Postal Inspection Service, he said. 
The U.S. Postal Inspection Service doesn't confirm or comment on ongoing investigations, spokesman Greg Kliemisch said.
Reports aren't limited to the area in and around Montclair. In Philadelphia, the postal service said it was "aggressively investigating" similar crimes, with checks being stolen from post office collection boxes, and a few arrests had been made in that area, the Philadelphia Inquirer reports. Three New Jersey people have been arrested in connection with alleged thefts in Bethlehem Township, Pennsylvania, according to lehighvalleylive.com. In those cases, authorities say checks weren't just taken, but "washed," with the amounts for payments replaced.
And in early December, Parrish Brookins, 29, of East Orange, was charged with one count of mail theft by a Postal Service officer or employee. He's accused of stealing stimulus checks from his routes in Verona, and credit cards from routes both in Verona and Montclair. If convicted, he could face up to five years in prison and up to a $25,000 fine. But Turner said that arrest was unrelated to the ongoing issues.
A $2,200 check meant to an ensemble of actors for a recent performance at West Orange theater Luna Stage was stolen in November, artistic director Ari Laura Kreith said. The check, dropped off outside the Valley Road post office in Upper Montclair, was cashed for the original amount but to an unknown individual, Kreith said. 
When the check was stolen, Luna Stage was also waiting to receive funds from a U.S. Small Business Association Shuttered Venue Operators Grant. The theater company froze the account, but didn't close it, worried shutting it down entirely could complicate the process of receiving the grant, Kreith said. 
"We have so many staff members and artists who are dependent on their paychecks," Kreith said. "The trickle down of hardship to so many people was really, really disheartening."
But eliminating checks from the payment process at Luna Stage is complicated, she said. With artists constantly coming and going as productions cycle through, electronic payments don't always make sense, Kreith said.
"With a company like ours, where we work with artists, unions, and all of these things, there's just such a complicated process for every check," Kreith said. "And when somebody is doing a quick one-week project, it sort of seems kind of unsustainable, although maybe it's what we ultimately have to do."
Total Workout fitness studio owner Regina Griffith sent a check for $1,000 Dec. 2 to one of the studio's instructors, but the check was cashed in for $9,560 to someone else, she said. Griffith also dropped the check off outside the Valley Road post office.
Almost a month later, Griffith said she is still working with her bank, Chase Bank Montclair, to get the matter settled. 
As a small business, The Total Workout does not have a large cushion for expenses, Griffith said. And while waiting for the stolen money to be refunded, Griffith has had to pay her studio rent late, something she doesn't typically do, she said. 
"There are bigger problems, but I really am very discouraged by humanity," Griffith said. 
And heading into the new year still working out the refund is not what she had in mind, she said. 
"I'm not going to do this forever, but I'm also proud that I've got a bunch of people in their 50s, 60s and 70s that are taking fitness really seriously," Griffith said. "And therefore to have this be one of the things that makes you shrug and think, 'Is it worth going on?' — it's sort of a downer." 
Griffith said she is also disappointed with how Chase Bank Montclair has handled the matter. Some days she is told her case is being escalated and will be taken care of immediately but other days she is told the correct paperwork is still missing, she said. 
"I've been told many different things that don't all jive," Griffith said. "I figured the squeaky wheel gets the grease, but it doesn't seem to be that way."
A representative from Chase Bank Montclair declined to comment for this story. 
Resident Donna Kueken-Dombrowski said she has also been going back and forth with Chase Bank Montclair after two of her checks were stolen, rewritten and cashed in for nearly $20,000. 
When Kueken-Dombrowski received notice from Verizon that her service would be shut off after not paying two months of bills, she realized something was wrong, she said. She had sent out checks paying her phone bill, dropping them off in the post box in front of the Valley Road office. 
"It's mind boggling to think that we're so vulnerable to theft," Kueken-Dombrowski said. 
Kueken-Dombrowski was originally told it would take three to five days for the money to return to her account, she said. But a month later, she has had to borrow from her mother to pay her bills, while she waits for the refund, she said.
"There is no sign of any money coming back to my husband and I," Kueken-Dombrowski said. "Shame on Chase Bank."
For Montclair resident Janice Amatucci, a Nov. 18 check written for $250 to a contractor turned into a $7,800 check dated Dec. 1, made out to an individual she had never heard of, she said. The check was also mailed from outside the Valley Road post office.
Amatucci was looking through her online bank statements on Christmas Eve when she noticed the charge. 
"I had heard about the white washing before, so as soon as I saw this, I knew immediately what had happened," Amatucci said. 
Amatucci worked with her bank, TD Bank Montclair, to make a list of all her outstanding checks and create a new account. 
"They said it would probably take a long time in order for all this to be fixed because they're inundated with these," Amatucci said. "[A bank employee] said they get about three a week, and he says it has been going on for quite a while."
The bank told Amatucci not to send any checks in the Montclair area, she said. 
A representative from TD Bank Montclair declined to comment for this story. 
Incidents of stolen mail should be reported to a hotline set up with the Postal Inspectors Office, at 877-876-2455.