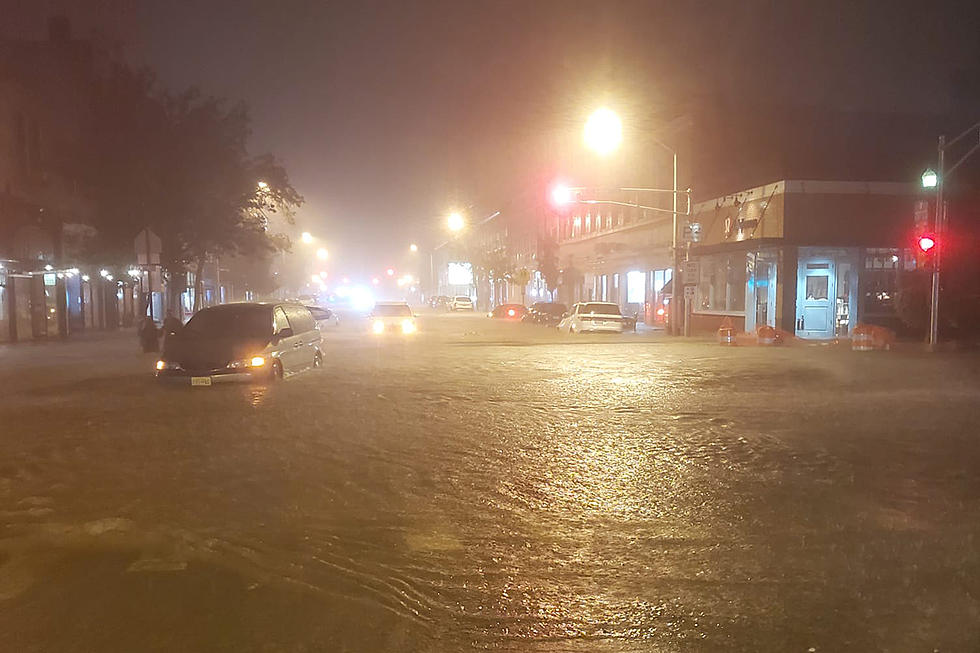 Montclair residents can now apply for FEMA funds
Aminah Toler took this photo of Bloomfield Avenue and Park Street in Wednesday night's serious storm, as the remnants of Ida moved through the Montclair Area.
By JAIMIE JULIA WINTERS
winters@montclairlocal.news
Essex County residents and businesses can now apply for Federal Emergency Management Agency aid for damage caused by Ida, the storm that brought floods and devastation to the area on Sept. 1. 
Mayor Sean Spiller and Councilman Peter Yacobellis on Friday were at a gun violence prevention event with Gov. Phil Murphy when he confirmed that Essex County had been approved for inclusion in a FEMA major disaster declaration.
On Sunday, Sept. 5, President Joe Biden approved such a declaration for six New Jersey Counties — Bergen, Gloucester, Hunterdon, Middlesex, Passaic and Somerset — making FEMA funds available to residents and businesses hard-hit by Ida's floodwaters in those areas. 
At the time, Spiller said in a statement to the media that Essex County being passed over left him "shocked and angry." But he and other officials said they hoped an updated declaration would include Essex County.
That came Friday, in a decision that also included Hudson, Mercer and Union Counties, Murphy said on Twitter. 
The day after the major disaster declaration was first issued by the governor, FEMA representatives were in Essex County surveying the damage, county spokesperson Anthony Puglisi said. They've also surveyed Burlington, Monmouth, Warren and Morris counties, which as of Friday were still awaiting a decision on aid. 
"This is something our colleagues and all of us have been advocating for, for the last nine days. We are living from crisis to crisis and with our community still reeling from the effects of COVID-19, we desperately needed this win," Yacobellis said in a statement issued on Friday.
On Friday, Spiller said thanks to Essex County's "collective advocacy, along with County Executive Joseph N DiVincenzo Jr. and Gov. Phil Murphy, we have been successful in qualifying Essex County and all those who have been devastated in Montclair to be eligible for FEMA relief funding."
On Wednesday, Sept. 8, U.S. Rep. Mikie Sherrill (NJ-11) tweeted that FEMA had finished an assessment study and submitted a recommendation for Essex County to be included in the disaster declaration. 
"Essex was hit hard with severe flooding, countless injuries, and four tragic deaths. We desperately need this federal aid, which is why Donald M. Payne Jr. and I are advocating so strongly," she wrote.
In a statement issued Friday, DiVincenzo Jr. described Essex County as "one of the hardest hit areas." The storm, he said, "with her unprecedented rainfall and flooding, upended the lives of our families and devastated our local businesses.
"Becoming eligible for disaster relief is welcome news for those who have been salvaging what they can, working to clean up and preparing to rebuild. I appreciate FEMA sending their team to survey the damage throughout Essex and see the areas affected by the storm."
Essex County residents can now register for relief at disasterassistance.gov. Applicants can register for assistance for home repairs and temporary housing and apply for low-cost loans. Homeowners will need their insurance companies' denials of coverage to complete applications.
"The boundaries of flooding have been altered as a result of more intense storms from climate change and some poor regional development decisions that compromised or didn't concern [themselves] enough with ground permeability, causing more stormwater runoff than ever before," Yacobellis said. "These issues need to be looked at both holistically and long term so that we're designing a future where impacts aren't so devastating."
The day after the storm, Biden had also issued a separate emergency declaration for all New Jersey counties, making some assistance available to local governments.
Other aid