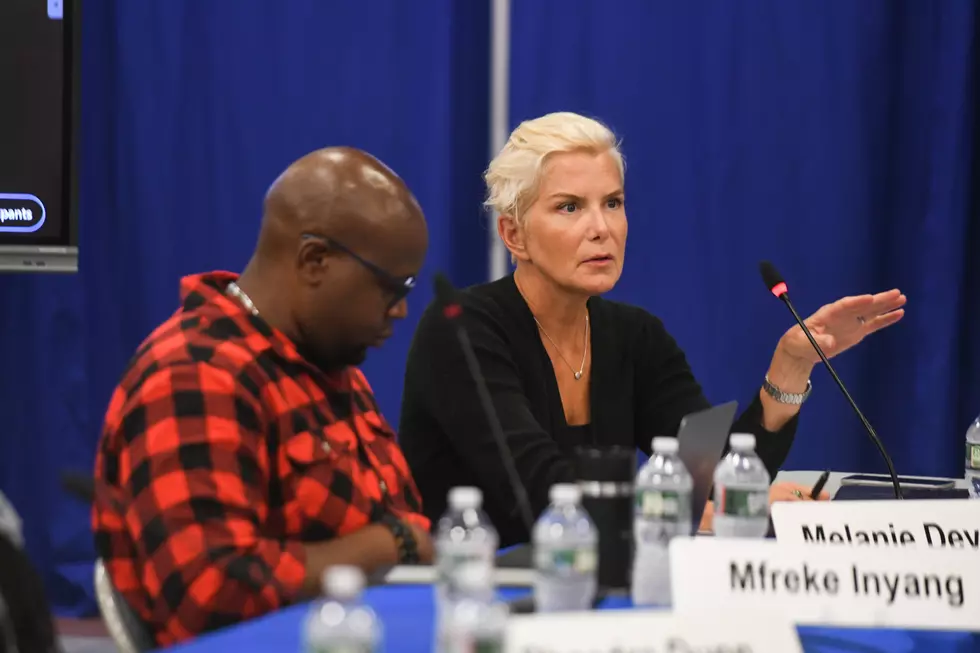 Montclair school board eliminates board member comment period
Monk Inyang, left, and Melanie Deysher. (KATE ALBRIGHT/FOR MONTCLAIR LOCAL)
The Montclair Board of Education has eliminated board comments — the opportunity after public comment for each board member to share their thoughts and respond to the public, absent a time limit. 
During the 2021-22 school year, the average length of board comments at public meetings was 31 minutes.
Instead of individual board members speaking, the board designated board president Latifah Jannah to make comments on behalf of all members. 
The change, introduced by board member Melanie Deysher, was inspired by conversations she and fellow board member Phaedra Dunn had with community members while campaigning for their board seats last year. People frequently asked them to "please do something about board comments," Deysher said at the board's Sept. 7 meeting. 
"While it's nice to feel like we have an opportunity to be heard, the public doesn't always see it as a valuable part of the meeting," Deysher said. "And it adds quite a bit of time to the meeting."
Deysher pointed to board policy to support the elimination of the comment period — all public statements "in the name of the Montclair Board of Education" are to be made by the board president or the superintendent, she said. While board members are "entitled to express themselves publicly on any matter," they cannot "express a position of the board except as expressly authorized." Board members should not be saying anything that reflected poorly on the district, she said, citing the board's code of ethics. 
"I think our problem has become that by the very nature of that we're sitting in the seats, even if I'm expressing an opinion as an individual, it appears that I am expressing the opinion of the board," Deysher said. "And that might not be the case, and I think we can run into trouble."
She recommended that Jannah be designated to comment on behalf of the whole board. 
While attending a recent New Jersey School Boards Association event, Deysher learned that none of the other districts represented at the event set aside time for board comments. She has not yet responded to an email sent Friday asking how many districts were at the event. 
Deysher said she has had concerns about this for a long time and "for the sake of the efficiency of meetings" the board needs to make a change. 
Board member Kathryn Weller-Demming agreed that the board comments should not be taking up so much of the meeting time. 
"Nobody wants to really hear what we think," Weller-Demming said. "Members of the public should not be sitting around waiting through hours of an agenda when they are by definition here because they have children to take care of." 
The longest board comment period during the 2021-22 school year, 113 minutes, was at the board's May 16 meeting, after district officials announced 83 nonrenewal notices were issued to staff as part of an effort to stabilize the staff size and head off substantial nonrenewals in years to come.
While not every board member needs to speak, it's important that some type of response from the board is shared, board members said at the Sept. 7 meeting.
Board members Eric Scherzer and Allison Silverstein said they wanted to praise student performances during their comment period but felt conflicted about the amount of time it takes. 
"I just say things I feel compelled to say, but we all need to get to the business and get to the point," Silverstein said. 
Designating one person to dole out the praise would help the board meeting process, Scherzer said.
"I sit here oftentimes and want to say something about a performance and don't because I say a lot of things about other things," Scherzer said.  
The board comment period also serves another purpose for the board members, vice president Priscilla Church said — a time to defend themselves and their actions. And cutting down on comments may make the community feel that the board is not being transparent, she said. 
"I'm just curious to see if we try it for the fall, which I'm in favor of, if we're going to get criticized for not communicating because we have been criticized for not communicating," Church said. "I think that the comments have been expanded because we've been criticized."
But by trying out the new policy, the board will have a chance to see how the community feels about it, and they can always change it back, Church said. 
The resolution passed, 6-3, despite unanimous support for the change. Church, Scherzer and Weller-Demming voted against it, arguing that the resolution process was not being correctly followed.