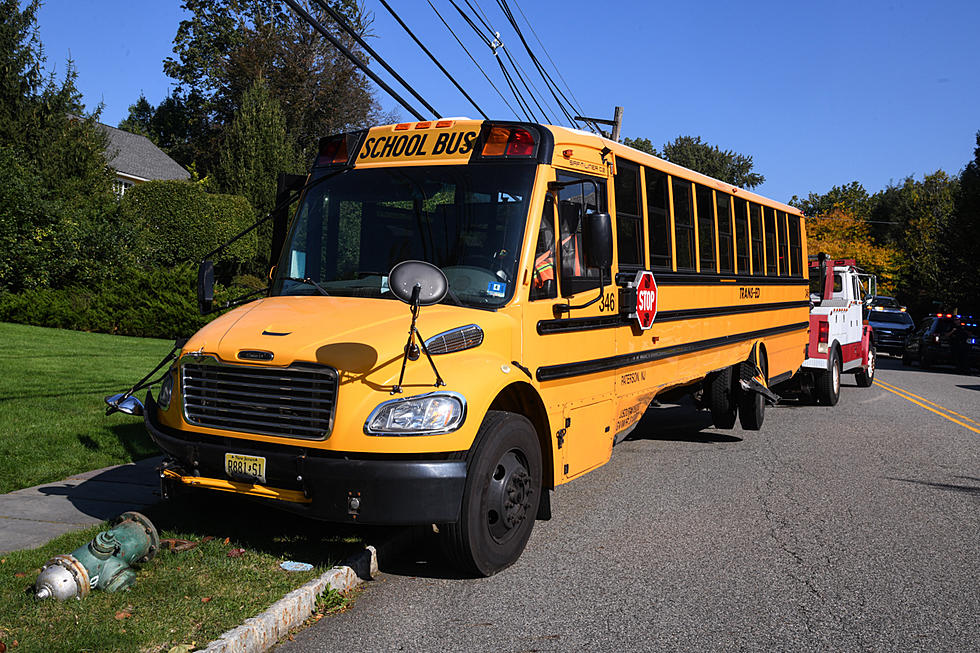 Montclair school bus crashes — all students are OK, police say
A school bus struck a fire hydrant, a tree and a utility pole on Oct. 15. Fifteen children, a bus driver and aide were on their way to Hillside Elementary School. (KATE ALBRIGHT / FOR MONTCLAIR LOCAL)
By KATE ALBRIGHT and DIEGO JESUS BARTESAGHI MENA
bartesaghi@montclairlocal.news
UPDATE, 3:30 p.m.: A new story has been posted with further details about this crash. Police say it happened after an SUV's driver entered an intersection as a Montclair school bus was driving through.
A bus full of Montclair students was involved in a crash on Park Street Friday morning.
The accident was reported at 9:06 a.m. at the intersection of Park Street and Wildwood Avenue, and involved both the bus and a passenger vehicle, Montclair Police Sgt. Terence Turner said. The bus had been on the way to Hillside Elementary School.
Turner said there were 15 children and four adults involved in the crash.
The bus struck a utility pole and a fire hydrant, he said. As of 10:20 a.m., when Turner sent a message to media, there were no serious injuries reported, he said.
The driver of the bus was taken to a hospital with non-life threatening injuries, and no injuries were reported by students, he said. Schools superintendent Jonathan Ponds, in a later message sent to media and families, said the bus aide was taken to the hospital as well.
No children were taken to the hospital by ambulance, but some families had told the district they'd be taking their children to doctors for follow-up, Ponds said. Everyone who needed medical attention on-site got it from first-responders and caregivers were notified, he said. Nurses and administrators from Hillside were on site as well to assist, he said.
"We are appreciative of the quick response of the Montclair Police and Fire Departments, emergency responders, [district] transportation department, Hillside nurse and administrators, district administration, and especially the safety measures taken by the bus driver," Ponds said. "We will be following up with our families throughout the day."
His message didn't clarify what those safety measures entailed.
Matthew Frankel, a parent of one of the students on the bus as well as a member of Montclair Local's governing board, was at the scene briefly to pick up his child. He saw the bus pushed up onto a sidewalk, with significant damage to its side, and a utility pole behind it had been partially knocked down.
Neighbor Joseph Zolnowski, who helped out at the scene, said the kids were "anywhere from fairly calm to pretty panicked.
"When I got to the end of the driveway I could hear them [the passengers] saying, 'Let us out. Help us out. There's glass,'" he said.
Zolnowski and another neighbor helped the children get out of the bus through two broken doors.
Another neighbor gathered the children in her driveway as parents began showing up to the scene, he said.
"Parents were coming down. And you could tell they are parents because of the looks on their faces. They were just so upset and hugging their children," neighbor Tammy Zolnowski said.
Lyle Landon, who lives down the street, said that it looked like the SUV T-boned the school bus, which jumped the curb.
She said drivers often speed through the neighborhood.
Several emergency personnel were on the scene, and children were in two lines, being evaluated.
"Thank goodness the children didn't get hurt," Karen Caso, who lives on Valley Avenue, said.
In his email, Ponds thanked the Montclair Police and Fire Departments, Emergency Responders, MPS Transportation Department, Hillside nurse and administrators and district Administration, for their quick response. He also thanked the bus driver for the safety measures taken.
"We will be following up with our families throughout the day," Ponds said.
This post will be updated frequently as more information becomes available.
— Louis C. Hochman and Jaimie Julia Winters contributed to this report.