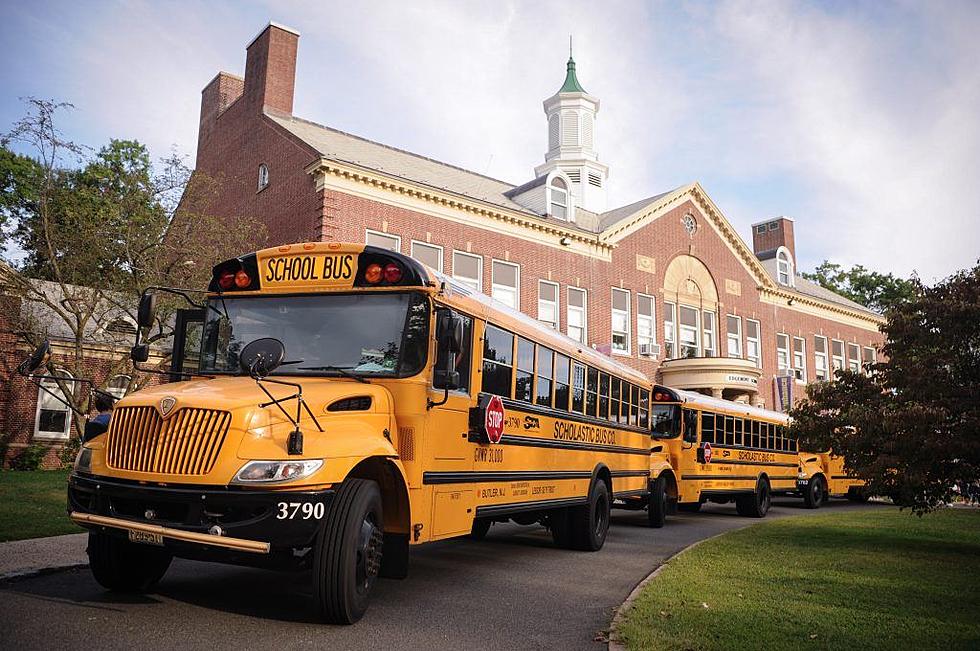 How Montclair school buses stack up for safety
Montclair uses a fleet of 90 buses to get students to and from school everyday. KATE ALBRIGHT/ FOR MONTCLAIR LOCAL
BY JAIMIE JULIA WINTERS
winters@montclairlocal.news
It takes 90 buses a day, $7 million a year and 180 safety inspections to get students to school by bus each day in Montclair.
The district contracts with Essex Regional Educational Services Commission for its busing services. The commission provides the buses through 25 bus companies, according to school business administrator Emidio D'Andrea.
"ERESC works closely with transportation providers to ensure student safety, that all vehicles are properly equipped/insured/and compliant with New Jersey State regulations, and that all drivers and aides carry proper required credentials," according to its web site.
All public school students in grades K-8 who live more than two miles from their school and all public secondary school students (grades 9-12) who live more than 2.5 miles from their school are entitled to transportation.
The district only owns three buses, which are primarily used for extra-curricular activities and to bus children with special needs, said D'Andrea. 
All vehicles registered for school transportation are inspected twice a year on a six-month cycle through the New Jersey Motor Vehicles Commission. Unannounced inspections are also performed monthly as part of the Governor's School Bus Safety Task Force. The inspections take about 45 minutes and cover a 180-point checklist, according to Motor Vehicle Commission officials. New Jersey requires buses to have a lifespan of no more than 15 years. Transit-style buses weighing 25,000 pounds may be used for up to 20 years.
After a student and a teacher from Paramus were killed in a bus crash on Route 80 last year, laws were created to increase school bus safety, including equipping buses with shoulder-strap seat belts and upgraded required safety education training for drivers.
Since 1992, New Jersey has required that all newly purchased buses have lap seat belts. Last year, Gov. Phil Murphy signed a law requiring new school buses to have lap and shoulder seat belts or a "three-point seat belt." Depending on the age of the vehicle, all buses will now either have lap seat belts or three-point seat belts.
There's a 50 percent inspection failure rate on schools buses in New Jersey, said Motor Vehicle Commission chief administrator Sue Fulton. A failed inspection results in the bus being pulled out of service until repairs can be made.
That high rate can be attributed to New Jersey implementing one of the most rigorous inspection processes in the country, Fulton said. The MVC's School Bus Inspection Unit inspects approximately 24,000 buses twice a year.
Parents can see the latest School Bus Inspection Reports, which provides the latest inspection results for vehicles registered for school transportation, on New Jersey's Motor Vehicle Commission website. By plugging in the company's name, a report will appear that gives a statistical summary for that company, including the percentage of buses that failed their initial inspection and were put out of service. 
The number does not include all buses that the company may own, only the current number of buses inspected. It will also show a license plate number, bus number, inspection date, initial approval, re-exam approval and approval number or sticker number.
The inspections result in one of three categorizations: "Out of service rejections," for buses that failed inspections and were taken off the road until repairs were made; "30-day defect," which means the bus failed inspection, but was allowed to be used and given 30 days to make repairs; or "initial approvals," meaning the bus passed. 
A bus could be pulled off the street for door malfunctions or brake failures, while lack of cleanliness could rate the bus with a 30-day defect.
According to district officials, the 25 bus companies transporting Montclair students are as follows: 
Rider Transportation, Student Transportation of American/ Scholastic, Eden Transportation, American Star, SIS Transportation, Eastern Star, DDJM, Jersey Kids, Mid Atlantic Transportation, Prestige Xpress, Narine Transportation, Elbanna Bus, Safety Transportation, Kris Transport, Baraka Transit, Safeguard Transportation, FYFA Transit, K & H Transport, EmpireTransportation, NJ Transport, Kennedy Transportation, Carelink Transportation, Horizon Link, Maya Link and Trans Ed Transportation.
In the most recent inspections of the above companies, with inspections being rotated from April through September, nine of the 25 companies were at or above the state's average of 50 percent in initial failure rate, which means those buses were pulled off the street until repairs were made. Ten companies had 50 percent or more of their fleets pass first inspections.
​ERESC works with transportation providers to track driver and bus aide's credentials. ERESC requires all transportation providers to continuously update their annual certification of school for bus drivers and aides as required by state law. ERESC also provides a yearly on-site training to transportation partners, to discuss safety and effective transportation protocols/procedures and provides key speakers to discuss relevant topics such as "Bullying on the Bus" and "Managing Students with Autism on the bus."
All transportation providers are required to be covered under a $3 million liability insurance policy.
One of the three buses owned by the Montclair school district was pulled off the road for door malfunctions following its most recent inspection, an issue that has since been fixed. A second bus was given a "30-day defect" categorization for cleanliness, while the third passed initial inspection.
The Montclair Police Department has launched a school bus safety initiative, aggressively ticketing drivers that don't stop for school buses or go around stopped school buses. One officer was issuing as many as three to four summonses each morning during a two-hour period — an average of one car per 30 minutes.
From November of last year through May, officers issued a total of 175 tickets for illegally passing a school bus. Those fines, which police said were mainly garnered by Montclair residents, include a $250 fine and a court appearance. 
Applegate Farm will be hosting several educational events during September and October with the purpose of educating drivers about the dangers of passing a stopped school bus with its red lights activated. Officers will be at Applegate on Saturday, Sept. 28 and Saturday, Oct. 19, from 11 a.m. to 2 p.m., handing out literature on the dangers and consequences of passing a stopped school bus.