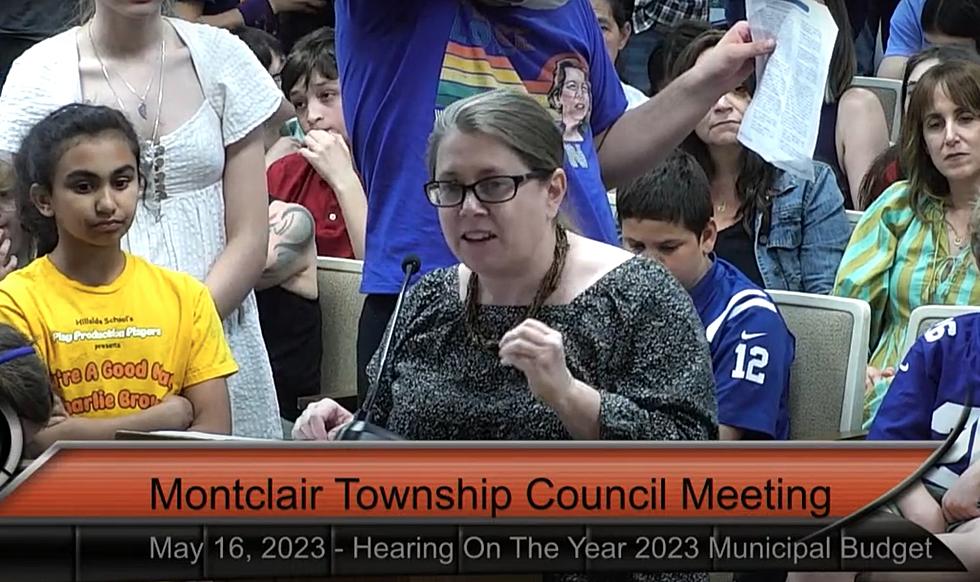 Montclair school advocates plead with council for funding
Allison Silverstein, Montclair Board of Education president.
(MONTCLAIR TOWNSHIP YOUTUBE)
Montclair school district supporters are asking the Township Council to provide schools with additional money, after the 2023-24 district budget season highlighted the failures of public school funding. 
School advocates want the district to get a cut of payments in lieu of taxes, or PILOTs, that the township receives from developers, hoping that money could help the district make up for growing deficits. They pointed to other towns – Cedar Grove and Princeton – that are in the process of sharing PILOT funds with the school district. The school district could use the money to lower its own tax levy or to fund specific projects.
Some council members were on board with sharing PILOT funds, while others offered up different solutions or remained silent. But the council voted unanimously to pass its budget as it was presented, without additional money going to the school district.
At the Tuesday council meeting, students, parents and district supporters packed the council chambers and also asked councilors to think creatively and work collaboratively to save Montclair schools, the magnet program and the reputation of education in town.
The school district can increase its tax levy by only 2% each year, and with relatively stagnant state funding and costs that increase each year at a rate beyond 2%, the deficit continues to grow. 
To balance a $5.5 million deficit in the 2023-24 budget, the Montclair school district cut 31 teaching positions – 22 certificated teachers and nine positions through attrition – along with 34 paraprofessionals employed by the district. The district will also not renew a contract that provided an additional 39 paraprofessionals during the 2022-23 school year.
With 61% of the district budget allocated to salaries, and raises set to rise 3% each year, with growing healthcare and transportation costs, and inflation, the district is in a "terrible situation," PTA Council President Tessie Thomas said at the council meeting.
"Year after year, we are faced with having to reduce the number of teachers and or cutting down education programs," Thomas said. "After a while this will unavoidably result in a decrease in the standard of education being provided."
Thomas urged the council members to revisit the percentage of overall taxes given to schools – 57% of property taxes in Montclair go to the district – as well as how PILOT-generated funds are spent. 
"We are at the no-stone-unturned moment where everything needs to be looked at with an open mind," Thomas said.
Allison Silverstein, Montclair Board of Education president, echoed Thomas' ask. Silverstein said she was "heartbroken" listening to students lament the losses of their teachers and did not want them to lose any more.
"Our money that we bring in does not increase at a rate that can equal the money that we need to pay out," Silverstein said. "Maybe there's a way, some way, you can find something to give the schools."
Parents, students and residents added to Thomas' and Silverstein's pleas in a hearing that went on for more than three hours.
Hillside School student Nicholas, 11, said he has already seen "too many teachers be fired."
"So many programs in so many schools in Montclair have been deprived of their teachers because the PILOT money does not go to the schools," Nicholas said. "This is ridiculous. I implore you council, give PILOT money to schools, even if it is a tiny amount."
Throughout the meeting, council members weighed in with their thoughts on giving PILOT money to the school district. 
"When we're sending kids to the schools as a result of new residential development," the PILOT funds should go to the school district, Councilor-at-Large Peter Yacobellis said at the meeting.
Councilor-at-Large Bob Russo also said that PILOT funds should be used to support those who need it, with funds from senior housing developments going to seniors in town, and all other PILOT funds going into the district.
"I want to see all the money that we can possibly get from any PILOTS or any source to go just to the Montclair schools," Russo said.
The township currently uses PILOT funds to reduce the township's tax levy, Bob Benecke, Montclair's financial consultant, said at the meeting.
"If we were to provide money to the schools through the township budget, we would have to raise taxes," Benecke said.
A referendum – similar to the district's November referendum for $187.7 million to upgrade and repair schools – would be the only way to ensure additional, year-over-year money going into the district  budget, Benecke said.
"The referendum seems to be the way to solve this once and for all," he said.
Mayor Sean Spiller, who also serves as president of the New Jersey Education Association, did not vocalize support for shared PILOT funds, instead saying that the only way to increase the district fund pool would be going to a referendum, with possible stopgap funding from the township, if necessary, in the meantime.
Fourth Ward Councilor David Cummings said he did not support raising taxes in Montclair, wary of the effect it would have on low-income and senior residents. Higher taxes are "possibly impacting what we say is very important to this town – diversity and affordability," Cummings said. 
Cummings discussed the possibility of cutting other parts of the township budget to free up funds for the district, but he also pointed to the district's pattern in years past – nonrenewals issued in May with those same staff members being hired back in the summer. 
Last spring, the district had to resolve a $3 million budget deficit, and the district issued 83 nonrenewal letters to district staff – 48 to paraprofessionals and 35 to teachers. By fall 2023, every teacher issued a nonrenewal notice had received a new offer from the district, but many had already accepted jobs elsewhere.
"They really don't know how much they will need, if they will need anything at all," Cummings said. "This is a conversation that really should come around July after the school district has its funding and they know how many positions they will either be able to bring back or they truly have to eliminate."
But even come summer, Cummings said he would remain cautious of giving the money – the district "has not really shown any ability to basically handle its finances," he said.
"If we're going to give them money, we have to make sure that that money is going to be spent wisely," Cummings said.
Second Ward Councilor Robin Schlager offered up alternative funding ideas, used before in the district, like raising revenue from filming commercials or movies on school district property or holding large fundraising events. Schlager works as a secretary in the district's Operations and School Support Services office.
Third Ward Councilor Lori Price Abrams said Monday that the council was just hearing about the budget concerns and desire for shared PILOTs – "this is breaking news to everybody," she said.
"We haven't had time to figure out how we can help solve this problem," Price Abrams said. "And we certainly can't solve it right this moment, but we're listening."
Deputy Mayor Bill Hurlock did not comment on the matter.
During the meeting, neither council members nor township staff provided a statutory reason that PILOT funds cannot be given to schools, parent David Folkenflik said. 
"It seems to me the absence of a requirement is not equal to the requirement that that be absent," Folkenflik said. 
And without the PILOT or other funds from the township, the schools, their arts programs and all that makes Montclair schools special, stands to be lost, he said. 
"There's a danger that we will demagnetize the magic of these schools," Folkenflik said. "What makes Montclair distinctive and stand out is not that it is in many pockets wealthy, but that it is in all ways or tries to be a community that nurtures the interests of the people within it."
Pointing to the residents at the meeting, along with the more than 1,500 who signed a Change.org petition advocating for shared PILOT funds, resident Deirdre Birmingham asked the council members to work in the best interest of their taxpayers. 
"We are telling you here tonight, all of us, that the status quo is no longer okay," Birmingham said. "Our schools are bleeding."