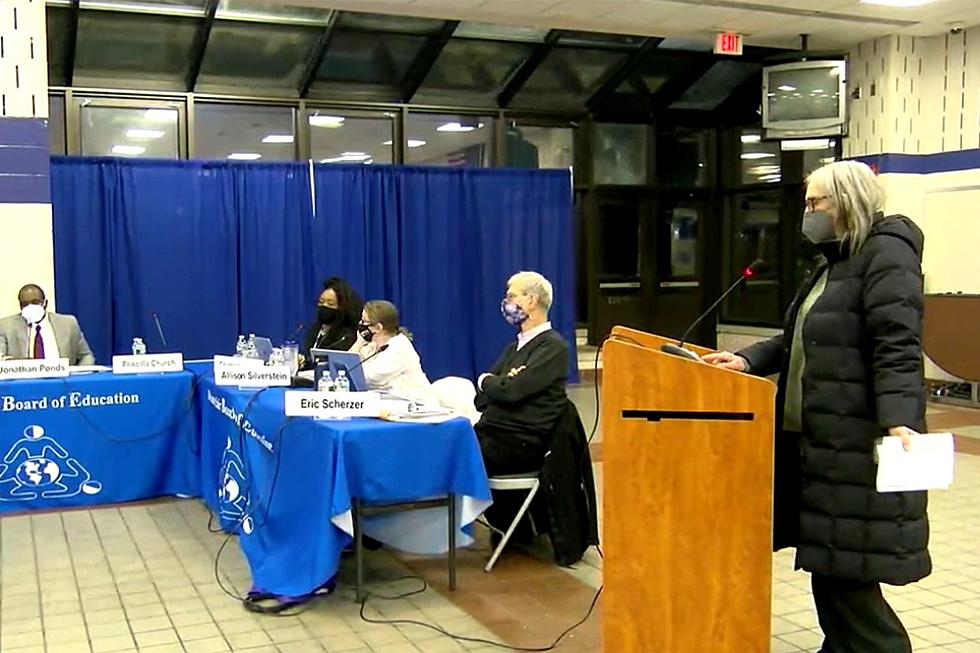 Montclair school nurse: It's 'mind-boggling' we don't have supervisor in pandemic
The Montclair school district has gone without a nursing supervisor this school year, and district nurses are suffering because of it, Renaissance at Rand Middle School nurse Jerilyn Mullen said Dec. 1 at a Montclair Board of Education meeting. Mullen is seen here addressing board members and Superintendent Jonathan Ponds. (SCREENSHOT FROM BOARD OF EDUCATION MEETING)
By TALIA WIENER
wiener@montclairlocal.news
Montclair Public Schools have gone without a nursing supervisor this school year, and some district nurses say their mental and physical health are suffering because of it.
"Along with our building administrators, school physician and the health department, the Montclair school nurses are the linchpins in keeping COVID-19 at bay in our district," Renaissance at Rand Middle School nurse Jerilyn Mullen told the Montclair Board of Education meeting at its meeting Wednesday, Dec. 1. Mullen was the only nurse to speak directly to the board on the matter at the meeting, but three others stood alongside her as she did, in support.
Mullen has not yet responded to an email sent to her district address the following morning with questions about her comments at the board meeting.
The previous nursing supervisor, Betty Strauss, submitted her letter of retirement in February, Mullen said. The job, which Mullen said has been in the district since 1973, was posted to the district's hiring page on July 22.
"To allow it to lapse in the middle of a pandemic is mind-boggling," Mullen said Wednesday. 
The job posting went up "many months after our nurses who expressed interest in the job had given up hope that our district-level administrators were serious about filling the position," Mullen said. 
Current district nurses had been interested in the supervisor position when Strauss submitted her retirement letter, with the understanding that Strauss would be around to assist in the transition and serve as a mentor for the new supervisor, Mullen said. But she said now that Strauss has been gone for months, none of the nurses want to take on the responsibility without guidance. 
Director of Personnel Damen Cooper was listening to the board meeting virtually and would reach out to the nurses, Superintendent Jonathan Ponds said after Mullen's comments. Ponds has not yet responded to an email sent to his district address the morning of Dec. 2 with questions about the open position and Mullen's comments. 
Montclair Board of Education member Crystal Hopkins asked that senior district nurses interested in the position reach out to Cooper as soon as possible. 
"We're coming back from holiday, we have a new variant, several things are happening," Hopkins said at the board meeting. "To not have someone at the helm of this right now is absolutely chaotic and dangerous." 
Montclair nurses who were stretched thin before the COVID-19 pandemic are now overwhelmed and close to a breaking point, Mullen said at the meeting. The nurses have continued to do their usual duties — caring for students with asthma, life threatening allergies, diabetes, seizures, migraines, depression, anxiety — while also being charged with COVID-related and supervisory tasks, Mullen said.  
"There are not enough hours in the day, and without the support and collaboration we desperately need, this is unsustainable," Mullen said. 
Montclair nurses receive text messages and phone calls each day from 6 a.m. until 11 p.m. with questions and concerns related to COVID-19, Mullen said. And those are just from staff members, Mullen said. 
"Parents and guardians have been brutal, cursing at nurses, yelling, hanging up on us and threatening us when they don't agree with the COVID protocols," Mullen said.
Mullen asked for immediate changes to be made — payment and back payment for supervisory tasks that the nurses have added to their workloads, a nurse representative at any interview for the nursing supervisor position, a seat at the table when COVID-19 guidelines are discussed, advance notice of guideline changes and one senior level administrator who would routinely meet and support the nurses in the absence of a nursing supervisor.
"We are an all female staff," Mullen said. "I have to ponder if male team members would be treated with the same disrespect." 
The Montclair school nurses are represented by the Montclair Education Association, union president Cathy Kondreck said Thursday. The MEA has met with the nurses on a regular basis since the summer, and has filed a "demand to bargain" on their behalf. 
"It was submitted in September, and we have met with the district several times to discuss it with no resolution as of now," Kondreck said.