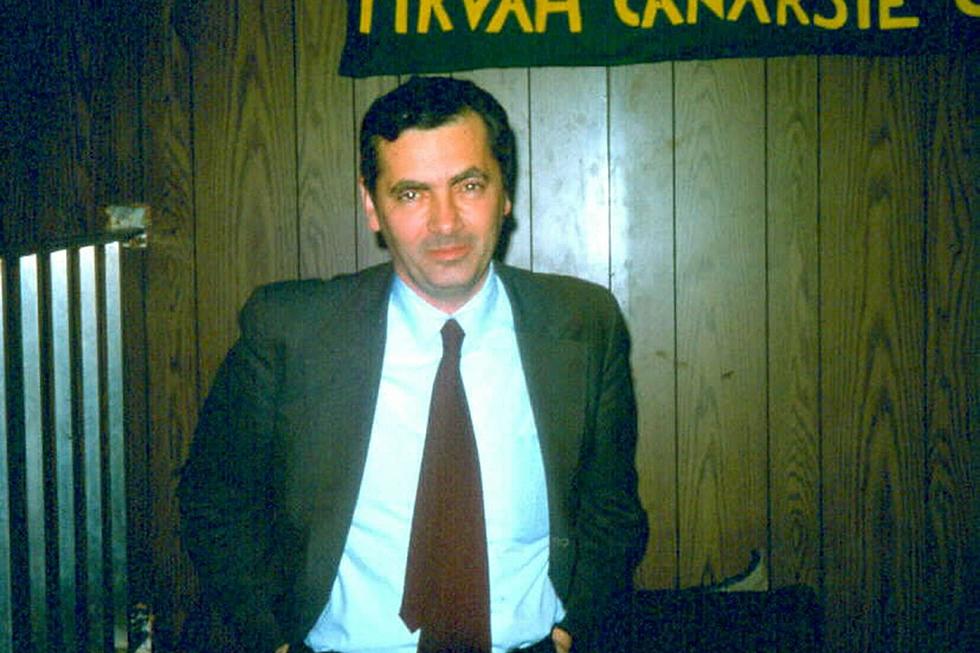 Montclair schools apologized, but never explained why they honored Kahane
Meir Kahane in 1975.
(This image is by Moshezalman, provided under the
CC BY-SA 4.0 license. It is Copyright 1975 and appears originally here. It has been cropped.
By TALIA WIENER
wiener@montclairlocal.news
Several weeks after an email from Montclair High School honoring ultranationalist Rabbi Meir Kahane — prompting an apology within hours — the district hasn't publicly explained how Kahane was chosen for accolades. 
The May 10 MHS email to families honored Kahane in a daily email announcement to families, to mark Jewish American Heritage month. It noted his founding of the Jewish Defense League —  describing the group's declared purpose as "to combat anti-Semitism in the public and private sectors of life in the United States." It quoted Kahane saying the League was formed to "do the job that the Anti-Defamation League should do but doesn't."
The JDL has been classified as a far-right terrorist group by the FBI since 2001 and is designated a hate group by the Southern Poverty Law Center. The SPLC says on its website the group "orchestrated countless terrorist attacks in the U.S. and abroad, and has engaged in intense harassment of foreign diplomats, Muslims, Jewish scholars and community leaders, and officials."
Kahane was also founder of the Israeli political Kach party, which has been declared a terrorist  organization by Israel, the United States and the European Union, and has been outlawed in Israel since 1994. He'd previously served one term in Israel's Knesset. 
The school's assistant principal, Reginald Clark, messaged families a few hours after the first email with an apology, and Superintendent Jonathan Ponds sent another apology the next day.
Ponds, Clark and Freeman have not responded to multiple email and phone messages to their district offices since May 11, seeking an explanation as to how Kahane was selected. Local clergy members have also said they'd like to understand what happened.
Ponds also addressed the email at a May 17 Board of Education and said the district "makes no excuses" and "deeply regrets it."
"We denounce racism and biases on all accounts and are taking this matter seriously and addressing it internally," Ponds said at the meeting. 
At the May 17 meeting, Montclair parent Amy Horowitz said the district's decision to present a "renowned racist/terrorist" was "not just ignorant, but appallingly ignorant." Horowitz read a list of names of Jewish figures she said would have been better choices, including composer Leonard Bernstein, actress Stella Adler and magician Harry Houdini.
"Shame on whoever was responsible for this and shame on this district," Horowitz said.  
Montclair High School parent Beth Rubin wrote an email to  MHS principal Jeffrey Freeman and Ponds shortly after the announcement was sent out, to share her concern and warn of a possible community reaction. Rubin is an education professor at Rutgers University, as well as coordinator of the university's social studies education program and chair of the Educational Theory, Policy and Administration department. 
"I knew there would probably be a big response once people started seeing it so I wanted to make sure they knew what the situation was," Rubin said. "I wrote to the principal and he got back to me immediately and seemed mortified."
Rubin said she thinks the selection of Kahane was an "honest mistake" and the community does not need to be concerned about it. 
"If you didn't know anything about him, what you would see is Jewish Defense League, fighting antisemitism," Rubin said. "I don't expect people outside the Jewish community to understand the ins and outs of Jewish politics and historical dynamics."
Eric Scherzer, appointed to the school board recently by Mayor Sean Spiller, also wrote to school officials, noting the message from Rubin and saying the MHS email "cites Rabbi Meir Kahane, who is a terrible example to emulate." Montclair Local obtained his message through a public records request. Scherzer has not yet returned an email sent May 25 comment. 
One MHS parent, in an email sent to Ponds and Freeman, also received by Montclair Local through the records request, said they would "give you the benefit of the doubt and assume you have no idea who he was."
The writer continued: "Otherwise, I have to conclude that MHS is glorifying an avowed racist, a man who espoused vigilante violence in New York City, and then the murder, mass expulsion and genocide of Palestinians in Israel and the occupied territories. His organization has long been labeled a terrorist group by the U.S. and Israel and for good reason. He was a fascist, as many in his organization proudly note."
Montclair Local has not yet been able to reach that parent directly. 
The district withheld some emails in response to the records request, which asked for copies of emails to or from Ponds, Freeman and Clark mentioning Kahane's name in the week leading up to the message that honored him. Several emails from May 10 involving a public information secretary, school counseling director and others weren't provided. None of those that were provided disclosed included information about how Kahane was selected.
Congregation Shomrei Emunah Rabbi David Greenstein told Montclair Local in early May 
"the real mystery is who made this choice and what were they thinking?" Amir of Masjid Wadud Imam Kevin Dawud Amin in a letter to Montclair Local said he along with others are "waiting for the answers to these questions." Both said that as of May 26, they hadn't yet heard from the district. 
Board of Education President Latifah Jannah told Montclair Local "appropriate followup will be ongoing" for the email.
Ariann Weitzman, associate rabbi and director of congregational Learning at Montclair synagogue Bnai Keshet, said she did not see the selection of Kahane as an anti-Semitic move, instead "just profoundly ignorant." Weitzman said she will be delivering professional development for the administration and faculty at the high school soon.
"Unfortunately, we will need to address both ignorance about American Jews as well as protecting Jewish students from antisemitism, an issue that is very much on our students' minds," Weitzman said.