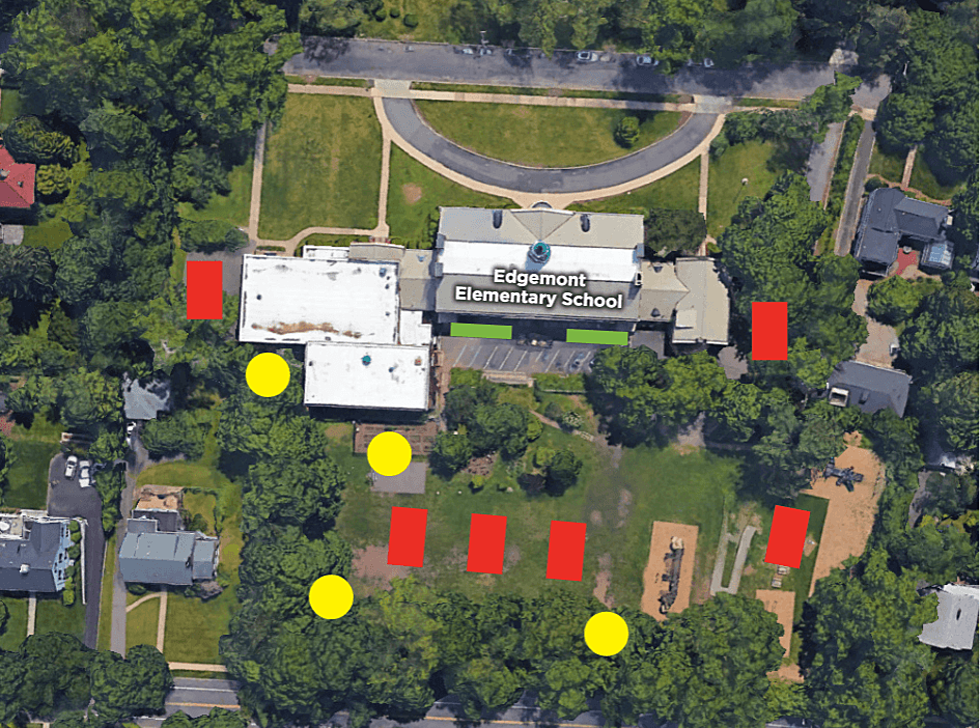 Montclair schools consider outside classes, even as return up in the air
A photo diagram shows how outdoor learning spaces, with tents, open-air spaces and grab and go lunch spots, could be set up at Edgemont Montessori School. A group of parents suggested the layout in the fall. (PHOTO COURTESY OF FAYE LEDERMAN)
By ERIN ROLL
roll@montclairlocal.news
Montclair schools could have outdoor learning in place when the school buildings reopen — even if it's unclear when that might be.
The schools may also offer Saturday classes to help students catch up, if needed, and put in extended-day and after-school programs from 3 to 6 p.m. 
Superintendent Jonathan Ponds said at a school board meeting March 3 that district officials had been talking over possible solutions for outdoor learning. He said Assistant Superintendent Kalisha Morgan would have more ideas to present in the next month.
"Dr. Morgan came to me last week and expressed that we should have outdoor learning sooner rather than later," he said. "She's going to have some wonderful ideas, and I fully support it."
It's unclear how the suggestion would factor into an ongoing dispute between the district and the Montclair Education Association over returning to school buildings for a hybrid learning schedule. Union members refused to return for a planned date in January, saying the district hasn't been transparent enough with coronavirus safety plans and citing problems with school facilities. 
The school system has since sued the MEA, alleging an illegal teachers strike. Teachers have continued holding classes remotely, as they've been doing since the novel coronavirus pandemic hit New Jersey a year ago. The MEA hasn't returned a message seeking comment.
Ponds said district officials visited an outdoor learning site in the fall, but did not specify which school or district it was located in. He also cautioned that the logistics of outdoor learning would still have to be worked out, and that it may not be possible to have students outside every day, but said an effort would be made to give students as much outdoor time as possible. 
A group of parents, led by Faye Lederman and Carolyn Corbran, has been calling for the district to set up outdoor learning centers on school grounds. In September, a proposal the group presented to the school district stated: "Outdoor classrooms are the solution to maintaining the hybrid model initially proposed by Montclair Public Schools. The proposed outdoor classrooms would address the ventilation issues by cutting class size by 50 percent, with an estimated implementation cost of less than $75 per student." 
Corban told Montclair Local this week she's hopeful to see plans begin to take shape.
"Dr. Morgan has agreed to meet with several parents who have been advocating for Outdoor learning since this past summer," she wrote in an email. "I don't have any details at this point about what those plans will look like at this time, but we're happy to be discussing it further with leadership!" 
The parents have argued outdoor learning centers would allow for more space for social distancing, lessen the risks associated with ventilation problems and be beneficial to students' and teachers' mental health amid the stresses of the pandemic. 
"As far as Saturday learning is concerned, we will be aggressively seeking grant money to fund this extended learning opportunity for students. Through grants like the Twenty-First Century Grant, we could fund teachers and resources for a Saturday program that would be utilized for academics as well as extracurricular activities," Ponds told Montclair Local in an email. "It is our hope to also provide extended-day learning from 3 to 6 p.m. at our schools so that students would have the opportunity to get extra help, have a safe place to complete homework and have supervised time to gather when parents and guardians may still be at work."