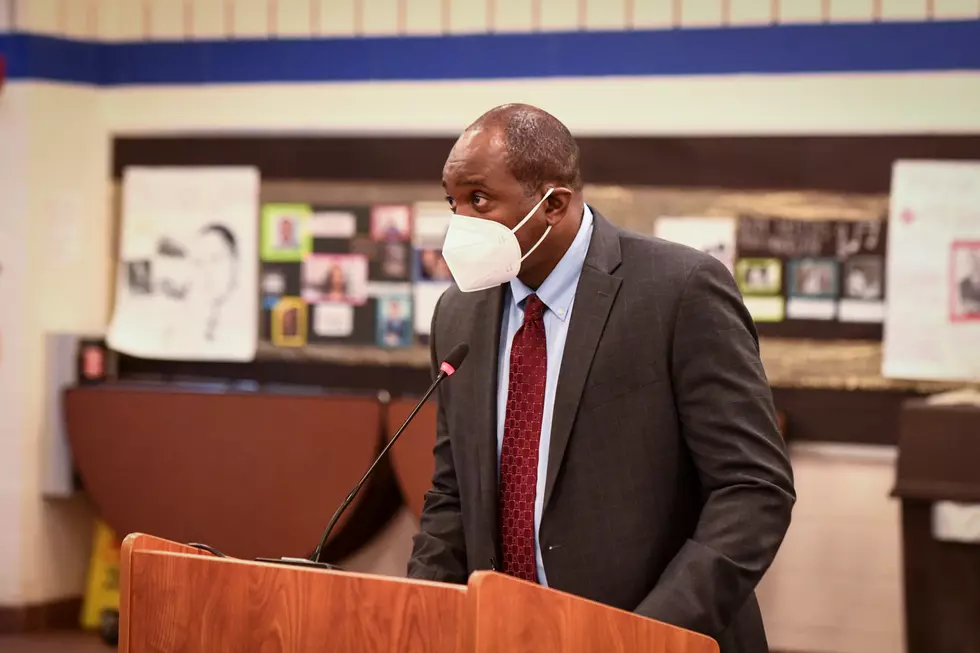 Montclair schools issue nonrenewal letters to 83 staffers
Schools superintendent Jonathan Ponds (KATE ALBRIGHT/FILE PHOTO)
The Montclair school district issued 83 nonrenewal letters to district staff Friday — 48 to paraprofessionals, and 35 to teachers, schools Superintendent Jonathan Ponds said. 
Ponds previously said the district would issue 26 nonrenewals to teachers as well as notices to an undisclosed number of paraprofessionals. These cuts are a result of the district making up a $3 million deficit in its 2022-23 budget, compared to its first public draft of the spending plan. Ponds has not yet responded to an email sent Sunday asking about the increase in nonrenewal notices, but Board of Education President Latifah Jannah said in a message Monday morning  Ponds would address the increase in nonrenewals at a board meeting that night. District offices are closed over the weekend.
At a May 9 Montclair Board of Education meeting, Ponds said his staff looked at enrollment and scheduling when it came to deciding on cuts. 
For example, kindergarten enrollment has been low for the past few years, a fact that district officials have attributed to the coronavirus pandemic. As those smaller populations continue through the school system, there may be room for decreases in staff, Ponds said. 
"Because of our low enrollment in early elementary grades, we will make personnel adjustments to meet enrollment needs," Ponds said in a Friday message to Montclair Local. 
Cuts to paraprofessional staff will not get in the way of Montclair students getting the support they need, Ponds said at the May 9 meeting. District staff members are reviewing all individualized education plans and 504 plans — meant to accomodate students with disabilities — to ensure the needs of students are met, he said. 
"All children who have paraprofessionals in their IEPs will continue to do so," Ponds said in his message to Montclair Local. 
In a Sunday email to members of the Montclair Education Association at Montclair High School, the union called for an "all hands on deck" at the Monday, May 16 school board meeting. 
"As you may have heard, the district has issued an unconscionable 83 reduction-in-force (RIF) and nonrenewal notifications to our members this past week," the message said. "To put that number into perspective, it is the equivalent of losing the entire staff of Bradford School, all at once." 
The cuts include eight positions in art, four positions in music and three positions in dance, the union message said. Five of the nonrenewals were issued to Montclair High School staff, the message said. 
And many of the 83 nonrenewals were issued to staff members of color, the message said. 
At the May 9 board meeting, Ponds said he plans to hire back some of the staffers before the school year. 
"I did that on purpose because if you don't do this, you can find yourself in a pinch if you under-nonrenew and then you have to find money for those individuals that is not there," he said.
But that is "an unacceptable practice that we can't accept without action," the union message said. 
"Dr. Ponds has made statements that he 'intends' to hire back most/all of these members, but as we know from this exact experience last year, if he waits to rehire until August, that leaves a significant number of members without health insurance for the entire summer (or paying exorbitant amounts for COBRA benefits during unpaid months)," the message said. 
Montclair Local's message to Ponds this weekend also asks how many staff members he anticipates hiring back.
In May 2021, the district issued 36 nonrenewal notices to staff members, more than half of whom were special education teachers. Some of those positions returned in the fall and some of those staffers were rehired, but Ponds and union president Cathy Kondreck haven't responded to messages sent since May 2 seeking a tally.
In its Sunday message, the union called on its members to attend a Monday afternoon meeting during which union president Cathy Kondreck would be present to answer questions and discuss planned actions. Kondreck has not yet responded to emails sent to her union address with questions about the cuts since May 2. 
The union also asked members to attend the board meeting on Monday, sign up to speak and to email district officials and board members to voice their concern about the cuts. 
Specific actions will also be planned for the May 25 board meeting, the message said. 
The New Jersey Education Association started a campaign through The Action Network, asking people to email the Montclair Board of Education to demand an explanation for the increase in nonrenewals. Montclair Mayor Sean Spiller is president of the state teacher's union. 
The nonrenewals amount "to nearly four times what was originally discussed in the district's proposed budget," the New Jersey Education Association message says.
And there is "little evidence to support the need for such a drastic measure," the message says. 
"Montclair Public Schools must be a place where our children can grow and thrive under robust humanities and special education programs, delivered by high-quality educators and support professionals," the message says. "These dedicated employees shouldn't be considered an expendable line item in the district's budget."
Ponds told Montclair Local in an email Friday that he would be working with principals as well as Kalisha Morgan, the district's assistant superintendent for equity, curriculum and instruction, to "ensure that teachers are all teaching full schedules within their certificated areas, magnets are being served appropriately, and retirements are being reviewed to see where these retirements would allow us to afford bringing nonrenewals back."
Programming will not be affected and students will continue to have their needs met, Ponds said his message. 
No Montclair Board of Education members other than Jannah have yet responded to an email sent Sunday asking for a comment on the nonrenewals.