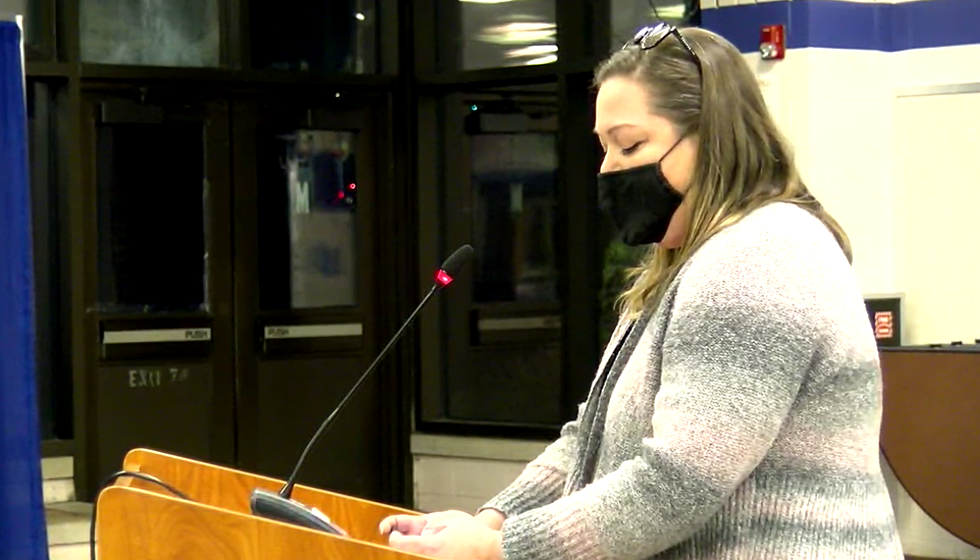 Montclair schools staff: Classroom temperatures get as low as 40s, 50s
Montclair Education Association President Cathy Kondreck, seen here at a Dec. 1 Board of Education meeting, says classrooms in the township's public schools are unacceptably cold. (TALIA WIENER/STAFF)
By TALIA WIENER
wiener@montclairlocal.news
Montclair public school staffers say cold classrooms have had teachers instructing while wearing coats, have forced classes to switch rooms and have left staff members with chapped skin. 
But district administrators say they are responding to heating concerns and doing their best to address the limits of the district's aging heating and ventilation systems. 
"Seeing temperatures in buildings in the 50s is not only cause for alarm, but is not acceptable for staff or students," Montclair Education Association President Cathy Kondreck said at a Dec. 1 Montclair Board of Education meeting.
At a Jan. 5 school board meeting, Glenfield Middle School secretary Patricia Macaluso spoke in support of her co-workers, both at Glenfield and in other buildings, dealing with low temperatures. 
"Temperatures in certain offices, rooms and classrooms have been documented in the very uncomfortable, low 50s," Macaluso said at the meeting. "But what is not documented: the effects these low temperatures have on the human body."
Staff members are experiencing chapped skin, runny noses, headaches, chills, stiff joints and backaches, Macaluso said. 
The district has made some recent upgrades to its infrastructure, announcing this month it had completed the installation of ventilation systems in 66 classrooms that didn't previously have any. Larger-scale upgrades remain some time off, with district officials recently hiring a bond counsel and saying they're likely to put a bond for infrastructure work before voters in November.
The district had hoped to get a bond approved last year, before Montclair voters approved a conversion from a Type I to a Type II school district system in a November referendum. In the Type I system, bonds wouldn't have been approved by voters, but by a (now disbanded) Board of School Estimate and the Township Council. Members of both the school board and BoSE said they hoped to advance a bond before the referendum, but the clock ran out.
In the meantime, the district is keeping windows open in classrooms to improve ventilation amid the ongoing coronavirus pandemic. But in most buildings, its boilers are struggling to keep up with the cold. 
Board member Crystal Hopkins said she watched her son's teacher teach while wearing a coat during the 10 days following winter break, when students could opt for remote learning instead of in-person classes amid a surge in area coronavirus cases. 
"We still have teachers who are complaining about cold classrooms," Hopkins said at a Jan. 19 board meeting. "We need to be equipping [teachers] with the right environment to teach and for our students to learn."
The Montclair Education Association asked members to record daily classroom temperatures for one to two weeks, using thermometers provided by the union. The union shared more than 150 temperature measurements with Montclair Local, with readings collected in November and January in eight schools. 
The temperatures were marked as collected in the a.m. or p.m., but specific times were not set. 
The lowest classroom temperatures were measured at Glenfield Middle School — 45.6 degrees during the morning of Jan. 11, 48 degrees during the morning of Dec. 20 and 49 degrees during the morning of Dec. 23. Most other temperatures on the dates shown were in the high 50s, but those didn't include all dates in either month. 
The temperature data has been shared with district administration since the union began to document it, Kondreck said. The administration asked the union to let members know to contact their building administrators and head custodians if they experienced extreme temperatures, she said. 
Superintendent Jonathan Ponds told Montclair Local that staff members report cold temperatures to the head custodians and receive a response within an hour.
"We have implemented a plan whereby our buildings and grounds supervisors are checking buildings every morning as well as having two contractors on call who respond on site at a moment's notice," Ponds said. 
The superintendent did not specifically respond to questions about whether the district has guidelines for appropriate classroom temperatures, and what the district does to address cold classrooms beyond HVAC maintenance.  
Business Administrator Nicholas Cipriano gets a report of issues in the district buildings by 8:30 each morning, Cipriano said at the Dec. 20 school board meeting. 
"We take into consideration the issues at hand — there are many — and we contact who we need to rectify the situation or we handle them in house," he said at the meeting. 
But the district has to be careful of the pressure put on its aging boilers, trying to avoid steam leaks in buildings, Cipriano said at a meeting earlier in December. The district has a contractor, United Welding, on site every day and is "constantly looking at rooms," he said. 
"It has to do with the age of our equipment, yes," he said during the Dec 1. meeting. "But for a district this size, it's not uncommon that you're going to have classrooms that do go down."
At the Dec. 1 board meeting, Ponds said the district was "on top of heating," reacting immediately when notified of an issue.  
"I asked the question, 'Could we turn [the boilers] up even higher?' and I was told that we could not," Ponds said at that meeting. "We are really working hard to make sure our rooms are temperate."
But with maintenance staff absences and supply chain delays, cold temperatures aren't always quickly remedied, Kondreck told Montclair Local. 
One teacher reported a classroom temperature in the 30s, she said. The teacher notified the school administrator and head custodian, and the class was moved to a different space, she said.
But Kondreck said she wonders: How cold is too cold to teach? She asked: Are teachers who measure their classrooms in the 40s and 50s also supposed to switch rooms?
When asking the district about its plan for cold weather in the fall, she said, she was told multiple times the heat would compensate for the cold air coming in the open windows. 
"Clearly the heat can't compensate in all of these places," Kondreck said.
She has been requesting air exchange rate data from the district for months — as have board members and parents — hoping that knowledge of a functioning ventilation system could mean windows are shut for more time each day, or only one window would need to be opened in each classroom. 
But air exchange rate data aside, the current open window policy is unclear, MEA communication chair Candice Pastor told Montclair Local. Staffers remained confused by many aspects of the district's policy on open windows — how many windows need to be opened, how wide window openings must be, whether the rules depend on the particular building or classroom, she said.
"There's no clear directive in place across buildings," Pastor said. 
At a Sept. 20 school board meeting, Ponds said all windows were to be opened 6 inches. But parents and board members at the time continued to cite variations on window openings across the district. Ponds has not yet responded to a question sent to his email Jan. 24 about the current policy.
On Jan. 11, a bill was introduced in the New Jersey Assembly to require each board of education to adopt a policy establishing temperature control standards and guidelines for district facilities. The bill was referred to the Assembly Education Committee. 
Similar bills have been introduced in previous years, and the New Jersey Education Association has been pushing for temperature guidelines for years, but had no luck, NJEA spokesperson Meredith Barnes told Montclair Local. 
But as public employees, school staffers also operate under Public Employees Occupational Safety and Health air quality standards, which state buildings outside of the range of 68 to 79 degrees Fahrenheit should be checked to make sure their HVAC systems are in proper operating order. 
Barnes said she is not aware of any existing laws that specifically outline school building temperatures requirements. A representative of the New Jersey School Boards Association said she was not aware of any such laws either.
Montclair Local has sent a message to the New Jersey Department of Education about classroom temperature requirements, but has not yet received a response.