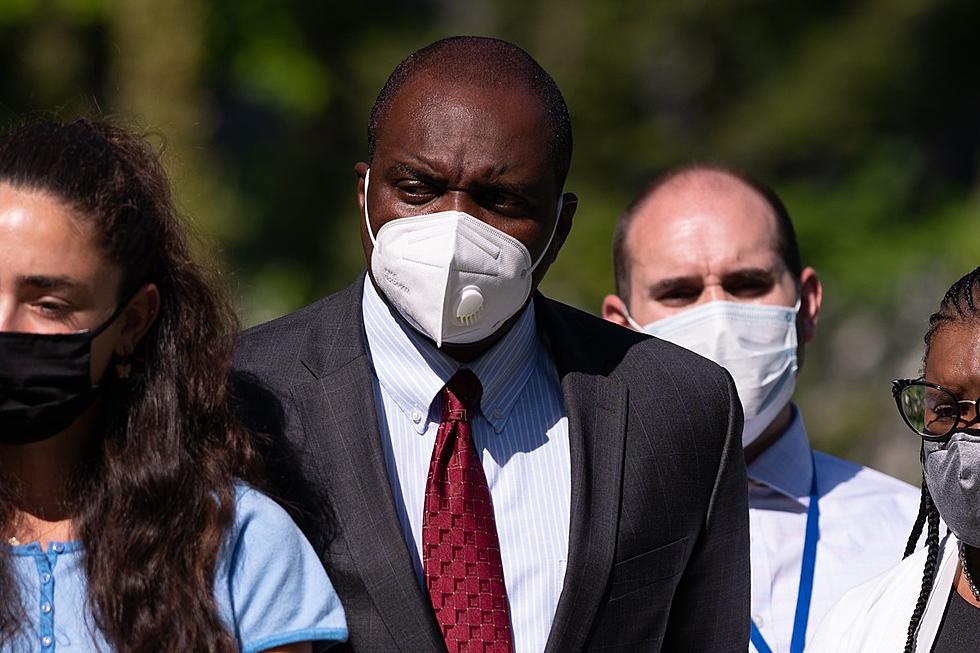 Montclair schools: We'll return in-person Jan. 3, COVID testing available over break
Montclair Schools Superintendent Jonathan Ponds. (LOUIS C. HOCHMAN / MONTCLAIR LOCAL.)
By TALIA WIENER
wiener@montclairlocal.news
Montclair Public Schools will return from their winter break to full-time, in-person instruction on Jan. 3, a community message from schools Superintendent Jonathan Ponds reaffirmed this week.
The district will also offer two COVID-19 testing opportunities during the winter break, the message says. The district will additionally offer more testing opportunities later in January, Ponds said in another community message.
A week ago, the district announced it would hold remote instruction at Montclair High School for the last two days before winter break, as novel coronavirus case numbers climbed quickly throughout the state. The district also had an abbreviated day for younger students Dec. 22; they were already set to have an abbreviated day Dec. 23. Ponds had said those changes were made "out of an abundance of caution."
The district has been preparing for an in-person return, working closely with the Montclair Health Department, Ponds said in the new message.  
"Our students and staff deserve to be full-time, in-person with all the opportunities that school offers in activities, enrichment, and socialization," Ponds wrote in the Tuesday message. "Our district is committed to providing safe ways for students to engage in a full school experience, and we look forward to greeting them in 2022!"
The district will offer two free COVID-19 testing opportunities for students prior to the return to in-person instruction — Thursday, Dec. 30 from 10 a.m. to 2:30 p.m. at Montclair High School's main gym, at 100 Chestnut St., and Dec. 31 from 12:30 to 4:30 p.m. at the Wally Choice Center in Glenfield Park, at 45 Maple Ave.
There will also be three additional testing events later in January, all at Montclair High School's George Inness Annex Atrium — from 4 to 6 p.m. on Jan. 7, Jan. 14 and Jan. 21.
No appointment is necessary for the testing, conducted by Medi Mobile of Livingston, according to the district website. 
"We hope that this service will provide a level of comfort and convenience while your children get ready to return to school," Ponds said in the message. 
Traveling? Quarantine rules for Montclair public, private schools
The district is also increasing its number of substitutes for the first few weeks in January and making sure heating systems are working properly when students return, the message said. The district has struggled to keep some classrooms warm this winter, with windows open to improve ventilation and aging boilers straining to keep up.
Ponds also asked in the message that unvaccinated students who travel during the break notify their principals so virtual instruction can be provided. 
"We will continue to monitor our schools closely throughout the winter and stay in contact with the Montclair Health Department," Ponds said in the message. 
Montclair schools routinely hold voluntary, opt-in pooled coronavirus testing of students and staff.
The district reports 204 student and 61 staff cases this school year to date — with 114 of those student cases and 37 of the staff cases in the week that ended Dec. 23, the last day before winter break, according to the district's online tracker. On Dec. 23 alone, the district reported 37 student cases.
By contrast, up until mid-December, the district's newly reported positive cases, for staff and students combined, remained below five cases on any given day. The tracker does not include positive cases identified outside of school testing.
The district's latest report comes as some nearby districts consider or are implementing remote learning linked to the coronavirus surge. East Orange will hold remote learning until Jan. 18, that district has announced.
Montclair High School's girls and boys basketball teams have both cancelled tournament games this week due to coronavirus cases. The girls team had gone into quarantine prior to winter break. The MHS wrestling team has also paused play.
This story has been updated to reflect additional testing dates Montclair Public Schools announced Dec. 30.