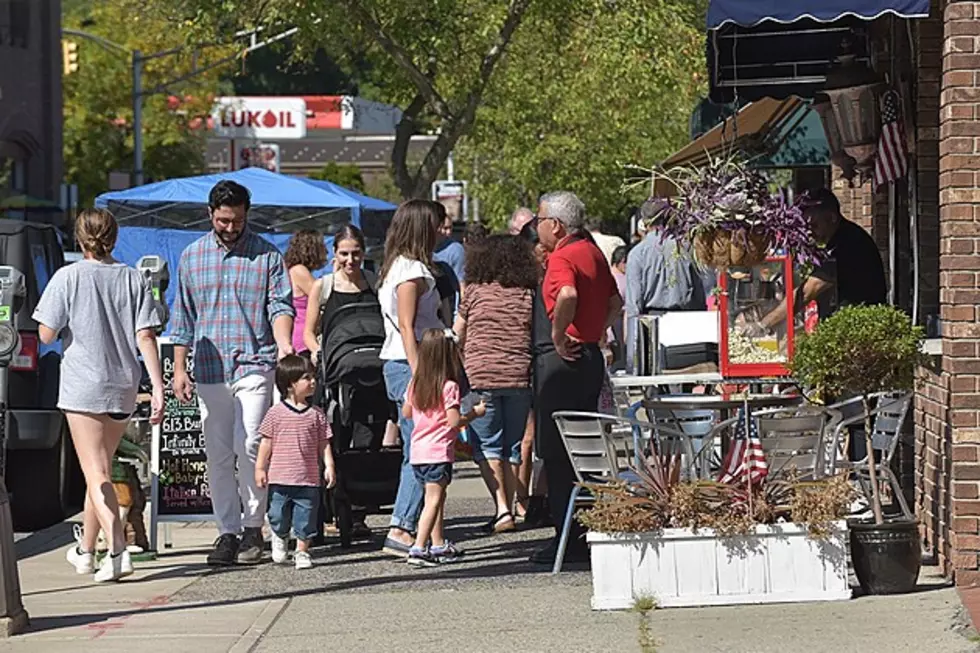 Montclair sidewalk sale aims to bring residents, businesses together
A scene from the 2019 sidewalk sale. The 2022 version will be held Saturday, Sept. 17, from 9 a.m. to 5 p.m. along Valley Road and its environs in Upper Montclair. (FILE PHOTO)
The Upper Montclair Business Association's 46th annual sidewalk sale, designed to showcase the entrepreneurs who help make Montclair a singular community, will feature more than 40 businesses, ranging from retail and food establishments to nonprofits and fitness centers.
The sale, on Saturday, Sept. 17, from 9 a.m. to 5 p.m. along Valley Road between Lorraine and Bellevue avenues, will also feature entertainment, including live music and family-friendly activities. Valley Road will be closed to traffic between the two streets for the rain-or-shine event. 
Wendy Lacey, the sidewalk sale organizer and president of the Upper Montclair Business Association, says the goal is to support local business and build community.
"It's really important for people to know how much time and money businesses spend supporting the community that they operate in," Lacey said. "This is an awesome time for members of the community to patronize businesses and say thank you for what they do." 
The event will feature a DJ in front of the Montclair Diner and live music throughout the afternoon, as well as dance performances by Beyond the Boogie.
Among the businesses participating in the sale will be Valley Nutrition, which sells fresh-pressed juices and protein shakes and will be celebrating its grand reopening. Formerly known as Empire Nutrition, the business rebranded this August. 
Maria Lewis, owner of Valley Nutrition, said: "We really love the sidewalk sale and all the foot traffic that it brings. So we want to just keep that going throughout the rest of the year." Lewis said her store will be offering samples and giveaways. 
The Little Daisy Bakeshop will have an array of tree-nut- and peanut-free sweet treats, as well as a cookie-decorating station.
Tinga owner David Fishman said his establishment will offer a special item for the sale, the "walking taco," served in a bag of Fritos with meat, cheese and other toppings. 
Amin Deroui, owner of Mattarello Bakery and Cafe, said, "It's a very select, unique offering that the Upper Montclair area provides to Montclair, the community and surrounding towns. Quite frankly, I think they are top-notch businesses." 
Nonprofit organizations, like Indie Arts Montclair and The Women's Club of Upper Montclair, and various groups from Montclair High School will participate as well, Lacey said. 
Parking will be available in public lots behind Valley Road and off Bellevue Avenue, as well as along nearby streets. 
For additional information please visit  umbanj.com/events/#!event/2022/9/17/annual-sidewalk-sale.