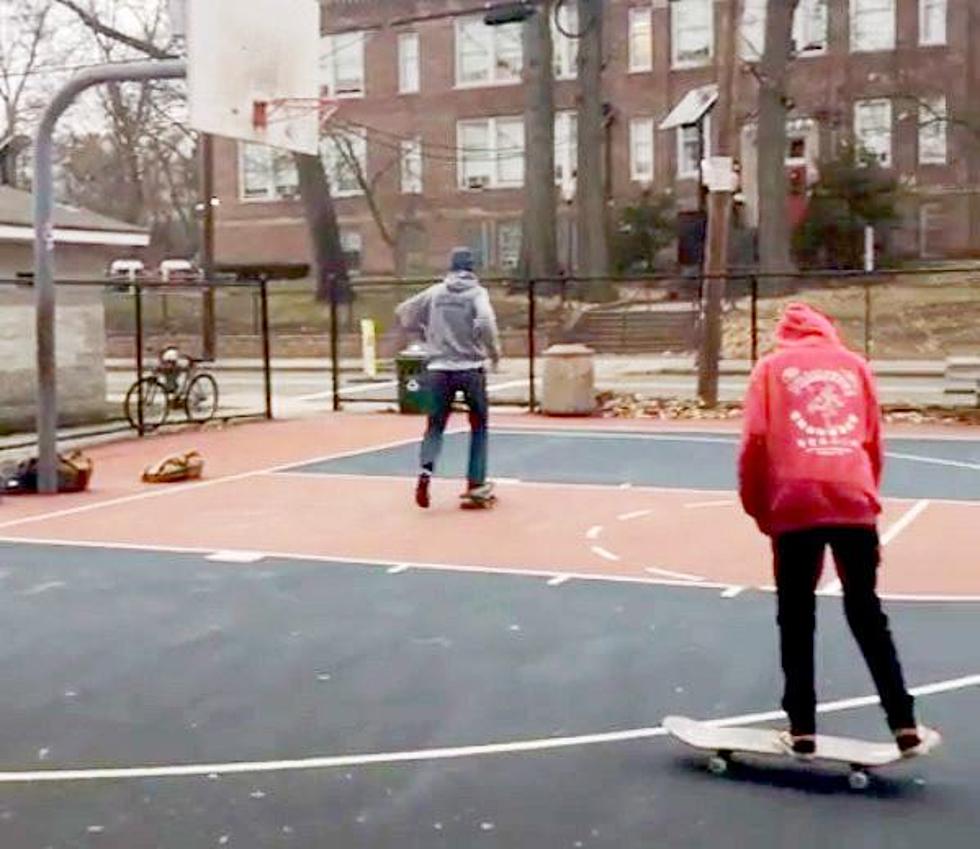 Montclair Skateboarding: MHS skateboard club members propose skate park
The MHS skateboard club, shown here practicing at Rand Park, is hoping to have at least a temporary skatepark built at the park in the next few years.
Courtesy MHS Skateboard Club
by Andrew Garda
garda@montclairlocal.news
Montclair is a town with a lot to offer, but recently some Montclair High School students realized it lacked one thing they really wanted — a skate park.
That realization led to MHS sophomore Antonello Terrana and the high school skate club to start a petition on Change.org to rectify that situation.
"Skateboarders don't have a place to practice their sport. Skateboarding is going to be in the next Olympics, and we feel we're not represented in Montclair as well as we should be.  So one of my main goals in forming a skateboard club was to establish a good, solid place for skateboarders to go which is safe," said Terrana.
The petition, which currently sits at 2,176 signatures, reiterates that point, adding that there are many benefits of a skate park, including giving kids space where they can improve their cardio, core and leg strength, and improved balance and help to decrease illicit behavior.
Terrana said he has already spoken to Mayor Robert Jackson and 2nd Ward councilwoman Robin Schlager about the project.
"[Schlager] seemed very interested, like it was something she wanted to do," he said. "And I know the mayor personally because I go to [Montclair Neighborhood Development Corporation], which he is very involved in. So, I've talked to him about it and he also seems like he's on board and likes the idea."
In an email exchange, Mayor Jackson seemed very impressed with Terrana's efforts.
"Antonello is a passionate advocate for the cause.  He's an impressive young man," he wrote. "A skatepark would be a great addition to the recreational choices we offer to our kids.  The tough issue is location. This may be an opportunity for a regional or shared services approach. I believe our Parks and Recreation Advisory Committee has had some preliminary discussions."
The club is looking into other towns that have installed skate parks, which could guide them especially when it comes to permits, insurance and other issues they haven't dug into yet.
Acceptance of the sport is a big part of Terrana's efforts, and he feels a big step happened recently when MHS Athletic Director PJ Scarpello allowed the Mounties skateboard club to skate on school property.
"Skateboarders just aren't allowed anywhere, and they're seen as bad," Terrana said. "But the fact that we were allowed to skateboard on school property without getting kicked out, it just felt very empowering. It felt like I made a small difference."
Terrana said the club has to sign waivers whenever they are on school property, promising to wear equipment like helmets, but for the group, that's not a big deal.
"That's just a part of getting more kids," he explained. "Because next year, a lot of the eighth graders are coming into the high school and talking about joining the club. So, we're kind of role models, and we want to make sure we're always on good behavior."
Terrana's goal is to have a park in place by the time he graduates high school, but he knows there are obstacles to clear before that happens. That doesn't keep people from being excited though, and making suggestions for the future park.
"We have a lot of people who have asked to submit designs, or they have images of skate parks and are like 'you guys should do this,'" Terrana said.
The MHS skate club itself has some ideas as well.
"We definitely want to have a mix of transition, which is quarter pipes and ramps, and also street, so rails, stairs, ledges and such."
While the town hasn't approved a park, and the petition hasn't officially been presented, Terrana said the location the club has been thinking of is at Rand Park, across the street from Renaissance Middle School.
"We are really, really pushing it to be at Rand Courts," Terrana said. "The basketball court, the two tennis courts, and then there's a wall-ball court with a playground. It's a little space, but we think that would be a really good spot. Nobody uses the wall ball court either. They could just put a skateboard park there."
Terrana and the club really wants at least a temporary space there — or really anywhere — for kids to hone their skills.
While the MHS skateboarding club has looked around at other projects like the one they want to execute, they haven't really seen anything student motivated. Most of what they have found has been pushed for by parents or town governments.
That makes the Montclair effort unique.
"A lot of teachers see it that way," Terrana said. "And a lot of other kids from other towns look at our page on Instagram and they'll comment they wished they had this at their school."
Terrana knows there's a long way to go, but he's optimistic the project could actually be done by the time he graduates.
"We could probably get it approved maybe in a year, hopefully, and then construction could take up to a year," he said. "I just want to make sure I'm in Montclair when it happens and the more people we get on board, especially in the local government, like the mayor, then it will help a lot."
Which is why Terrana started the petition — to get the word out.
"We're encouraging people who do support the skate park idea and want to help it further to email their town council rep of their ward, or the mayor.," he said.
Of course, you can sign the petition (http://chng.it/HqdVpnxcQ8), and if anyone wants to help in other ways, Terrana said they can reach out to him via the club's email address (Mhs.skateboardclub@gmail.com) or through the club's adviser, Jamie Siwinski (jsiwinski@montclair.k12.nj.us).