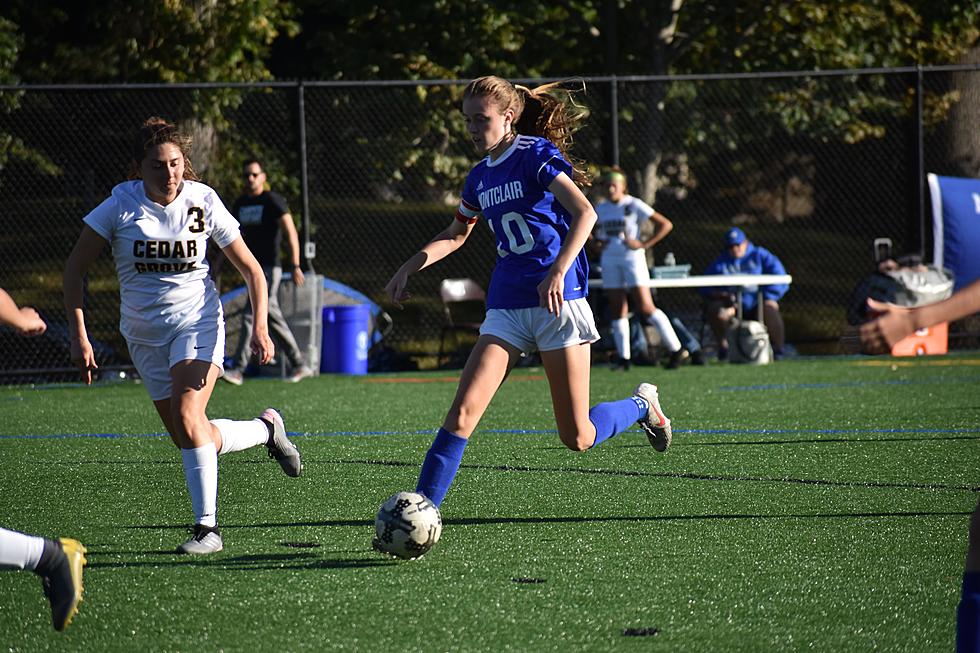 Montclair Soccer: Mounties boys and girls squads both advance in ECT
Six different Mounties, including Claire Manning (10), in their 6-0 ECT win over Cedar Grove on Thursday Oct. 10.
ANDREW GARDA/STAFF
by Andrew Garda
garda@montclairlocal.news
FORTUNATO FIELD — It was a successful day for both the Montclair High School boys and girls soccer teams, as both notched wins and advanced in the Essex County Tournament in a doubleheader on Thursday, Oct. 10.
First, the Montclair boys overcame a tenacious Newark Academy team, hanging on to win 3-1 before the girls beat Cedar Grove 6-0.
The boys jumped ahead in their game against the Minutemen with two goals by Beck Schoenwetter, the first off a nice pass by Aiden McGrath, with the second converting an assist by Evan O'Brien.
Newark Academy battled back, however, and when the Mounties couldn't clear the ball after a free kick, finally snuck the ball past keeper Sebastian Herrera, making the score 2-1.
That seemed to give the Minutemen some momentum, which they carried over into the second half.
Head coach Toure Weaver wasn't surprised by the quick start, or the ferocity the Minutemen showed when down two goals.
"I thought we had good moments," he said of the overall effort of his team. "I think we're really good when we switch the point of attack, when we go through the midfielders and we go out the other way, I think that we're very dangerous. I thought we lost a little bit of the momentum for a while but it's the playoffs, you know what I mean? Everybody ratchets it up a little bit."
Fortunately, aside from the one goal, the Mounties back line of McGrath, Dylan Schulman, Evan Williams, and Henry Ogden was on point during the game. They bought the team time for the offense to get rolling again, and find a way to convert.
That finally happened when Williams found the back of the net with just under nine minutes left in regulation.
Now, the No. 3-seeded Mountie boys look towards Saturday at 2:00pm, when they face 11-seeded Verona High School at Fortunato Field.
Weaver won't let his team rest on their laurels.
"The biggest thing for me is there are a couple of details that we've got to get better at," he said. "There was one [play] where they got a service and we weren't marked up [at the] back post. That could be the difference between going home with a championship or not. So we've got to make sure that small details like that are cleaned up."
Along with cleaning up the small details, Weaver said the team will be making sure scoring chances get executed on.
"Some of our corner kicks, I thought, were wasted, and you might only get one corner kick," he said. "You've got to make the most of it. There's some things we need to tighten the screws on."
The "nightcap" game between the Top-seeded Mountie girls and No. 14 seeded Cedar Grove was not as tight, as MHS jumped out to an early lead and crushed the Panthers 6-0.
Montclair got right to work, with Claire Manning sending a head past the Panthers goalie with just 2:52 off the clock. Sydney Masur followed suit with a shot from well beyond the 18-yard line, with the ball squirting past the goalie, making it 2-0 with 25:45 left in the half.
The Mounties kept the pressure on, adding goals by Chloe Nemes, Abby Romano and Kate Giordano to make the score 5-0 by halftime.
Head coach Ashey Hammond and his staff made wholesale substitutions for the second half, clearing the bench and loading the field with freshmen players. The junior varsity team had a game, so those players were not available, but Hammond still took the opportunity to give the younger Mounties a taste of tournament play.
"We dressed a bunch of freshman for today, knowing that they didn't have a game," he said. "I think we started the second half with eight freshmen, and that's a real bonus."
Cedar Grove continued to struggle to contain the replacements, however, and Zoe Greengrass made the score 6-0.
Hammond was proud of his team, from the starters to the bench players.
"We're almost healthy and in terms of our desire, [that's] been there from Day 1, for every game," he said. "They went into today's game the same way they go into every game. If we come into any game now with the attitude that we've had, then I think we're in a good place."
It's only going to get tougher from here, Hammond said.
MHS takes on No. 9 seeded Glen Ridge at Fortunato in an early 9am game on Saturday, Oct. 11.
"Now we get into the meat of our schedule and we play some good teams," Hammond said. "Luckily we played Mount St Dominic, Watchung Hills and Ridge last week, who were fabulous. And so I think we're battle tested."
Unlike Thursday's match, those three games were very tightly contested affairs. Hammond feels they were a great indicator of what the team is capable of.
"We have to now just keep our focus in every game don't panic and take our time against some of those teams to score goals," he said. "As long as we're patient and don't get crazy we'll be fine."