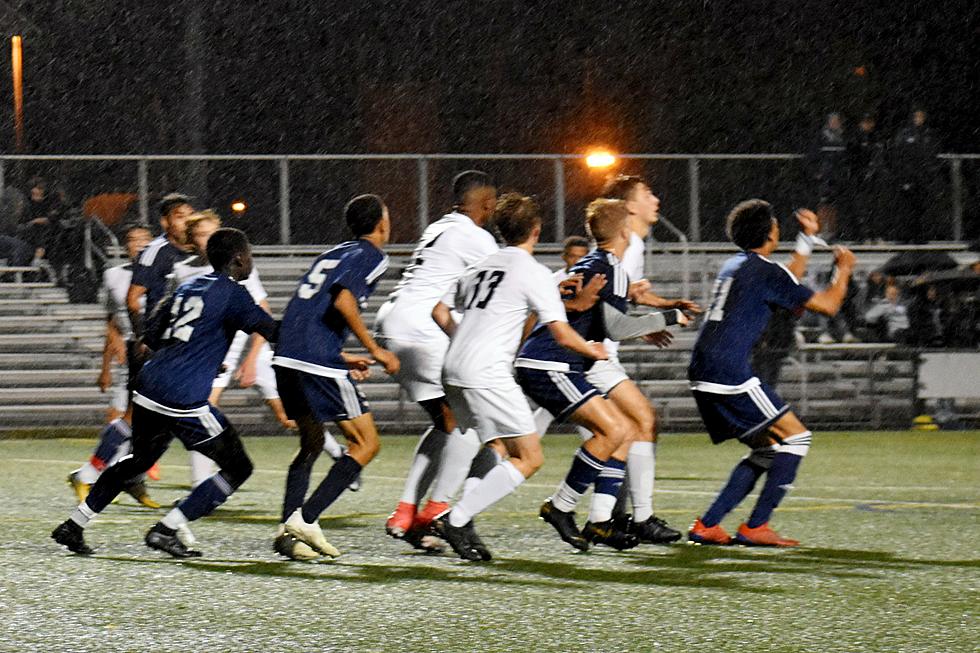 Montclair Soccer: Mounties take down West Orange in ECT tuneup
Mounties and Mountaineers gather to receive a high ball in the rain on Monday, Oct. 7. Montclair would beat West Orange 2-0.
PHOTO BY ANDREW GARDA/STAFF
by Andrew Garda
garda@montclairlocal.news
WEST ORANGE—It was wet and rainy Monday night, but that didn't dampen the enthusiasm of the Montclair High School boys soccer team as they improved their record to 8-3-0 on the season with a 2-0 victory over a strong West Orange side under the lights on Oct. 9.
"This is a big win," said senior captain Evan O'Brien.
Head coach Toure Weaver was pleased with the win, Montclair's sixth win in its last seven games, but feels as though the team didn't play as well as it is capable of.
"I feel like we kind of got away with this, you know?" Weaver said. "I think in the second half we didn't possess the ball as well as we should. Some days you've just got to fight your way out, and I think we showed a lot of character by doing that. Going forward we need to possess better."
As Weaver pointed out, the Mounties did more with the ball in the first half, and that's where they scored their goals.
The first came at early with 31:38 left in the half, when O'Brien sent a header across the face of the goal which junior Soren Tollis tapped in at the far post for his fourth of the year. 
The Mounties kept the pressure up after that, striking again just a few minutes later when seniors Beck Schoenwetter and Mateo Neighbors hooked up, with Schoenwetter feeding Neighbors for a nice finish.
Neighbors' goal was his fifth of the season, tying O'Brien for the team lead.
Things evened out after that though. Whereas early on, the smaller athletes of the Mountaineers team struggled with the much-larger Mounties, they soon adjusted and used their speed and quickness to try and gash the MHS back line.
Luckily, both the defenders and goaltender Sebastian Herrera were up to the task.
"I'm really proud of what we did inside the defensive 18 today," Weaver said. "Because there were a lot of balls that bounced around and sometimes, those balls find their way the other way. I think our guys did a really good job of making sure that didn't happen [tonight]."
There were numerous crowds in front of the Montclair net throughout the evening, but Herrera — who finished the game with nine saves and his sixth shutout of the year — never lost his cool, and his defenders were able to contain any rebounds off saves and clear the ball out of the defensive zone.
As halftime came and went, rain began to fall, steady but light and making both the ball and the field surface slick. That sort of thing can create mishaps resulting in goals, and with a tight margin for error, the Mounties couldn't afford to let up defensively.
Both teams had chances throughout the second half, but defensively each found a way to stop offensive surges.
In the end, the clock was on Montclair's side, and they outlasted the Mountaineers for the win. For Weaver, that's a big change from early on in the season.
"The biggest, the largest thing I think we've improved on has been mentality," he said. "I feel like some of the guys who came up from JV — this is a lot [for them]. The amount of focus, intensity, there's no let-downs. You can't have any of those. I think some of those guys are understanding what it takes here, you know? Guys [are] locked in and realizing what it takes to win."
O'Brien felt the same way.
"Being able to grind games out is big," he said. "Like, today was not a pretty game, but we grinded it out. That's something we needed as a team and I think we've definitely got it now."
The win over West Orange marks the second win in a row for Montclair over a big rival, coming on the heels of a 4-1 victory over Millburn on October 3. For O'Brien, that's a great indicator of where the team has progressed to.
"Those are two of our big rivals," O'Brien continued. "Getting both of those wins is huge. I know we lost early in the season to Seton Hall and Glen Ridge – also big rivals – but later in the season, Millburn, West Orange, we win those games, that's where we really improved as a team."
While there are still regular season games to play, the Mounties' focus now turns to the Essex Tournament.
Montclair hosts Newark Academy in the Round of 16 today, Thursday, Oct. 10, at Fortunato Field. While the Mounties feel confident, they know the Minutemen won't be an easy out and they have to remain focused.
Should MHS win Thursday afternoon, they'll have a quick turnaround before hosting an ECT quarterfinal game this Saturday, Oct. 12, at Fortunato. They'll play either sixth-seeded Glen Ridge or No. 11 Verona at a time to be announced.
The semifinals will be played Wednesday night as part of a doubleheader at Belleville High School, beginning at 5 p.m.