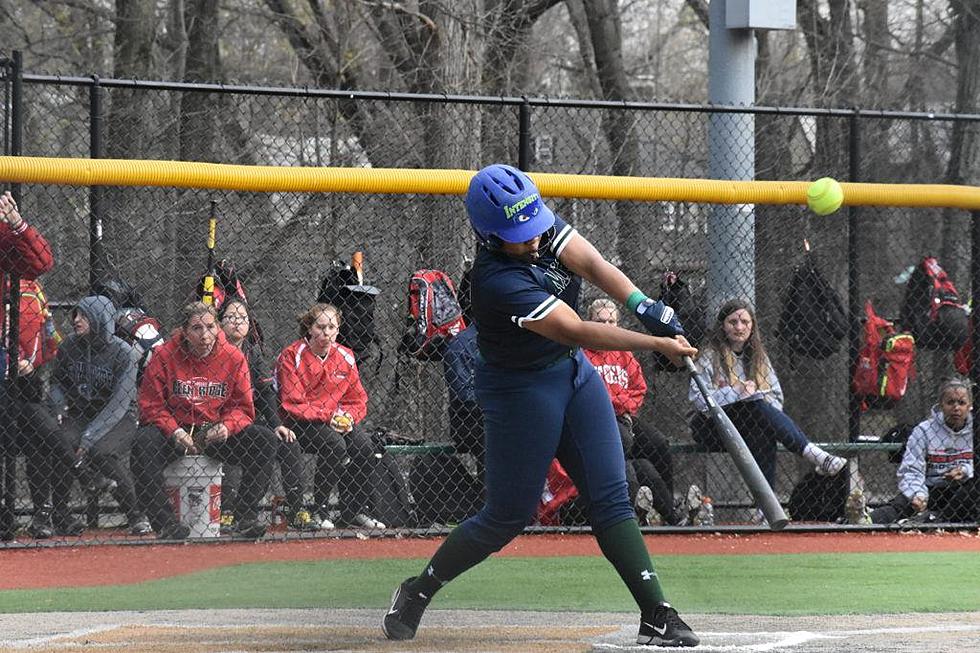 Montclair Softball: MKA totals 20 runs in wins over Glen Ridge, West Orange
MKA catcher Amanda Mack drives a ball deep into center field for one of her two extra base hits against Glen Ridge Thursday.
ANDREW GARDA/STAFF
by Andrew Garda
garda@montclairlocal.news
GLENFIELD PARK—Montclair Kimberley Academy's softball team got off to a little bit of a slow start Thursday afternoon against Glen Ridge in their 7-3 win, but that's generally how the season has been for MKA.
The Cougars (2-4, 0-3) are hoping their season will start looking more like their fifth and sixth innings, where they scored a combined five runs on seven hits.
Those two innings not only saw big hits by either Amanda Mack or Emily Talkow, but also players like Annie Turvey, whose fifth inning triple sent Mack home to score, and Jillian Fishback's sharp RBI single between first and second, which scored Talkow.
All told, the Cougars had a dozen hits, including three extra base hits.
The defense was solid as well, led by a nice performance by pitcher Geena Pacifico, who worked well with Mack, her catcher, to adjust her pitches to the batters she was facing. The result was a nine-strikeout day for the Cougars ace
"She did an amazing just placing the ball, in and out and just moving it around," MKA head coach Jess Sarfati said after the win. "That's kind of what kept us in the game today, especially late. She was able to mix and use all her pitches."
While there were plenty of hits to go around, Mack and Talkow were the stories at the plate. Mack hit a pair of absolute bombs, sending a double close to the fence in right field and a triple deep to center during the game. She was also walked twice.
Talkow had been practicing "slap hitting" from the left side of the plate this preseason, but has been on such a tear on the right side of it—her natural side—that her coach is keeping her there.
"Since we spoke [in the preseason], she switched to the right side, and it's been serving her really well," Sarfati said.
You can't argue with it, as Talkow gets on base and has a batting average of .571 so far this season, with a pair of doubles, three triples and a home run. That's even better than Mack, as the Boston College commit is hitting .500 with three doubles, a triple and a home run.
"She's been doing an amazing job in the leadoff spot as a hitter and a bunter," according to Sarfati, which is why she hasn't been 'slap-hitting'. "She can do all of it, but she's been mostly hitting. She hit two triples [against Bloomfield Wednesday]. She hit a homerun in the Livingston game."
She led off the game with a hit, drove in a run in the fourth, hit a rocket off the pitchers glove and up the middle in the sixth, ending her day 3-for-5 with a run batted in. Even her two outs were well-hit balls, and required good plays to turn into outs.
On Friday afternoon, MKA beat West Orange 13-3, a game which only went five innings due to mercy rules that force a game to end when a team is up by 10 runs or more.
This time, Mack was walked twice and hit by a pitch, while Talkow only got one hit in four at bats. However, each was sent home multiple times by the hitting of Jillian Fishback, Annie Turvey and Jillian Fishback, who combined for a total of 7 RBIs.
Pacifico pitched five innings, allowing just three runs on three hits with three strikeouts.
Up next is the Peddie School at home on Saturday, which finishes a stretch of five games this week.
Then starting next week, MKA has back to back games Monday and Tuesday, with one against Columbia on the road and one against Wayne Valley at home.
For Sarfati, even the tough losses are something the team can learn from.
"We took some tough losses earlier in the week against Livingston and Bloomfield," Sarfati said. "So I was like 'All right, let's take something away from this. Learn from the losses and take it into later in the week. So, the goal was to come out with the wins later in the week, and that's what we're doing."
More than anything, Sarfati wants her team to work hard and compete in every game.
"We've talked a lot about the season and the league we're in," she said. "And we know we're in a really competitive spot. We know we are working hard for every game."