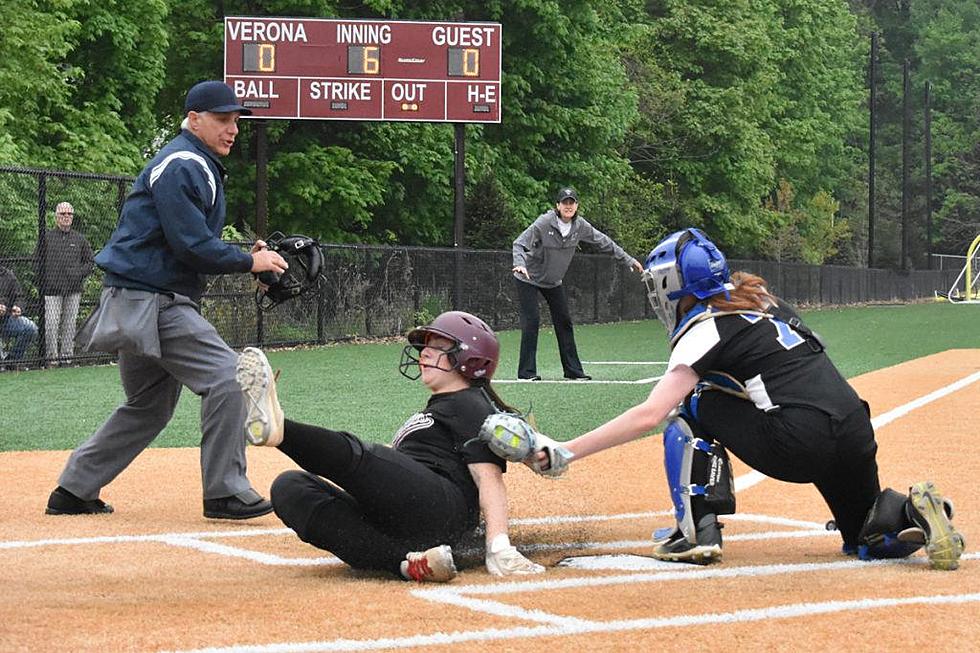 Montclair Softball: Mounties edged by Verona in Essex Tournament
MHS catcher Maddie Flynn's tag is just a little too late as Verona scores it's lone point of the Mounties ECT loss.
ANDREW GARDA/STAFF
by Andrew Garda
garda@montclairlocal.news
VERONA—The Montclair High School softball team played perhaps their strongest game of the season on Friday May 3, but the No. 10-seeded Mounties fell just short against No. 7-seeded Verona, 1-0 in the second round of the 2019 Essex County Tournament.
"We just faced a kid who throws 65 miles per hour," head coach Mike Goldstein said. "If we faced any other pitcher would have won that game today."
Both pitchers did an excellent job of keeping the opposing batters off balance, with Montclair pitcher Aliyah Andrews holding Verona to three hits and the Hillbilly's Christina Colon shutting Montclair down entirely.
Colon is a hard-throwing senior, while Andrews is only a sophomore, which made her efforts even more impressive.
---
RELATED: MHS SOFTBALL BEATS MKA WITH BIG FIFTH INNING
---
"Aliyah did a great job, she's coming on," Goldstein said. "This was a great stepping stone for her. If she doesn't make that one mental error in the sixth inning and throw the ball to first [not home] we may have won that game. [Verona] may have felt enough pressure we might have scored in the top of the seventh. It was that close."
Andrews limited Verona most of the game while Montclair struggled at the plate, until the top of the sixth inning. Verona finally managed to get a runner on base, who advanced to third while Andrews worked to get two outs.
Then, Colon came to the plate and dropped a bunt, which Andrews quickly fielded. With two outs she could have gone to first, but she tried to get the runner coming home out.
The ball came in a split second too late.
Montclair came up in the seventh, with Francesca Testa reaching first on a walk. While Colon worked to get the next two outs, Testa stole second and third base.
While Colon got ahead of the count against Ally Goodsil, Goldstein had a big decision to make. When Colon threw the next strike, he sent Testa running home.
It was a bang-bang play, but Testa was called out. Game over.
"I had to have her do that, I had no choice," Goldstein said. "That kid had dominated us, but you get a shot, you take the shot and live with the consequences. It was very close, [Testa] could have been called safe."
While Goldstein was disappointed by the outcome, he was pleased with the effort and felt that the Mounties could build on it.
"I told them I was prouder of them after this game than I was after any single game this season," he said. "I thought they really looked like a terrific softball team out there today, and it makes us feel good as coaches that some of it sunk in and some of it's working and we looked really good."
While they're out of the Essex County Tournament, the Mounties still have several more regular season games to play and the state tournament. Goldstein said they can be  very successful if they just hold the same focus against those teams as they did against Verona on Friday.
"If we can do this against other teams were going to win those games. I hope this is something this team can build on. I want to win but I could not be happier with them today."