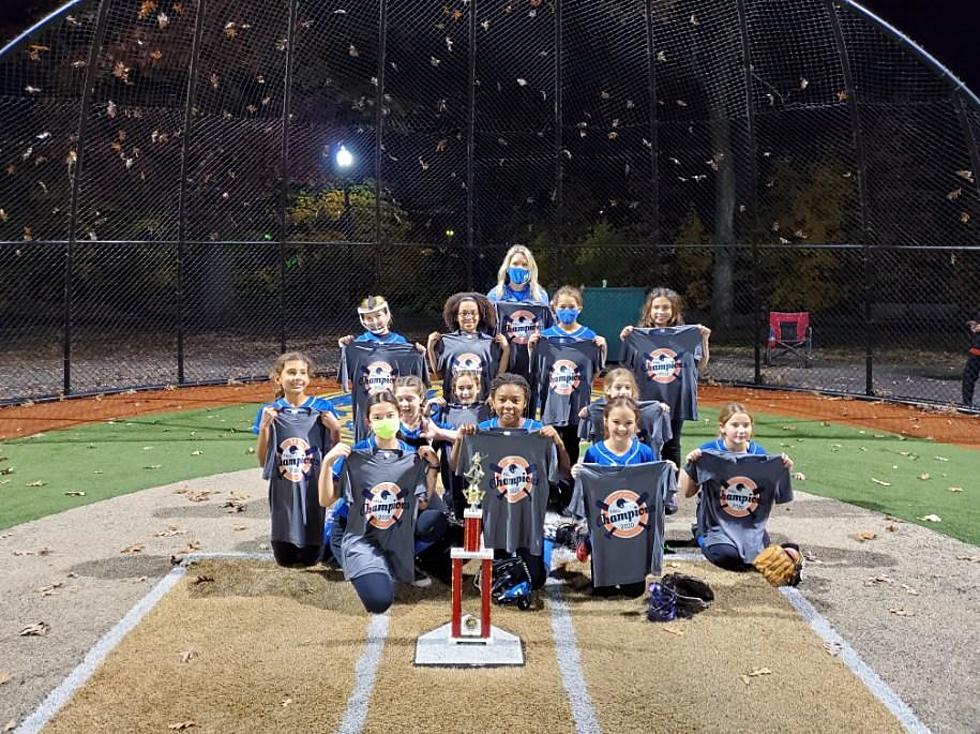 Montclair softball: 10U team wins Essex County title
The 2020 10U Essex County champions
Courtesy Jennifer Bell
by Andrew Garda
garda@montclairlocal.news
This fall, the Montclair Baseball Softball Club fought through the pandemic to provide a place for kids to come together and play softball and baseball. The result was not just being able to finish the season, but in the case of the 10U softball team, the Essex County championship.
Coach Jennifer Bell was proud of the way the team overcame the unusual circumstances they found themselves in this fall.
On top of that, Bell said a lot of the girls were playing for the first time and took to the game and coaching very well.
"They've learned a lot and pulled it together and became more disciplined," she said. "A strategy that I used which I thought would work was for them to learn a position. Not just play a random position every single game and not really know that position and own that position. And by the end of the year, I mean, we had, we had a solid defense."
Bell said they had another advantage in pitcher Eliza Chiu, who was also a team captain.
In 13 games, Chiu threw a startling 189 strikeouts, which means she was throwing an average of just over 14 strike outs a game.
So when the defense wasn't producing outs, Chiu was doing it on the mound.
"She had some games where there were 18 outs in the game and 15 of them, she was striking kids out," Bell said. "Everybody learned positions. Everybody learned how to be disciplined at the plate, but she was a real difference-maker on the team."
Bell is a coach at Fair Lawn High School and wasn't sure how younger kids would take to the coaching style she employs. She was happy to find out that once the kids got on the field and started playing, they were as enthusiastic as any high school player.
"The kids were at every practice and this was 10U softball, you know?" she said. "They were at practice, some of them were there early to do an extra hitting. Some of them now do hitting lessons. Three of the younger girls now take pitching lessons with me after seeing what Eliza did on the mound and how successful she was."
After a successful regular season, the team capped everything off with a 7-2 win in the championship over Packanack.
Montclair scored five runs in the first inning and never looked back. Eliza Chiu hit a pair of home runs, with first baseman Sam Leftwich adding another homer. Jordan Puryear laid down a key bunt as well. Chiu was dominant on the mound, notching 15 strikeouts.
Bell said that, as she had all season long, catcher Sarah Rich did excellent work behind the plate.
She said that in addition to all the hard work that the kids did on and off the field, the team couldn't have succeeded in keeping everyone on the field and healthy if it wasn't for the parents.
"All the parents were really on top of [things], being honest and open," she said. "That was really good. And they would keep their kid home if they were potentially exposed. It sounds weird, but it wasn't as challenging as I thought it was going to be because the parents were a big help."
Aside from making sure their kids and families did what they had to to stay healthy, Bell said several parents stepped up above and beyond.
"I had four parents who were willing to help be assistant coaches and a manager of the team," she said.
Eliza Chiu's father, Stan, was the team manager. Gregg Arsenuk, whose daughter Charley had never played before, stepped up, as did Kara Leftwich, Sam's mother, and Steve Adubato, whose daughter Olivia played shortstop.
These parents did everything from taking temperatures before games to reminding kids to wear masks on the bench to dealing with snacks.
"I know I sound like cliché, but it really was a very big team effort, so that I could focus on the softball stuff," Bell said.
More than anything, Bell said having an outlet to get exercise and socialize were clearly something the kids needed.
"The competitiveness of the game, the socialization with other kids, then the feeling of being part of something, it clicked, it worked," she said. "Not to sound cheesy, but [it's] inspirational. Everybody just had the drive to want to do this. And yes, it's only 10U softball, you know, but it was such a big part of something so big for these kids, especially right now."