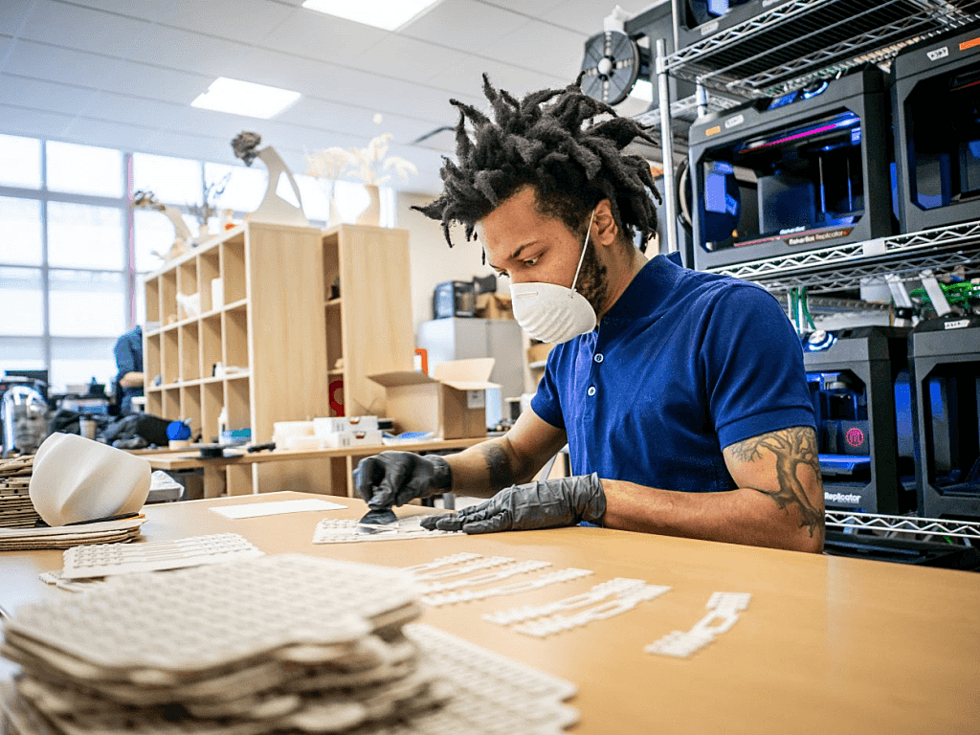 COVID-19: Montclair State University lab starts 3-D printing face shields for hospitals
PHOTO COURTESY MONTCLAIR STATE UNIVERSITY
Altarik Banks, a 2018 graduate of Montclair State University, works on mask components in the MIX Lab.
By ERIN ROLL
roll@montclairlocal.news
At Montclair State University, the MIX Lab in the Feliciano Center for Business and Entrepreneurship is using 3-D printing to assemble mask parts and face shields for health workers during the COVID-19 pandemic. Montclair schools helped by donating some equipment from their 3-D printers.
The lab plans on producing 1,000 plastic face shields a day for area hospitals such as Hackensack Meridian Health Mountainside, Valley and St. Joseph's Regional Medical Center, said Carley Graham Garcia, the Feliciano Center's executive director.
The first batch of 400 face shields was delivered to St. Joseph's on April 2.
Since the onset of the project in March, the demand for shields and other PPEs has increased rapidly, to the extent that Montclair State is now partnering with William Paterson University and Montclair Design Week to help produce the shields, and to work on fundraising and communicating with hospitals.
In addition to making face shields, the lab has now started producing other items, including ventilator splicers and  IV connectors.
Montclair public schools staff and Montclair Fund for Educational Excellence members collected and donated 3-D extruders - the nozzle that emits plastic filament onto the printing surface - from all 40 of the schools' 3-D printers.
Extruders tend to burn out fast, and are also difficult to replace due to ongoing supply and delivery issues, Garcia said.
The project is being overseen by School of Business faculty members Jason Frasca and Iain Kerr.
Only two students are in the lab at a time, in order to maintain social distancing, and everyone wears face masks and gloves while working.
One of the concepts that the students learn about is "blockage:" any kind of obstacle that interrupts the flow of how a business or project may work.
"We're dealing with the ultimate blockage," Garcia said. The outbreak has kept people at home, interrupted supply chains, and led to delays in materials, she said.
Montclair residents have also been conducting collection drives for N95 masks and other equipment for hospitals and first responders.
Some are also sewing reusable masks, using cloth and elastic.
The lab attempted to try 3-D printing an N95 mask. However, the team soon discovered that 3-D printing N95 masks would not be practical. The 3-D printed masks had gaps in them where the mask came into contact with the face, and would therefore not be feasible for hospital use.
Additionally, Garcia said, each N95 would cost $40 to produce: "Not only was it not hospital-grade, they were very costly to produce."
A face shield costs between $1.18 and $1.50 to produce.
The plastic headbands that are used with the shields are 3-D-printed in the lab.
Another model of the face shields is outfitted with elastic headbands. The majority of the shields sent to St. Joseph's on April 2 had elastic headbands, since those shields are faster to complete.
Montclair Design Week launched a GoFundMe on April 2 to help raise money for the project.
As of April 16, the fund had raised $16,970, out of its goal of $30,000.
"We want to get as many masks out the door and help as many people as possible," Garcia said.