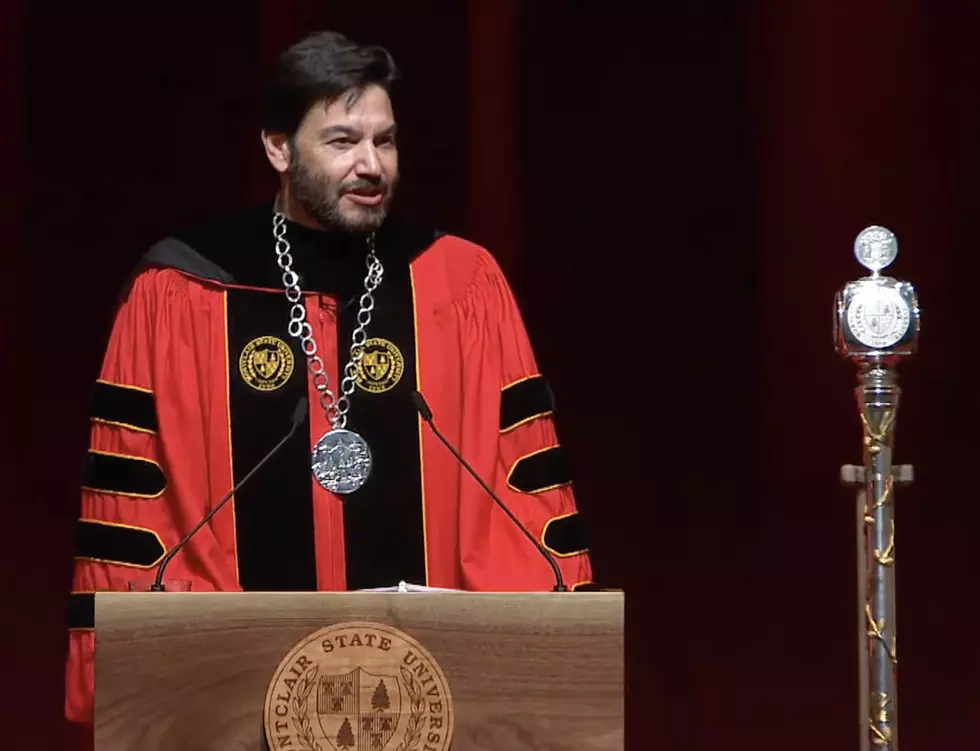 Montclair State University welcomes 9th president, Jonathan GS Koppell
Jonathan GS Koppell delivers investiture speech (SCREENSHOT)
Montclair State University canceled all classes Thursday, Sept. 16, to officially welcome the university's new president, Jonathan GS Koppell, in a formal investiture. 
On the sunny day, outside the university's amphitheater, representatives of the university dressed in collegiate regalia and current and former Red Hawks alike, gathered to hear introductory remarks to celebrate the incoming president. 
"Today, we are excited to usher in the future leadership of Dr. Jonathan Koppell, who will no doubt bring the passion, intelligence, creativity and vision of a new generation to his presidency," Angelo J. Genova, MSU Class of 1975 student body president, said in opening remarks. "Dr. Koppell … I am so very pleased to welcome you and wish you Godspeed as you assume the awesome duties and responsibilities for this presidency." 
Koppell is officially MSU's ninth president, following the university's first female president, Susan A. Cole, who led the school between 1998 and 2021. 
"Today, we come together as a community to acknowledge the awesome responsibility that President Koppell assumes as the leader of this university," Cole said. "Today, with processions and robes, and many, many speeches, as a community, we say to President Koppell, you have taken on a really important assignment, and we are confident in your ability to serve us in the role of president with distinction." 
The outdoor ceremony lasted about one hour, ending with the new president taking a "selfie" with the crowd of current and former MSU students. University representatives and other supporters, led by an honor guard, then walked across the campus and piled into Memorial Auditorium to hear a speech by Koppell and watch him become formally invested. 
In his speech, following many thanks and praise given to MSU's former presidents, educators, family and friends, Koppell described both his vision for the university and the ways in which he will help address educational challenges through his presidency. 
"I imagine Montclair State University confronting all these challenges head on," Koppell said. "I can see it so vividly in my mind. Together, we can build Montclair State University as an exemplar of a public serving university – a solutions engine –  firing on all cylinders, to create the world we wish to inhabit." 
Part of Koppell's vision, and what he refers to as a step toward "building a social mobility slingshot in the 21st century," is to introduce a new Office of Student Belonging to the university. Through this, Koppell said MSU will "re-evaluate everything," including the way in which the university offers degrees, how the university is organized and re-evaluating prerequisites that act as stumbling blocks to academic and student success. 
Koppell also mentioned, in the near future, he would like to create a comprehensive campus climate survey, "as a step toward building a more equitable community for students, staff and faculty." 
Another major initiative Koppell announced during his investiture speech was Montclair Unbound. Through Montclair Unbound, Koppell said the university will begin to offer degrees in ways that combine modalities, such as in-person, asynchronous online, real time distance interaction and more, to, "meet students where they want to learn."
"Montclair Unbound is not just a platform, it's really a mindset," Koppell said. "This is a critical step in the evolution of higher education, a new model that is student centric, that is designed to overcome the structural impediments to success that have thwarted true access for so long." 
Koppell acknowledged the university's new provost, Junius Gonzales, for advocating for a university-wide undergraduate research program. This year, Koppell said, he will be making this happen with more than 30 faculty searches.  
In between addressing his many visions for MSU, Koppell took a moment to address the ways in which he will not be running the university. In his speech, he mentioned that some colleges lean toward building up their reputation by becoming more elite, in other words, making it more exclusive for only a select type of student to attend. "We categorically reject this approach, and we always will," he said. 
Koppell announced that, following the recommendation of a faculty committee, he will be launching two new colleges, one focused on health professions contributing to community well-being, as well as a college based on the premise of what he calls "education reimagined." 
"These will be two new powerhouses," Koppell said. "Future educators and health professionals will engage with our talented faculty in an environment of inquiry and innovation. They will have practical learning opportunities to reinforce and contextualize classroom instruction." 
Throughout his speech, Koppell emphasized the importance of collaboration between not only other universities across the state, but also collaboration with the communities that MSU serves. "To achieve our purpose," Koppell said, "we must erase the lines that separate campus from community." 
To this point, Koppell announced that a series of initiatives are to come for the university that involve partnerships between local nonprofits, government agencies, businesses, community groups and philanthropies, in an effort to build a stronger community. One of these initiatives includes an upcoming role for MSU in the revival of Hinchliffe Stadium in Paterson near Great Falls National Park. There, Koppell said, MSU will shepherd the history of Paterson and use it as a teaching tool to advance K -12 students.
To further support ongoing MSU collaborations, Koppell announced that the university will be building a first of its kind Community Action Nexus to serve as a hub for faculty staff and students seeking to connect, and a "front door" for those communities who see the university as a potential partner. 
In a final announcement, to ensure all MSU students have public service experience as part of their education, Koppell announced the launching of the Next Generation Service Corps at Montclair State University. This will act as the first four-year comprehensive public service leadership program for students across the university. 
"This is the Montclair State University of my imagination," Koppell said. "It is a prototype, a prototype of a public serving university that we need today. One that expands opportunity, invent solutions, empowers problem solvers, engages our communities and reinvigorates our democracy. I believe that universities committed to advancing the public good are essential to conquering every problem that confronts us today. And I know Montclair State University will be among those leading the way."