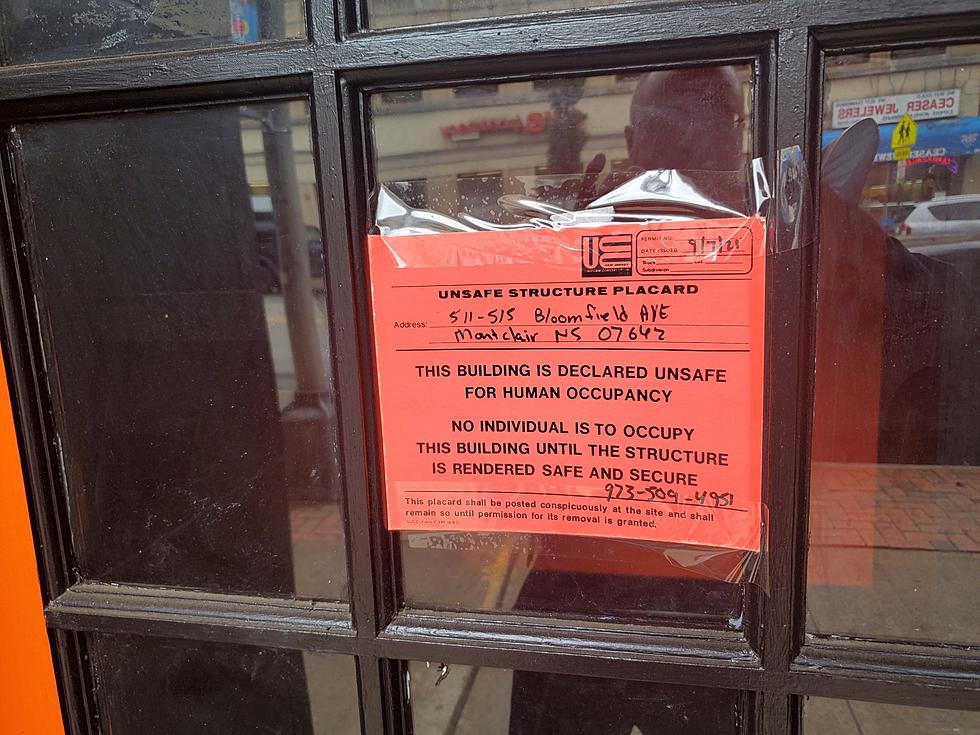 Montclair still reeling from Ida, but avenues for help emerge
A sign outside 511-515 Bloomfield Ave. says the building has been deemed unsafe for human occupancy. The mixed residential and retail building houses Mesob, The Shade Store and a location for Ani Ramen that was originally expected to open earlier this month. (LOUIS C. HOCHMAN/STAFF)
By LOUIS C. HOCHMAN
hochman@montclairlocal.news
Chris Egan doesn't know when his two Walnut Street restaurants will open again. Maybe Halcyon and Egan & Sons will be back in two weeks. Maybe six.
"We're worse for the wear," Egan, who owns the restaurants with ex-wife Sharon, said. "And with the housing market being the way it is, every contractor is already lining up jobs for months."
That was true even before the night of Sept. 1, when floodwaters from Ida rushed through Montclair, filling basements and first floors of homes, restaurants and storefronts. Egan's two restaurants are alongside Toney's Brook, and "sort of at the bottom of two hills," he said. The cleanup continues — as of Monday, he and his staff had made their way through four dumpsters, getting rid of wet and ruined inventory, furniture and flooring. The restaurants continued to pay their 96 workers through last week, but can't again until they reopen, Egan said.  
They, like many businesses and residents, are still struggling with the reality of the storm's damage. But some avenues for relief have started to open up.
Follow developing news about Ida's impacts in Montclair
FEMA aid available
On Sept. 10, the Federal Emergency Management Agency added Essex County to its major disaster declaration for Ida, opening up applications for federal funds to individuals and businesses suffering damage. In all, 11 New Jersey counties are now included.
Mayor Sean Spiller had said he was "shocked and angry" when Essex County was excluded from an initial declaration on Sept. 5. But he and other local officials celebrated the expansion. "We are living from crisis to crisis, and with our community still reeling from the effects of COVID-19. We desperately needed this win," Councilman Peter Yacobellis said. 
Essex County residents can now register for relief at disasterassistance.gov. Applicants can register for assistance for home repairs and temporary housing and apply for low-cost loans. Homeowners will need their insurance companies' denials of coverage to complete applications.
Fund for Ida Relief 
Residents have continued pouring donations into a fundraiser Yacobellis started to provide Ida relief. The fund has supported $500 grants to cover the cost of cleanup not covered by insurance for residents with household incomes of $100,000 or less. It has also supported grants of $500 for tenants in households making $100,000 or less, to cover the cost of necessary personal possessions. 
This week, Yacobellis said the fund would also support up to $5,000 in $500 or $1,000 in grants, depending on need, to nonprofit organizations that suffered damage to premises in Montclair. The fund also will support $500 grants to cover the cost of replacing items such as HVAC equipment, telecommunications or internet equipment for residents with household incomes of $100,000 or less. Those grants are for residents without insurance, or to offset deductibles for those with insurance.
And it would fund $5,000 in promotional and marketing support for a new business directory at loveourmontclair.com, created in a collaboration among Montclair Spiller's COVID-19 Recovery Task Force, the Montclair Center Business Improvement District and consultants Teem Ventures. That includes an advertisement in this week's edition of Montclair Local.
The fundraiser is on Facebook, and can be found by searching "Councilman Yacobellis' Montclair Fund for Ida Relief." Links to applications for grants and support are available on the fundraiser page. As of Tuesday, it had raised more than $41,000.
LoveOurMontclair.com
The directory itself is an outgrowth of several previous efforts. An earlier campaign had encouraged residents to "Shop.Eat.Repeat" (the associated site now redirects to LoveOurMontclair.com). And Yacobellis, Spiller and Deputy Mayor Bill Hurlock had advertised the "Love Our Montclair" concept in newspapers on social media last year.
The new directory, according to Raj Amin, founding partner of Teem Ventures and the head of the task force's small business subcommittee, is seen as a centralized location to promote all Montclair businesses. About 125 had signed on by this week, and he's hoping for hundreds more in the near future. Visitors can filter by the type of business or area of town.
It had been meant initially as a resource to help support businesses in the pandemic. Now, it includes resource pages for Ida relief opportunities as well. Amin envisions the site being updated frequently to reflect the business community's needs.
Shop.Eat.Repeat had been focused on discounts and promotions. LoveOurMontclair.com, he said, is a more evergreen resource. Small businesses often have to compete with big-box stores and online retailers, and may not be able to provide the same sales, "but they do have a focus on quality, and being a part of our community," he said.
The site is funded through a state grant administered through the Montclair Center BID, he said. 
Businesses, nonprofits struggling
Some of the businesses hardest hit by Ida were on or near Bloomfield Avenue, in the area of Montclair's North Fullerton Avenue parking deck, where waters reached above cars and SUVs.
Outside the shared residential and commercial building at 511-515 Bloomfield Ave. — home to The Shade Store, Ethiopian restaurant Mesob and a new location for Ani Ramen that was expected to open the week of the flood —  was a sign declaring it unsafe for occupancy. 
A fundraiser on GoFundMe.com, "Help Save 515 Bloomfield Ave. Building," had raised $1,575 as of Tuesday. According to the campaign, water levels had risen more than 5 feet in the building, knocking down walls in a shared basement. The township's building department said there was electrical damage as well.
Montclair Film's office space, adjacent to the deck, saw extensive damage to its concourse level. Executive Director Tom Hall said laptops, cameras, sound equipment and hard drives were all lost, and plenty of building material will need to be replaced.
Right now, that leaves an open question as to how the organization will conduct fall classes, though Hall said experience holding remote sessions in the pandemic may come in handy.
But two major events won't be affected, he said: The 10th annual Montclair Film Festival remains on schedule to take place from Oct. 21 to Oct. 30. Hall said details are expected to be announced by the end of this month. Montclair Film also plans to reopen the shuttered Clairidge Cinemas in October, as previously announced. The theater was spared much damage, Hall said. 
He welcomes help from the community, but the group is still trying to get a handle on what assistance would be useful. 
"I think there's a lot of need out there right now, so we appreciate the generosity," Hall said.
The CVS on Bloomfield Avenue ripped out its carpets on Wednesday, Sept. 8, a week after the floods. One resident, Iris Lewis, told Montclair Local that before that, the smells in the building made her feel ill, and she worried about the safety of workers, though Montclair's and Essex County's health departments said they hadn't received any complaints. 
Samba Montclair, which lost $50,000 in broken appliances and $6,000 in spoiled food when its basement flooded, thanked community members on Facebook for "the generous outpouring of love, faith and contributions." A GoFundMe campaign, "Help Save and Restore Samba Montclair!" had collected more than $28,000 by Tuesday.
Efi Mihalis, owner of Efi's Gyro, said she was able to open three days after the flood, but after losing more than $5,000 worth of meat — including products imported from Greece — and all of her freezers. Ricardo Patel, manager of The Wine Guys on Bloomfield Avenue, said staff was still sorting through what inventory could be kept, but had already trashed about 70% of what was in stock. The wine store opened the day after the flood.
At Let's Yo! yogurt shop owner Rajiv Gupta said he was able to open up almost immediately — the damage was to his basement, but not his storefront. But he lost all of his inventory, he said. A GoFundMe campaign, "Help Restore Let's Yo! Montclair after Flood" had raised $1,200 by Tuesday.
"Right now I'm working on fumes. I have no inventory as a backup," he said.
For Egan's part, he was working on replacing wooden and marble flooring, furniture, equipment and food. In the pandemic, he said, his restaurants have been lucky to be able to offer an outdoor space. For now, he's not looking for support from fundraisers.
"I think there are worse cases than ours for that type of donation," he said. "We'll be fine, and I'm sure it'll work out. People have been very good, and we have good relationships with our vendors and banks. … And we can shut the doors after a long day and get to a dry home."
Other aid
New Jersey residents who lost vehicles and need assistance accessing essential services can text "NJIDARIDE" to 898-211 to request a free or discounted Lyft or Uber ride. 

The New Jersey Economic Development Authority expects to launch an application for the Business Assistance Grant Program at 9 a.m. on Friday, Sept. 17, online at

njeda.com/henri-ida-relief

. 

The

Red Cross offers a shelter finder at redcross.org

— select "Get help" and then "Find an open shelter."
— Includes reporting by Jaimie Julia Winters and Andrew Garda