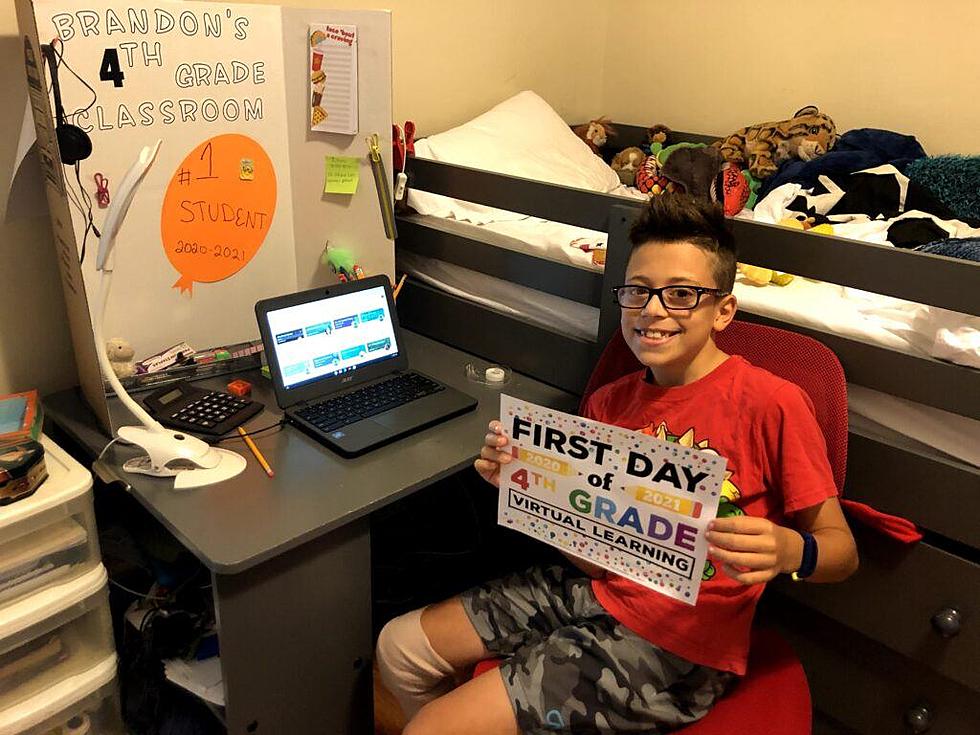 Montclair students start new school year from home
PHOTO COURTESY BROOKE KESSLER
Edgemont fourth-grader Brandon Isakoff starts off the new school year at his designated study space at home.
By ERIN ROLL
roll@montclairlocal.news
With Montclair's school buildings closed, students nevertheless started school last Thursday, from kitchen tables, bedrooms, back porches and living rooms. 
Teachers and administrators virtually greeted nearly 6,500 pupils, having distributed 1,300 Chromebooks and 96 hot spots in the weeks leading up to opening day. 
"It may have looked different than years past, but it didn't take away from the smiles and eagerness of the children who were ready to 'meet' their teachers and classmates," Superintendent Jonathan Ponds wrote Friday in a letter to parents. 
"At least they didn't have to bring umbrellas and boots on their first day, as it was pouring in the morning." 
Montclair is one of 236 school districts across New Jersey starting the school year with all-remote learning, according to data from the state Department of Education. 
Montclair Kimberley Academy started on Sept. 9 with hybrid learning. Lacordaire Academy started virtual learning on Monday, and Immaculate Conception High School will start its hybrid program this Monday. 
Even though Montclair High School was not physically open, students gathered in small groups for their annual "senior shirt" tradition, posing for photos with T-shirts with their class year printed or painted on them. 
The elementary schools had virtual ice cream socials for their incoming kindergarten classes in the days leading up to the first day. 
On Thursday, before school began, families on and around Marquette Avenue held a block party, with refreshments, music and a short parade in the rain, before students went back inside to begin virtual learning. 
Schools are planning back-to-school nights for the next two weeks.
Athletics began Monday, Ponds said, with the first soccer, tennis, field hockey and football games scheduled for Oct. 1-3.
At the kitchen table
Jessica Schachter, who has children at the Bradford and Glenfield schools, said her children were happy to be back learning, even if it was virtually. "There were very few glitches, but everyone rolled with it when they happened. The teachers were calm and kind and friendly, and the kids are really happy to be together even though it is remote," she said.
Her family plans to share their space with other children from Glenfield, Buzz Aldrin and Edgemont — all socially distant and in the garage with doors open, or in the backyard, Schachter said. 
Brooke Kessler's son, Brandon Isakoff, a fourth-grader at Edgemont, also had a good week. 
"My son was focused, and he was able to navigate the day. His teachers were amazing," Kessler said.
Amy Rabb-Liu, whose son is an MHS senior, said she is happy the district is taking the time to make sure the school environment will be safe for students, teachers and staff before considering bringing everyone back into the buildings.
"He's got a schedule full of classes he's really looking forward to taking," Rabb-Liu said. "There were some small technology glitches on the first day, such as his homeroom teacher's video not working with Google Meets, but by the second day the glitches seemed to be resolved." 
The first days included ice-breaker activities, with students sharing fun facts about each other, and a hands-on AP physics workshop, she said. 
Some parents reported via social media that their children were having trouble with technology and internet connections. 
Crislie Perry, whose two children attend Our Lady of the Lake School in Verona, has one child doing all home-school learning and the other doing hybrid learning. She told Montclair Local that the first day was somewhat hectic, with Perry trying to do a Zoom meeting for work while supervising her children's learning. The internet connection for her older child kept freezing up on the teacher's end, she said.
"I am also having a hard time managing work meetings and going back and forth helping my kids with internet technical difficulties. Hoping next week is better and our school will figure out their connection issue," Perry said.
Montclair initially planned to start school on a hybrid model, with students attending school in person for four hours a day, two days a week. 
However, in August district officials decided to delay the restart of in-person learning due to concerns over the ventilation systems in the school buildings.
The district is in the process of installing new filters and upgrading the systems, with the hope that the buildings will be able to reopen on Nov. 1. 
Montclair's students have not seen the inside of a school building since March 13, when schools closed for a day of professional development on virtual learning for teachers, and remained closed due to the pandemic.