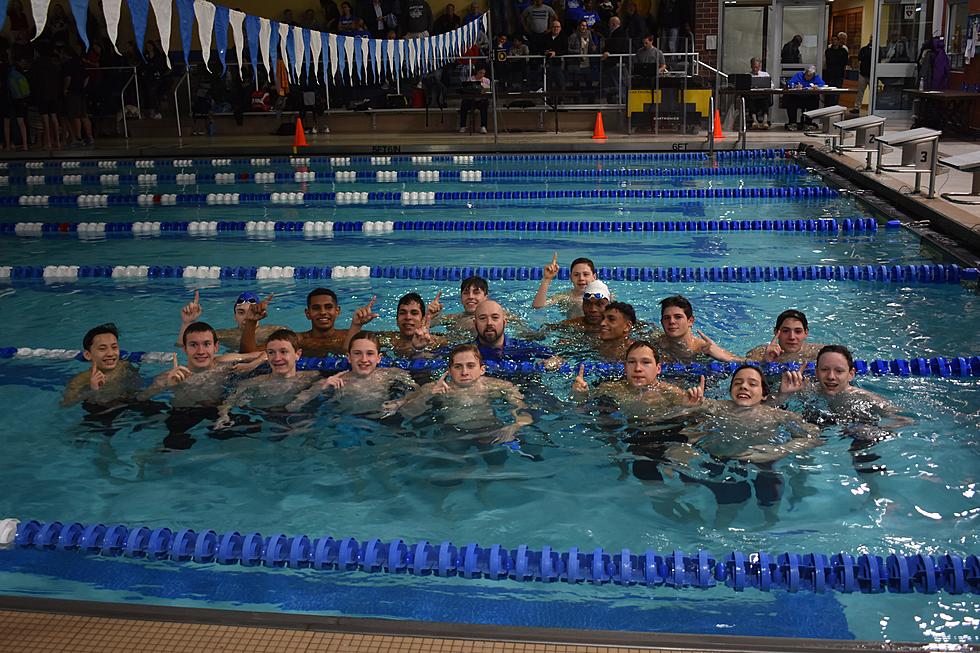 Montclair Swimming: Mountie boys capture first ever sectional title
Traditionally, NJSIAA Sectional champions jump into the pool at PCTI, which the 2020 NJSIAA North 1, Group A Champion Montclair High School Boys swim team did on Feb. 14.
ANDREW GARDA/STAFF
by Andrew Garda
garda@montclairlocal.news
WAYNE — Just five days ago, before the Montclair High School boys swim team took to the pool to take on Livingston for the semifinal round of the NJSIAA North 1, Group A tournament, head coach Edward Koenigsfest told them they needed to make a statement.
They did against Livingston, winning 134-36, and then kept the momentum going in the finals on Feb. 14, as the top-seeded Mounties dominated No. 3-seeded River Dell to capture their first ever Sectional title by a score of 111-59.
"They had the same mindset they had against Livingston, that they've had all season since last year when we lost by two," Koenigsfest said, referring to last year's heartbreaking 86-84 finals loss to the same River Dell program. "We were just talking in the locker room, the guys who were here and took that tough loss, all they've been thinking about since this time last year was coming back and going to finals, coming back and going to finals."
More than just making it to the finals, the Mounties were hoping they'd get a shot at revenge against River Dell.
"We were hoping it was River Dell so we could get a little retribution, and it ended up being that," Koenigsfest said. "They just wanted to win, they wanted that state title for the first time for Montclair and that's what they got. Their hard work, dedication, dreams, everything they focused on for the last year just came together."
It showed from the moment the team hit the pool.
Montclair started off hot, taking both first and second place in the 200 meter medley relay, with the team of Jarrett Driever, Leo Powers, Tommy White,and Mizell McEachin winning with a time of 1:41.78.
The Mounties took the lead in that race and never looked back, much like they took a 12-2 lead in points after the 200, and never came close to relinquishing it.
The Mounties took first place in six of 11 races, including all three relay races. 
However, what really made the difference was that they placed swimmers in at least two of the top three spots in every race.
While first place gives the team the most points, the rewards for second and third place aren't far behind. Repeatedly scoring two out of those three positions is a good way to pile up the points, which Montclair did Friday night.
It didn't hurt that the Mounties finished 1-2-3 twice, 1-2 another time and 1-3 three times.
So while seniors like Tommy White and Justin Ellis continued to perform exceptionally well, it took a tremendous evening by all the Mounties to win the team's first ever sectional title.
Juniors like Alex Petroff and Jarrett Driever, sophomores like Marcos Gutierrez and even freshmen like Logan Driever and Kallan Sobier all contributed to the team's success Friday night. Anyone can and does step up, and each swimmer will put ego and pride aside to make sure the team succeeds.
That's the formula Koenigsfest has worked hard to instill in his teams, both boys and girls. It's the formula that has put the Mounties at No. 13 in NJ.com's power rankings, and will likely propel them higher this coming week.
It's also a formula that could make the Mounties a potentially dominant team for many years to come, as they have more than just a talented freshman class.
"With the juniors, who are going to be seniors next year, and sophomores who are going to be juniors, it's just deep," Koenigsfest said. "It sucks that we'll be losing Tommy, Roman and Justin, but the guys we're keeping, you can't beat that."
While the team had some experience in the Sectional finals, the Group A Championship semifinal was uncharted waters. Still, if nothing else, the Mounties have proven they definitely had a shot at beating fellow undefeated Sectional champion Bridgewater-Raritan in Raritan Bay this coming Wednesday, Feb. 19 at 4:30 p.m. in the 2020 NJSIAA Boys Swimming Group A Championships semifinal. 
While the turnaround will be quick, Koenigsfest said that he and his team will just keep doing what has worked for them.
That includes changing up who is racing what race, or taking part in what relay.
"We had to tweak just to keep it a little bit different, a little bit fresh," Koenigsfest said. "The relays were a little bit different, splitting up the medley, keeping the strong two freestyle and then splitting the 400 just in case, because you didn't know what would happen at the end."
Koenigsfest has said all season that with this team, ego is out aside and everyone puts team first, even if it means they have to take part in back-to-back races.
"Sometimes, you have the 50 free then you have the 100 fly. Mizelle did it today, Marcos has done it before, but all these guys, they put all their personal stuff aside and they're just here for the team," Koenigsfest said. "Which is what I was talking about in the beginning, just keeping all of us together, because that's what it's about. We couldn't have done this without any of them, you know what I mean? It took all of them to get what we got and in a big fashion."