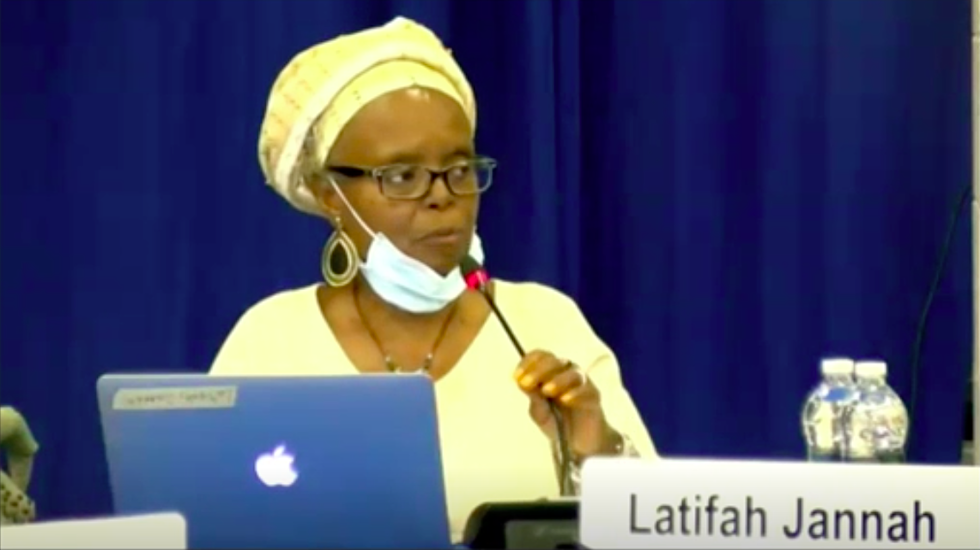 Montclair teachers see slight salary increase in one-year contract
The Montclair Education Association and the Montclair Board of Education successfully negotiated "a fair and equitable" contract for the 2021-2022 school year, board president Latifah Jannah said at the Aug. 16 board meeting. (SCREENSHOT FROM AUG.16 BOARD OF EDUCATION MEETING)
BY TALIA WIENER
wiener@montclairlocal.news
Montclair Education Association leaders and Montclair Board of Education members say both groups worked collaboratively to negotiate the 2021-2022 teacher's contract, prompting a smoother agreement than past years. 
The new contract, valid July 1, 2021 through June 30, 2022, sets a salary increase of 3.17%, slightly down from the 2020-2021 contractual increase of 3.5%. For 2019-2020, the increase was 3.25%, up from the 2.75% for 2018-2019 year. The previous contract was from July 1, 2018 to June 30, 2021. District officials and the union have not yet responded to why the new contract is only for one year.
"We believe the terms to be fair," union president Cathy Kondreck told Montclair Local. "I, as well as my team, appreciated the collaboration and cooperation we experienced with the Board of Education in settling a fair contract for next school year."
The previous contract, in effect from July 1, 2018 to June 30, 2021, came after a long-standing dispute over staff salaries and health benefits. Due to contract negotiations, Montclair teachers worked under the terms of a July 2015 through July 2018 contract during the 2018-2019 school year. 
The 2018 through 2021 contract was then adopted during summer 2019, but teachers claimed their new contracts contained inaccurate numbers, missing stipends and other incorrect data. Some said they opened their documents to discover someone else's paperwork inside. 
Then on Sept. 6, 2019, MEA employees were told instead of receiving their contractually obligated pay raises, they would receive pay rates set for the 2017-2018 year while district officials worked to verify details of the new contract. Staff was provided with correct salary amounts in October 2019, then Superintendent Nathan Parker said. 
All other amounts in the new contract, including hourly rates, extracurricular stipends and instructional activities, were frozen at the 2020-2021 rates.
"Both sides came to the table with a collaborative spirit, something that was much needed during this difficult time," Kondreck said.
At the Aug. 16 Board of Education meeting when members voted to approve the contract, board president Latifah Jannah thanked the MEA for "working collaboratively with us to ensure that a fair and equitable agreement was reached." The new agreement "protects the financial interests of the community and supports the education provided to children in the district," Jannah said. 
"We are confident that this exceptional milestone will allow the district's administration and staff to start this challenging school year with the sole focus on ensuring our students continue to be provided with an excellent education in the safest possible environment," Jannah said at the meeting. 
The MEA and the board worked "in a very collegial constructive manner," chair of the board's negotiations committee and board vice president Priscilla Church said at the meeting.