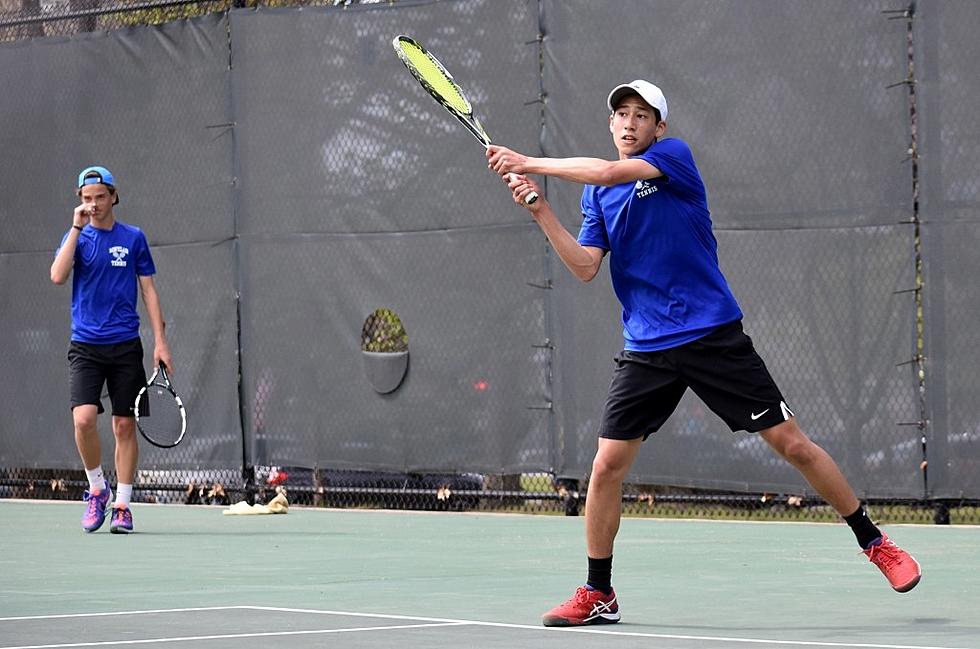 Montclair Tennis: Group IV final trip a thrill for Mounties
Senior Leo Kupferman was part of the heart and soul of the 2019 Mounties, according to head coach Guy Rabner. Kupferman has more tennis to play as a high seed in the individual singles tournament

.
STOCK PHOTO
by Andrew Garda
garda@montclairlocal.news
The Montclair High school boys tennis team ended their season on a high note, despite a loss to top-seeded Montgomery in the NJSIAA Group Tournament, Group 4 finals on Wednesday, May 22.
Even though the Mounties, who NJ.com ranked as the No. 5 team in the state in their most recent rankings, lost to Montgomery, regarded as the best in New Jersey, their presence in the group finals was a feat worthy of celebration, said head coach Guy Rabner.
"This is the Group IV championship, the finals of group IV," "Montclair has never gone as far as this," Rabner said on a recent phone call.  "The next step would be the tournament of champions. We've done this one about five or six years ago, where Montclair also made the sectional finals. But that was the only other time this happened."
As they had in the Sectional finals the previous Monday, the Mounties had to overcome a lot of hurdles to even get to the finals.
It started when the Mounties woke up to find out one of the players in their second doubles team wouldn't be available Wednesday. That meant MHS would be going up against Westfield — a team that had handily beaten them earlier in the season — without one of their starters.
Rabner turned to senior Josh Clement to step in.
As it turns out, Clement and his partner freshman Sol Cornejo would be the match that clinched the win over Westfield for Montclair.
"They won the first set, but barely lost a close second set," Rabner recalled. "And that kind of thing can really eat at you and change the psychological momentum of a match."
Cornejo and Clement didn't get rattled though, getting up 9-3 in the third set. That set, often called a superset, does not score as a regular set, but awards one point per score, with the winner that reaches 10 first.
Then the Mounties second doubles had their second hiccup of the day.
"They missed a couple points, then the other team came up with some amazing shots, and all of a sudden it was 9-8," Rabner said.
Once again, though, Clement and Cornejo stepped up.
"They ended up winning the point at 9-8, to win it and that clinched the match for us," Rabner said. "The emotion in that was so difficult to take, I don't even know how to explain it."
The Westfield match was an especially hard-fought battle, with every pairing going to a third set save second-singles, which was stopped because the match was already decided and Andrew Wallace's opponent was playing hurt.
Westfield gave Montclair all it could handle, but the Mounties still came out on top.
"They were all tough matches, and they could have gone either way," Rabner said. We were fortunate that our kids came through it at the right time."
Along with the performance of Clement, Rabner credits the win over Westfield to the leadership of seniors Leo Kupferman and Connor Piorkowski.
"Leo and Connor, they were kind of the heart of our team, in terms of their exuberance and their ability to really give this team a lot of energy."
---
RELATED: MHS BEAT BERGEN TECH TO SECURE FIRST SECTIONAL TITLE SINCE 2014
READ: MHS RELAY TEAMS, THROWERS IN SPOTLIGHT AT SECTIONAL CHAMPIONSHIPS
---
Kupferman, who is first singles, and Piorkowski, who is part of the first doubles pairing, both have had good seasons, and are the type of teammates who lead by example on and off the court. Rabner said that in a season with some very tough and close losses, they were the ones who kept the Mounties on task and energetic regardless of the situation.
The long match with Westfield —four of five pairings went to the third set — left the Mounties a little bit drained, while Montgomery easily swept their opponents aside.
Rabner said that it was clear the tournament knew the Montclair-Westfield match would be the premiere one.
"The [NJSIAA] specifically... put our match on  the show court because they knew ours would be the highest quality and the closest possible matchup. And they couldn't have been more right about that," Rabner said. "It was really a thrill to be a part of and it was so exciting to not only be a part of it but actually come out on the winning side. It was a shame anyone had to lose the match."
The Mounties didn't have as much luck against Montgomery, but Rabner said they seemed to keep it in perspective.
"There was disappointment in losing to Montgomery I think, but not a lot of sadness by anyone," Rabner said. "I think everyone was really satisfied and happy with the season. I don't think they could have written a much better script than they did based on reasonable expectations."
While the team is done, Kupferman, Andrew and Kevin Wallace still have the singles tournament to go.
All three have tough draws — if Kupferman makes the round of 16, he faces James Hopper, one of the top players in the state — but Rabner feels they all have a shot.
He's especially excited for Kupferman, who Rabner said played his best match of the season against Hopper in the group finals, pushing the match to a third set. Kupferman had struggled a little against his Westfield opponent but settled down and won that, something Rabner felt he carried forward into the match with Hopper.
"The good thing about the second match – and he admitted this – is that when he played Hopper, he was totally loose," Rabner said of Kupferman.  "He had nothing to lose, literally. So he just played and didn't think about whether he would miss, didn't worry about it, wasn't tight. So it was just back and forth the whole match. And he played awesome, he played one of his best matches of the season."
If Kupferman meets Hopper in the singles tournament, Rabner said not to be surprised if the Mountie makes a game of it or even wins.
"He is a very good player, one of the top two players in New Jersey, Rabner," said of Kupferman. "On the same level as Hopper.  I was very proud of him for that match, and he was proud of himself which he should be."
And that goes for all the Mounties for a tremendous 2019 season.