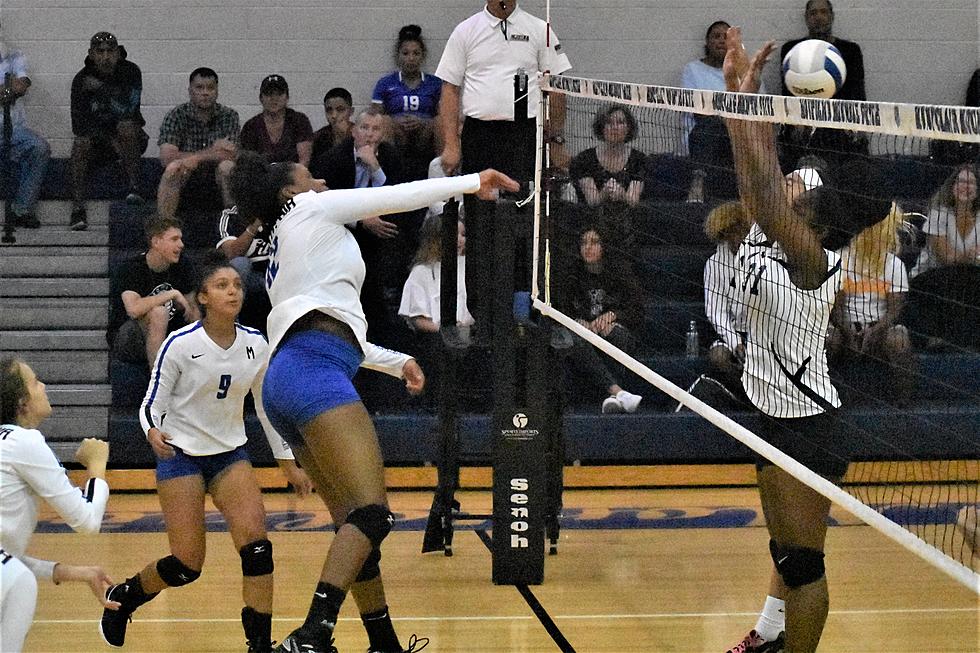 Montclair Volleyball: Mounties beat Belleville, 2-1
MHS junior Raya Happonen sends a spike into the Belleville end. Montclair beat Belleville 2 sets to 1 on Friday, September 13.
ANDREW GARDA/STAFF
by Andrew Garda
garda@montclairlocal.news
The Montclair High School  girls volleyball team started off a bit sluggish against their opposite number from Belleville on Friday, Sept. 13, but they overcame it to beat the Buccaneers, 2-1.
Head coach Pam Reilly said that the game the Mounties played against Verona the night before, a three-set loss to the Essex County powerhouse, had been a draining one, which might have been why MHS dropped the first game against Belleville 25-20.
"Verona was a high-energy, high-emotion game and they beat us up pretty good in the first set," Reilly said. "And then we had a little chippiness that I feel was an integral factor in helping us get together."
The ripple effect was a first game against Belleville which saw them trail the Buccaneers early in the game before pulling within 12-11. That was as close as the Mounties got in that first game, though. Belleville built a six-point lead MHS could never cut into, winning the game 25-20.
Coming out for the second game in the set, Montclair played a much more energetic game. Led by excellent service from Taylor Sprowl, Montclair surged out to an 11-1 lead, and the Buccaneers were rocked back on their heels.
"Taylor came up big with some good serves," Reilly said. "She's serving and she plays front row really, really well. [The team] blocked pretty well today."
The Buccaneers crawled back into the game late, but ran out of time, as Montclair took the second game 25-17.
In the decider, the two teams traded points and the lead until MHS went ahead, 9-8. While Belleville would hang around a little longer, Montclair never relinquished control again, heading to a 25-18 win and taking the match, 2-1.
"In this situation… sometimes you have that person who stands out," she explained. "But this was that group effort, they all did something. And the people I subbed in did exactly what I wanted them to do, make something happen."
Reilly said it was a massive group effort, led by players like freshman Jamiee Keys and junior Brooke Rader (5 kills).
"[Jamiee] came in and had a few service errors but she played pretty good defense and a couple of balls she attacked that maybe weren't kills but were setting us up for something defensively," Reilly said. "Brooke came in during the second set and stepped up pretty big. She had a couple of hitting errors but she also had a couple of great hits. She's a lefty playing the right side with is just a gem for volleyball."
While the subs were doing what they needed to, so were the starters, led by senior outside hitter Sienna Martinez, who led the team with 10 kills and 15 digs.
"She's been playing varsity since she was a freshman," Reilly said. "She's been a mainstay for us. She's not big in stature but she jumps pretty well and she sees the floor pretty well. She's a smart volleyball player. I mean she's solid all the way around."
Reilly pointed out junior middle hitter Raya Happonen (5 kills, 3 digs), senior captain Angel Gaines (12 assists), sophomore Paige Foley and juniors Ava Karanikolas and Elsa Mila-Wilkotz as also contributing during the game.
Mila-Wilkotz, in particular, is a great example of the selflessness of the team.
"She played libero last year," Reilly said, referring to the specialized position which plays in the back row and can sub in and out for anyone, but cannot serve. "We had a crisis at center, because I didn't want to run… with the center I had, so she was pressed into service. [Mila-Wilkotz] wants to play libero, that's what she's done at the club level and what she did for us last year. But she's been doing a decent job of putting up good balls, hittable balls for us."
Flexibility of position is huge for Reilly's Mounties, because it gives her the ability to throw anyone into the game. If that chance comes for you, though, you'd better be ready.
"That's what I talk to them about," Reilly said. "Please be ready when your opportunity comes. And when It comes you'd better seize it because you can't get comfortable or complacent. There's [always] someone behind you, wanting to get your spot. That's the nature of sports."
The win over Belleville, while not perfect, helped break a losing skid of two games.
"I'm happy that we won," Reilly said. "We needed to get off this skid and we needed to break the ice a little bit, because we hadn't won since the first match of the season."
With the Mounties at 2-3 overall, and 1-2 in the Super Essex Conference's top tier, the American Division, they hope to carry on the momentum and start a new streak in tough upcoming games against the likes of Millburn, Mount St. Dominic and Livingston.
"I see the development occurring. I think it's going to take some time still, because we're early in the season," Reilly said. "It's not happening as quickly as I – or probably they — would like it to happen. It's a work in progress, but I am very happy and pleased with some of the things I'm seeing from them."