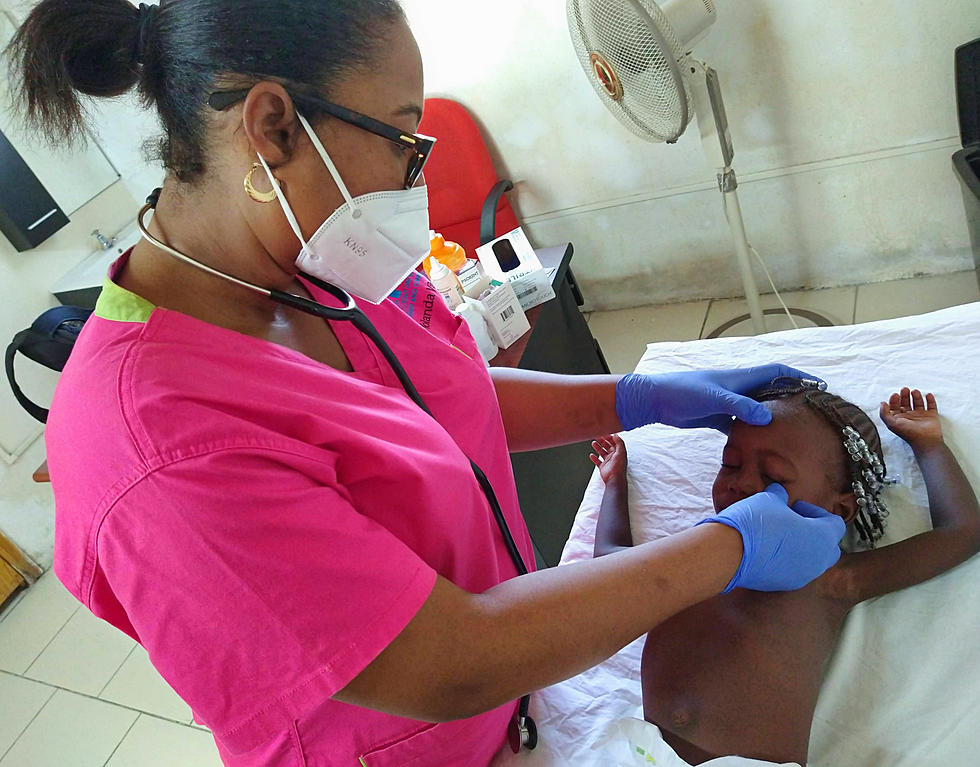 Montclair Winter ball will spotlight medical outreach effort
A young patient receiving medical care from one of Lamp for Haiti's doctors. (Courtesy of Kelli D. Herd)
A charity ball being held at The Woman's Club of Upper Montclair next month will shine the light upon the Lamp.
The gala, on Saturday, March 4, will benefit Lamp for Haiti, a medical outreach program co-founded by a Montclair doctor.
Declan Carney, a longtime township resident who organized the ball with Lamp for Haiti's help, said, "The ball will be a night of cocktails, hors d'oeuvres and dancing, with the benefit of sponsoring a charitable organization – a chance for Montclairians to dance away the winter blues and prolong the seasonal spirit of giving,"
Lamp for Haiti works to provide health care and humanitarian aid to the people of Cité Soleil, one of the most impoverished cities in Haiti. 
For co-founder and longtime township resident Dr. James Morgan, the urge to help was ingrained, but he just wasn't sure of the best way to express it. 
He grew up with parents who were active in the community. His father, also a physician, helped to start the Manhattan Bowery Project, a medical unit for homeless people battling alcoholism and living on Manhattan's Lower East Side. 
Morgan's mother, a nurse, used to volunteer at Covenant House in New York City. 
"This sort of aspect of life was part of the fabric of our family," he said. "I'm one of seven children, and to do this type of thing was considered normal."
In 2001, a friend who was a principal at a school in New York City asked him if he would like to help chaperone a trip to Haiti. That two-week trip caused Morgan to take a special interest in the country. 
In 2005, the year after Haiti had a coup, Morgan and some of his associates decided it was time to start Lamp for Haiti and began work in Cite Soleil. The organization didn't officially become incorporated until 2006. 
"We started going into this area called Cité Soleil, which we chose because we thought it was among the worst-off places in the country," he said. "And we figured, well, if we're going to do something, we should probably try to find the most impactful way and the area in greatest need."
Extending aid to the people of Cité Soleil hasn't been easy. Lamp for Haiti has had to deal with gangs that infiltrated the area and the 2010 earthquake that left 300,000 dead and damaged Lamp's medical center.
With the help of community leaders the center has been able to gain the trust of citizens who need medical aid. Since its inception, Lamp for Haiti has treated more than 120,000 medical cases and sees 14,000 patients each year. Plans include expanding its laboratory capabilities beyond the current 5,000 lab tests conducted each year. 
"What I frequently think about is this concept that, if it were easy to do, everybody would be doing it, and we wouldn't have the problems that we're facing," Morgan said. "So it's not going to be easy. There are going to be continued challenges, for reasons that I'll never be able to explain." 
In addition to providing medical assistance, Lamp for Haiti gives 40 students scholarships that cover tuition, uniforms and supplies. 
Carney said he was always interested in holding a charity ball. It wasn't until he met Morgan and heard about Lamp for Haiti that he felt an "absolute urgency" to turn the idea into reality, and the result was the first Montclair Winter Charity Ball. 
"I figured having an opportunity to get all dressed up, enjoy great food, an open bar and the company of friends, while dancing the night away and supporting an amazing organization that is literally doing life-saving work, struck me as something that my fellow Montclairians could embrace," he said. 
Carney hopes that the ball will be one of many and will each year honor a local organization that is doing charitable work. 
The gala will feature a swing band, Stomp Society, a DJ and an auction in addition to cocktails and hors d'oeuvres. Ticketholders are encouraged to dress in black-tie attire. More information and tickets, at $125, are available at lampforhaiti.org, events button. 
All proceeds from the evening will go to Lamp for Haiti.