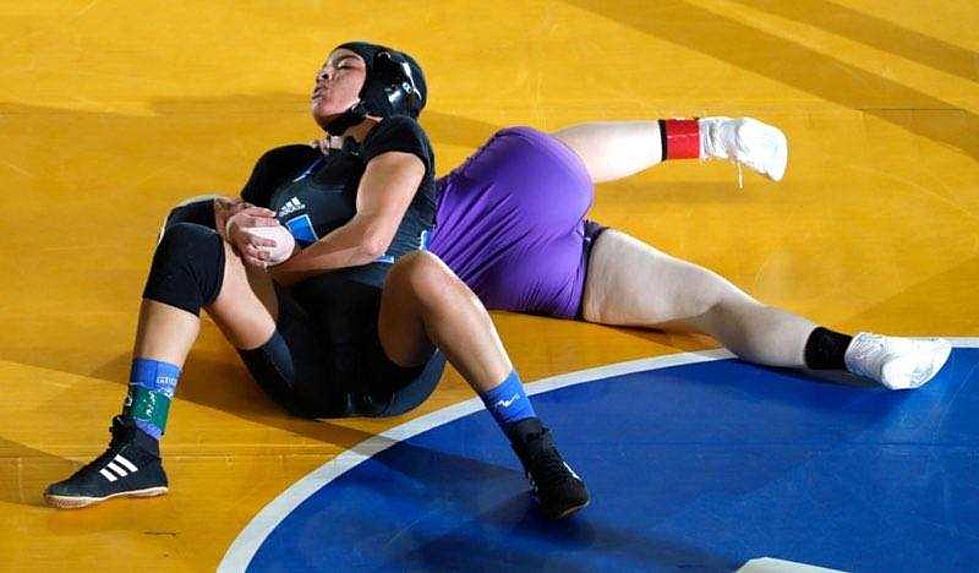 Montclair Wrestling: MHS Williams makes history in NJSIAA girls meet
MHS wrestler Jaala Williams places a hold on her opponent during a round in Atlantic City at the NJSIAA Girls Wrestling Finals.
Courtesy MHS Wrestling
by Andrew Garda
garda@montclairlocal.news
Montclair High School wrestling coach Eugene Kline stood watching senior wrestler Jaala Williams prepare to battle for the 136-pound title bout of the inaugural NJSIAA girls wrestling championships at Atlantic City's famed Boardwalk Hall, something he'd believed was going to happen for a long time.
"I didn't tell her that," Kline said the Monday after the match, in the Montclair wrestling room as his wrestler stood nearby smiling. "But I told my coaches, and I knew."
Williams was part of a historic event in New Jersey sports history last weekend as the state celebrated the first season of girls wrestling as an independent sport.
"I didn't know until after, but there were a lot of people at my match, specifically to see how I would do," Williams said. "People don't usually pay that much attention to me I would say, during the wrestling season, so I guess having that moment at the end was really nice."
Williams, like every other young woman in the arena, had worked very hard to get where they were. It was the culmination of many practice hours, a ton of matches against both boys and girls and more than a few doubts from onlookers within the sport.
For Williams, the hard work would pay off with a second place finish in the 136 pound category, winning two matches in the championship bracket before falling to Manalapan's Jesse Johnson, who ranked fourth in the nation last summer, in the gold-medal final. She also left AC with interest from two colleges, including one with a very good architecture program.
While Kline wasn't telling Williams how far he'd known she could go, he'd made sure Williams was aware she held her destiny in her own hands.
"Going into Atlantic City I told her, you're going to be on the podium," Kline said. "The question is where. And the type of work you put in for these next two weeks that's what is going to move you up the podium."
Before Regions, Williams wasn't really sure about how hard the competition would be.
"I went to a couple of girls tournaments, but I couldn't really gauge how difficult the competition would be. Getting out of regions, getting third, it was definitely like, I can get on the podium if I just focus and do what I have to do," she said.
It was a tournament in Bloomfield that cemented Kline's belief in Williams' potential for a run in Atlantic City. During the Bloomfield tournament, weight classes were jumbled up and Williams, who was wrestling at 136 pounds, battled girls who weighed up to 160. Yet, Williams came in third, behind two wrestlers who went on to finish first or second in their weight class in Atlantic City. Both outweighed her by at least 20 pounds.
That set Williams up for a strong state tournament run. After earning a third-place finish at the North Region championships on Feb. 23, Williams was seeded fifth out of six entrants in the 136-pound bracket in Atlantic City.
She had to survive a thriller in the quarterfinal round, defeating Delran's Emma Matera 5-3 in sudden victory. Then, in the semifinals, she pinned the top seed, Veronica Whitacre of Monroe, with 47 seconds remaining in the third period.
Johnson, the gold medalist from Manalapan, pinned Williams 1:39 into the championship bout — a disappointing result, but only part of a journey that the Mountie senior will treasure.
---
RELATED: ATHLETE SPOTLIGHT - JAALA WILLIAMS, MHS, WRESTLING
READ: MHS WRESTLERS ADVANCE IN NJSIAA TOURNEY
---
"There's definitely a type of sisterhood between all the women wrestlers," Williams said. "Even when you compete against somebody, the girls that I beat and the girls that beat me, we would still talk after. It wasn't like we had any ill will against each other because we all know we've been working hard. We know it's not easy to be in the sport. And there's just certain expectations we all have, I feel like we all have for each other," she said.
They all understood the legacy they were leaving behind, Williams added.
"A lot of the girls I was talking to, even [In Atlantic City], we all had this common excitement for where wrestling could go, especially for women," Williams said. She pointed out that not long ago, the Olympics had considered dropping wrestling as a sport. Now, one of the reasons why the IOC might keep the sport was because of the interest from female wrestlers.
"You have this sport that's so masculine and everything like that. I think that's kind of interesting that women are kind of the thing that may save it."