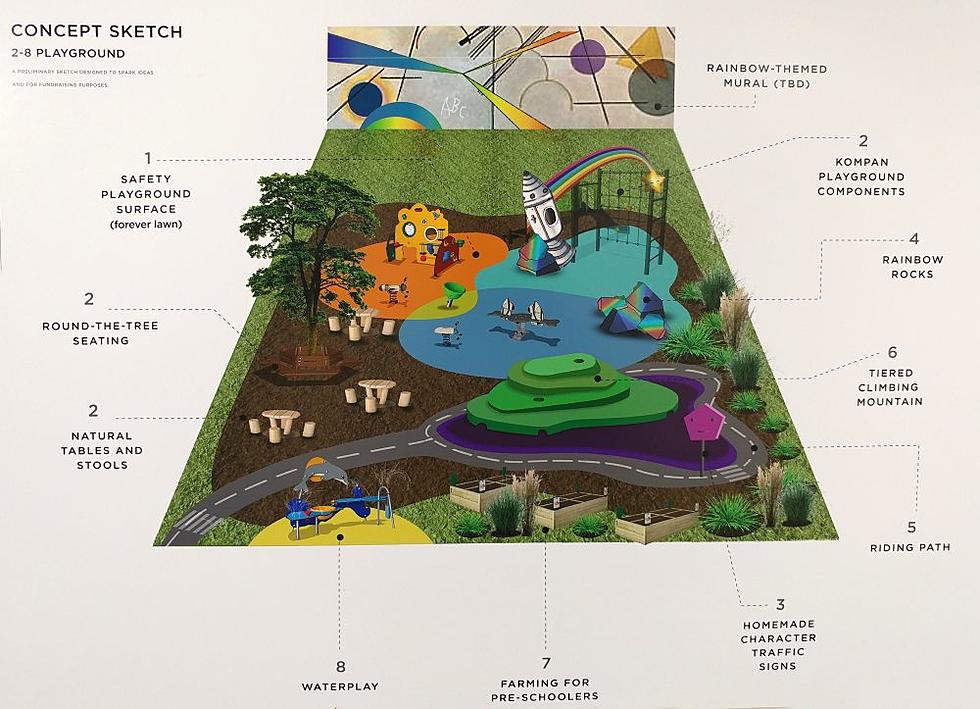 Montclair YMCA close to starting playground — and seeking your donations
The concept sketch for the upcoming YMCA playground in Montclair reflects many elements of the design, including the rainbow color scheme, accessible structures and an emphasis on collaborative play. (Courtesy of Montclair YMCA)
By TALIA WIENER
wiener@montclairlocal.news
The Geyer Family YMCA of Montclair is scheduled to break ground this summer on what it's describing as an "imaginative and inclusive neighborhood playground" — and is in sight of its fundraising goal to make the plan a reality.
A $25,000 donation from Montclair residents David and Bridget Placek and another $20,000 from food company Sovos Brands/Rao's Homemade, based in the township, have helped the project meet 75% of its $200,000 goal. The Placeks and Rao's have challenged the community to put forth another $15,000 by May 31 — and they'll each match donations up to that amount, making for a two-for-one match opportunity. 
Originally expected to break ground at the YMCA site at 159 Glenridge Ave. in the summer of 2020 but put on hold due to the coronavirus pandemic, the playground is intended for children who attend programs and camp at the YMCA and who live in the area, the YMCA said in an announcement of the match opportunity. 
The playground would be built around a rainbow theme. That "really portrayed to me what Montclair is all about, with equity and inclusion," YMCA of Montclair President and CEO Buddy Evans said.
The playground design emerged from a collaboration between the YMCA, Gary Fredriksen, professor of art and design at Montclair State University, and six MSU students. The student interns, who will receive credit for designing and manufacturing the playground, created virtual and physical models for the playground's elements. They pulled inspiration from nature and playground equipment companies.
The YMCA's own video, showing the students work developing the project, is below:
"In working with the YMCA, select students and various consultants, our goal was to design an inclusive play space that engages children both physically and creatively," Fredriksen said. "We also wanted to include unique elements that connect the playground to the Montclair community."
The space will be wheelchair-accessible, with a staircase in compliance with Americans With Disabilities Act guidelines, according to the YMCA. Aimed to engage children of all ages, the playground will feature a variety of activity-based spaces including an interactive garden for hands-on planting, a "creation station" where kids can play with materials like clay and sand, and climbing stations. 
Other features include an artificial turf cart path around the space where kids can ride tricycles and bicycles and a toy rocket ship that is intended to go hand in hand with the YMCA program's emphasis on science, technology, engineering and mathematics. Evans said the goal of the playground design was to encourage kids to use their creativity and imaginations, to have fun and to learn something. 
Other donors include Investors Foundation, Susann and Jim Connors, Wendy and Andrew Lacey, and others.
"This entire playground project has been funded by generous donors, both big and small," Evans said. "The Y is grateful to all who have made this playground a reality, helping our Y better serve families and our community." 
Donations to the playground can be made on the YMCA website, which also features a fundraising tracker. Details and permits for the playground are still being worked out, but a groundbreaking ceremony is planned for later in the summer. A ribbon-cutting will take place in the fall, and the space will be open to the public. 
David Placek, a landlord and real estate investor, is the new owner of the Lackawanna Plaza train station property, which he plans to redevelop. He was praised by Gov. Phil Murphy last year for giving his tenants a "rent holiday" during the early days of the coronavirus pandemic.