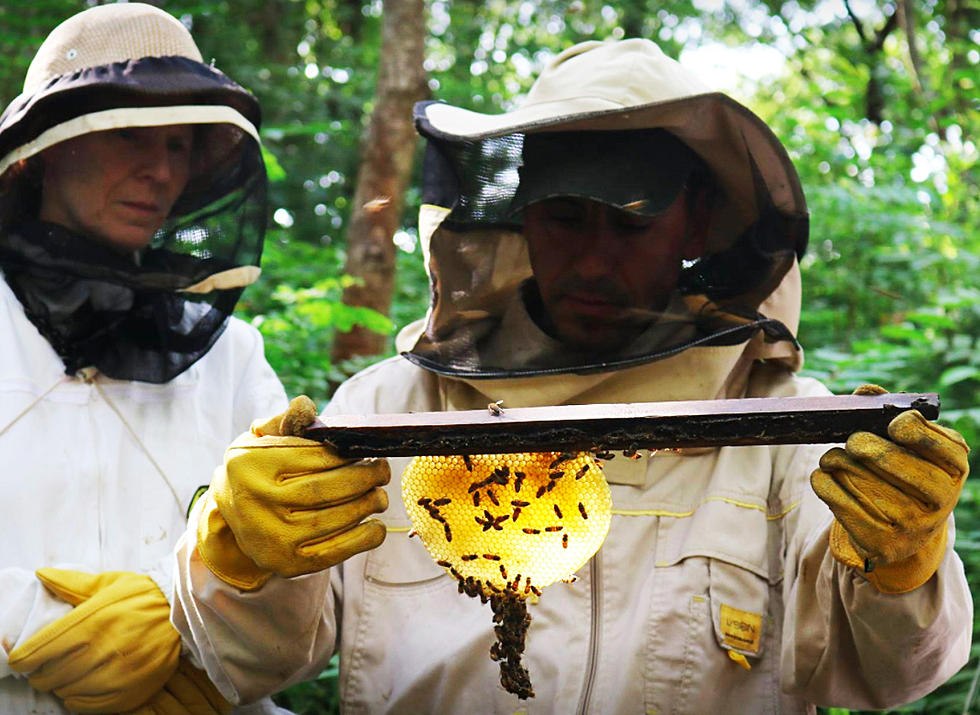 Montclairians are helping to save the bees
Van Vleck beekeeper Eric Hanan with his wife, Mary. (Photo Courtesy Villages in Partnership)
This story is part of "We Care Montclair," a special celebration of groups and individuals working to help the Montclair community. See more stories in the special "We Care Montclair" section inserted into the April 29 edition of Montclair Local.
By REBECCA JONES
for Montclair Local
Beekeeping has long been a somewhat underground hobby — nobody wants to advertise they have boxes filled with honey bees in their yard — but it has grown in popularity in recent years, largely due to the public's growing understanding of the threat bees are facing and the danger that poses to the world's food supply.
Now, apiaries are being welcomed at public and community gardens in Montclair to help rejuvenate the honey bee population and pollinate the fruit and vegetable gardens planted there.
In 2018, both Van Vleck House & Gardens and the Presby Memorial Iris Gardens installed beehives in tucked-away spaces on their grounds. This spring, the Mother Teresa Community Garden on Pine Street added hives, as did Montclair Community Farms on Orange Road.
"Bees are private," said Nancy Skjei, president of the organization that maintains Presby. "They like quiet, too. So, you won't see them, unless you're looking." 
The PresBee Sanctuary behind the Walther House currently has four active hives containing approximately 240,000 honeybees, according to their beekeeper, John Debenedett. The honey sold in the gift shop helps support garden operations. "People say they can taste the irises," Skjei said.
Van Vleck's resident beekeeper, Eric Hanan, was a successful television producer when he gave it up to tend beehives for a living. Now he owns Bee Haven, a company that installs and services hives on hospital rooftops, residential properties and public gardens like Van Vleck.
"I met a beekeeper at a sheep-shearing festival and was attracted by the observation hive which allows you to see the queen and other bees at work," he said. "I just found it so interesting." When he was offered an opportunity to be mentored by a professional beekeeper, he went for it.
For adults who are interested in seeing Van Vleck's hives, Hanan gives a presentation once a year called "Ask a Beekeeper." This year's is on May 11 at 6 p.m. 
Montclair is a garden
"It's good to be a beekeeper in Montclair because there is always something flowering," said hobbyist beekeeper Ted Shrensel. "There are so many gardens. In the spring, you get lighter honey made from apple and cherry blossoms. Japanese andromeda is the first thing open. In the fall, it's Japanese knotweed, goldenrod and asters. Then you get a darker honey that is more flavorful but not quite as sweet. It's all the flowers of Montclair."
If you've ever seen a man selling honey from a pop-up table in his yard on North Mountain Avenue, that's Shrensel. He's been a beekeeper for nine years. Before COVID, he said, he would give customers tours of his backyard hives, too, if they were so inclined.
"Bees were always something I was interested in back in high school and in college," he said. "But when you're young you're so busy, and it takes a tremendous amount of time to take care of your bees and to harvest your honey and to bottle it." 
When he neared retirement, Shrensel realized he would have that time. "I discovered there was a class offered at the Montclair Adult School taught by Joe Lehino, who went on to mentor me. Lehino was a member of the Essex County Beekeepers Association, which is one of the oldest associations of beekeepers in the country, if not the oldest. They offer a course on beekeeping once or twice a year." 
One of Shrensel's customers, Jen VanHamburg, said she buys local honey for the unique flavor. "All that is lost when it's industrialized," she said. "It also helps with digestive health, allergies, and it strengthens my immune system. I also love to help support hard-working beekeepers that are looking out for our environment." 
Buying local or "raw" honey not only helps support the important work local beekeepers are doing, "it's better for you," Shrensel said. "The stuff you get in the market may or may not be real honey. They may add sugar water to it or corn syrup. Some of the imported honey is not good for you because of the chemicals and additives."
Why buy local?
Processed honey has been heated and high-pressure-filtered to both slow the rate of crystallization and give it a clearer appearance. 
"When you look at my honey, it's a bit hazy. I put it through filters that filter out bee body parts and pieces of wax, but that haze quality, that's the local pollen," Debenedett said. 
Shrensel said: "Once you heat honey above 105 degrees you lose the good properties of it. The effects for allergies are gone."
Some people claim that eating local honey can cure seasonal allergies. The idea is that when a person eats local honey, they are thought to be ingesting local pollen, and over time, a person may become less sensitive to this pollen and experience fewer seasonal allergy symptoms.
The scientific evidence of this is anecdotal, said Van Vleck's Hanan. "For some people it works, for some it doesn't. For me it was like clicking a switch. I ate a spoonful of my honey every day for two months during the winter, and the next spring my allergies were gone."
If your honey crystallizes, which means it's the real deal, he said, all you have to do is put the jar in a bowl of warm water to get the flow back. 
"Honey will last forever on its own," he said. "They found honey in the tombs of the pyramids that was still edible." 
Support local bees
A national survey cited by the U.S. Department of Agriculture reported that 44% of managed honeybee colonies were lost in the United States from 2015 to 2016, following a trend that has been going on for the last 30-plus years. The National Park Service attributes these declines to habitat loss, non-native species, pesticides, climate change and parasites and diseases such as the Varroa mite and colony collapse disorder.
Experts urge people to stop using pesticides. "The fact that a lot of Montclair residents are not using pesticides and chemicals in their yards is helping beekeepers in town to have a healthier environment for their bees," said Jose German-Gomez, whose Northeast Earth Coalition brought beekeeper James Feeney and his hives to the Mother Teresa Community Garden, located at the end of the parking lot of Our Lady of Mt. Carmel Church.
A class of pesticides known as neonicotinoids are the real problem. Beekeepers and environmentalists have been calling for a ban on them for years, blaming them for killing their hives.
But if you really want to help the bees, Debenedett said, "let the dandelions grow! They are a real harbinger of spring. My yard has 100 dandelions. That's the sign that the bees can pretty much feed themselves."  
According to German-Gomez, it's also very important to plant native plants in your home gardens. 
If you want to learn more about beekeeping or become a beekeeper yourself, the Essex County Beekeepers Association is a good place to start. 
Shrensel's advice: "Only get your own hives if you are willing to put a lot of work into it. And take a beginner class. Otherwise you're going to be throwing your money out the window. Your bees are going to die because you don't know enough. You need a mentor."
The easiest way to support the bees is to buy local honey. You can find it at the farmers market, or buy it through the Montclair public gardens and hobbyist beekeepers. 
An earlier version of this post misspelled Eric Hanan's name. It also included a quote Hanan has told Montclair Local was inaccurate; the quote has been removed.