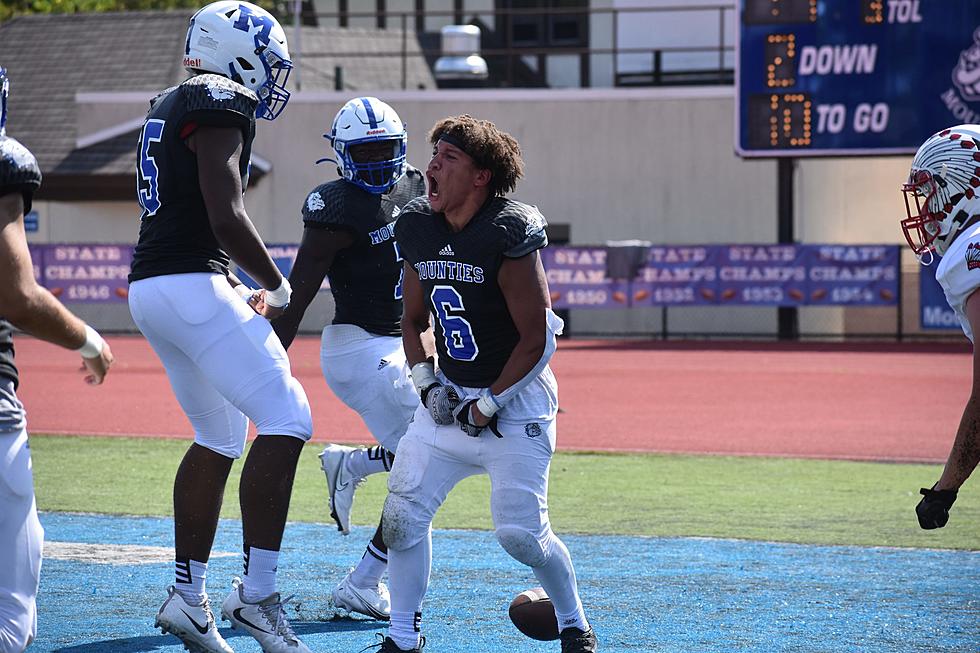 Montclair's 35-6 win over East Side give Mounties, Ramiccio first wins
MHS running back Jordan Williams celebrates the first of his two touchdowns. Williams kept hold of the ball but lost his helmet as he scored during Montclair's 35-6 win over East Side on Saturday, Sept. 18.
ANDREW GARDA/STAFF
BY ANDREW GARDA
garda@montclairlocal.news
It was hard for Montclair High School football coach Pete Ramiccio to pick what felt better about the Mounties' 35-6 win over Newark East Side on Saturday, Sept. 18.
Was it the relief that comes with Montclair (1-2, SFC Freedom Red 1-1) notching its first win of the season? Or was it the ice water bath he received on a stifling, humid day as his team celebrated his first ever win as a head coach?
"I'll be honest, they could have soaked me more," he said. 
For Ramiccio, it was really a third choice.
"I'm happy for the kids, to tell you the truth," he said. "The last two weeks have been a struggle against two very good football programs. So, I feel good for them to get into the win column. Hopefully, this feeling will maybe catapult us now."
Bloomfield will arrive at Woodman Field this Saturday, and Ramiccio knows that despite its 0-3 record (0-1 in the Freedom Red) the Bengals will be ready to give the Mounties a fight. 
"Bloomfield comes in next week, and they're going to come ready to play," he said after the game on Saturday. "So hopefully we can take that feeling and take that energy from today and keep pushing it."
It'll be hard to take away much from the win when Ramiccio and his staff look at the film from Saturday's win. East Side was outmanned from the start, with just 17 active players. This is a program that has its work cut out for it as it tries to rebuild and improve. 
The hard truth is that East Side (0-3, SFC Freedom Red 0-3) is not in Montclair's class and is a long way from being there. East Side has won seven games in 11 years. Montclair has won nine in the last two years, and that is considered a bit of a disappointment. 
The game was never competitive, and it is difficult to imagine what would have allowed it to be.
Solomon Brennan seemed much more comfortable under center this past Saturday, connecting twice for touchdowns with receiver Semaj Adams. However, he threw just four passes, completing three, with the fourth dropped, and totaled only 21 yards. Jordan Williams ran effectively, gaining 82 yards on seven carries, with touchdown runs of 21 and 22 yards. Justin Bernal likewise ran hard and looked very good, especially on a 22-yard touchdown run in the second quarter.
Adams led the receivers with those two touchdowns and 19 yards.
Most of that was gained in a half's worth of work, as Montclair pulled the bulk of its starters at halftime so the game didn't slip completely out of control. The game also saw a "running clock" — meaning the clock never stops for anything, including incompletions or plays that go out of bounds, both of which would normally halt the timer — begin late in the first quarter. This is unusual as normally a team needs to have a 35- point lead before the clock becomes a "running clock" but the deficit was nowhere near that gap in the first quarter and in fact never reached the criteria across the entirety as a game.
It was absolutely something Ramiccio and his staff were prepared to do early to both keep the game from becoming embarrassing for East Side, as well as to end the game more quickly to avoid potential injury.
While the Mountie starters weren't really challenged by East Side, there were some things Ramiccio and his staff saw that were positives.
"I feel like we were a little more physical this week, and we were a little more physical last week than we were the week before," the coach said. "So we're doing a nice job. I still think we're up the field a little bit too much up front. We got to do a better job of staying flat on the line of scrimmage."
That's something the Mounties will have to watch closely this week against Bloomfield. In the past, the Bengals have run plays similar to East Side's, using runs that can get outside of the interior defense. If Montclair's defensive ends creep upfield — meaning they move straight and deep into the backfield — it allows runners to move underneath them to get to the outside edge, where they may have to face only a defensive back.
"[Bloomfield has] done a lot of that to us, with the "Jet," and try [to] outflank us," Ramiccio said. "So we'll do a better job of being flat on the line of scrimmage."
The "Jet" or "Jet Sweep" is a run play which pulls a wide receiver on the opposite side of the field from the play, has them run across the field, receive the handoff as they do, and proceed to the outside of the opposite end of the field before turning upfield.
Another thing the coach was pleased with was his run game.
"I really think the thing with us this week was that the plays we had in the game plan this week were really about attacking north-south," he said. "I think you saw everybody, you know, J.J. [Williams], Justin [Bernal], even Jabriel [Muhammad] and Melvin [Wrice] getting downfield, everyone went north-south this week, and that makes a huge difference."
Keeping the running backs running forward and not moving laterally across the line of scrimmage will make Montclair much more effective on the ground, especially against teams that are fast and athletic outside and can shut down outside runs.
Defensively, aside from the occasional defensive end going off the script, the Mounties looked solid this past weekend. East Side wasn't a massive test against a big, athletic group of Montclair defenders, but it was the little things, such as wrapping and finishing tackles, that indicated improvement. 
Williams led the team with four tackles, while Ihsan Marshall-Falaise and Elijah Halley combined for a sack, Isaiah Holm picked off a pass, and Bernal and Halley each had a fumble recovery.
While there won't be much for the coaches to see on film for their starters, they did get an awful lot to look at for their second- and third-string players.
There was some good — Wrice's hammering 13-yard run, for example — but there was also a lot that needs to be improved at all levels. 
Still, the starters seem to be rolling, and assuming everyone continues to be healthy, Montclair can continue to move forward and get back on track. Improving every day and not looking too far ahead will be key to the team's success.
For Ramiccio it is a matter of making adjustments not just to the actual play on the field, but the mentality of the players. 
"We have to do a better job of staying in the moment," he said. "Focusing on that day's work, that day's practice, that day's game, that day's meeting, whatever it is. And I think that is what's going to help us going forward, because we sit here and we say 'We got this team coming in, we've got that team coming in.' 
"In my mind, everybody coming in is going to try to give us a punch in the mouth. We have to be ready for whatever that is. And the only way to do that for our guys is to focus on the [next] task."
For Montclair, that next task is Bloomfield.