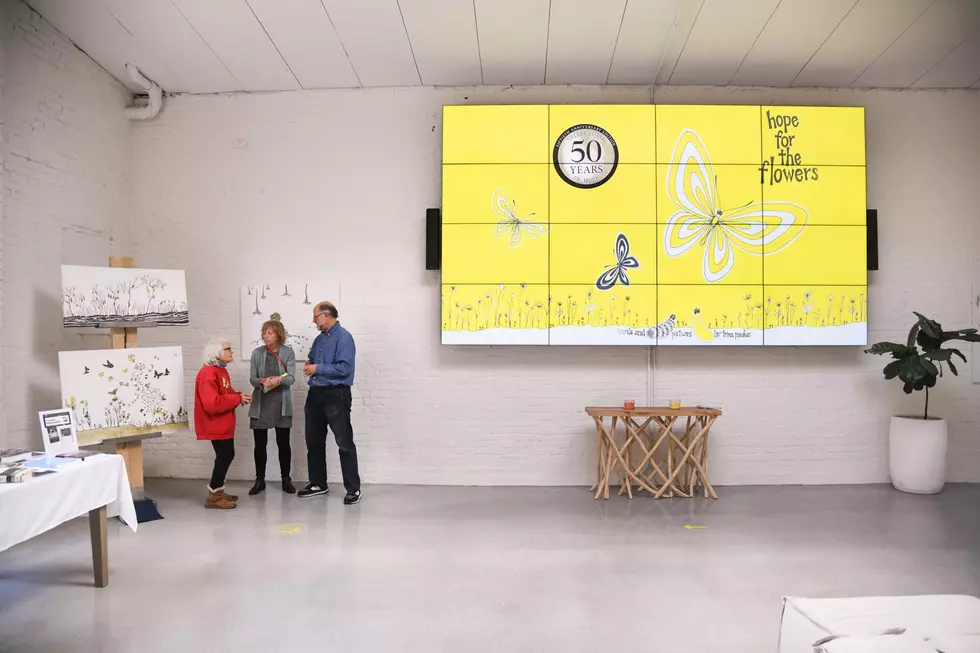 Montclair's Trina Paulus celebrates her tale of two intrepid caterpillars
Artist Trina Paulus, left, chats with friends, T. Rose Holgcraft and Emory De Castro, at the art exhibition celebrating the 50th anniversary of Paulus' book, "Hope for the Flowers." (PHOTOS BY KATE ALBRIGHT/FOR MONTCLAIR LOCAL)
Trina Paulus, 91, has had a long life as an artist, environmentalist, activist, author and deep thinker, and she's not slowing down. On Friday, Nov. 4, community members gathered to celebrate the 50th anniversary of her book, "Hope for the Flowers."
State Sen. Nia Gill presented Paulus with a Senate resolution recognizing her many achievements.
Held at the new event space Loop at 80 Maple Ave., the celebration also served as the opening for Paulus' "Hope Art & Book Exhibit." Free and open to the public, the exhibition invites guests to follow the journey of the book's two caterpillars, Yellow and Stripe, as they search for life's meaning. 
"Hope for the Flowers" is a story of hope. But it's also a story of revolution. 
Paulus was inspired by her Catholic faith. Believing that a butterfly exists inside of a caterpillar is like believing in the resurrection, she said. She was also inspired by her experiences living in Egypt and traveling through France and Belgium during the revolutionary years of the late 1960s, where she saw firsthand student and worker unrest. 
She said she remembered speaking to a young man in Belgium who was occupying a museum in protest:
"Do you really think if you destroy the whole old order, that something good will come? And he said, 'Yes,' and I thought to myself, I'm not sure about that. Thinking about the caterpillar and the butterfly — if you kill the caterpillars, they don't get butterflies. 
"And I realized though, as I thought more and more about all this, that you needed the change much more deep than this. A really deep, deep change, a change that comes from the heart and people choose, and it can't be a change imposed by the communist regime or a fascist regime or the kind of thing going on in this country right now."
And so Yellow and Stripe were born. In the story, the caterpillars struggle to find meaning while climbing a seemingly endless pillar alongside countless others. 
The book has sold more than 4 million copies and has had more than 20 translations. 
Debbie Looney, co-owner of Loop, can't remember how she first came across the book, but it has been an inspiration to her for the past 30 years, she said. As a mother of three, she often looked to it for guidance. When times got stressful, she advised her kids to "get off the pillar and relax." When she and her husband argued, they turned to the book for couple's therapy, reminding each other of their goals and values.
Just before the pandemic began, Looney, a Glen Ridge resident, looked up where the author lived. She was shocked to find that Paulus lives in Montclair, less than two miles from her home. Looney knew the first event held in Loop should be a celebration of "Hope for the Flowers." 
It was Looney's idea to enlarge the book's artwork, said the exhibition's curator, who goes by Mary Z. Paulus was delighted to see the images enlarged without text, a celebration of the art itself, said Mary Z. She has been friends with the author since her time owning 73 See Gallery on Pine Street. Before her gallery closed in 2019, Mary Z had plans to curate an exhibition on Paulus' sculpture. 
At Loop, guests may also view items from Paulus' past, including the original book contract and a box of templates of the original artwork. 
It's a great opportunity to see the painstaking details that went into putting together a book before computers, Mary Z said.
The final day of the exhibition is Thursday, Nov. 10, from 6 to 8 p.m. Loop opens officially in January.