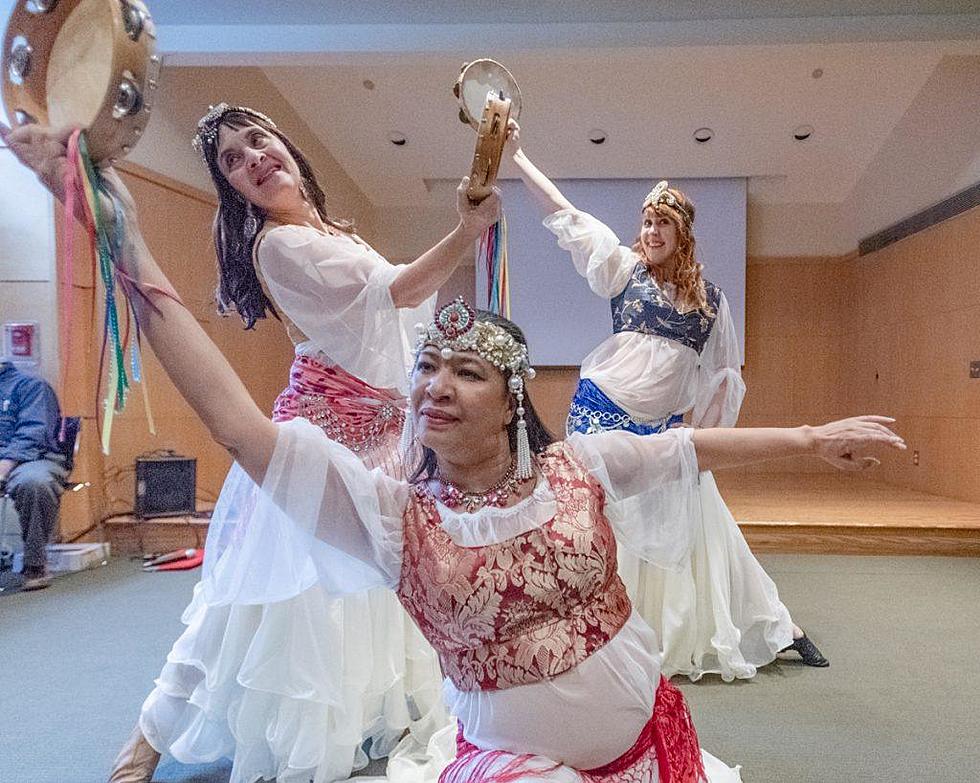 Mosaic Dance performs Orientalist art
A trio of the Mosaic Dance Theater Company's members perform traditional Middle Eastern dances in the Montclair Public Library Saturday, Nov. 23, previewing the December 7 and 8 shows at First Congregational Church. ADAM ANIK/FOR MONTCLAIR LOCAL
Beyond the Image: Dancing Orientalist Art to Life
Mosaic Dance Theater Company
Pre-show lectures on Orientalist art from Dr. Frédérique Joseph-
Lowery, and a post-show Q&A with the cast.
Saturday, Dec. 7, 5 p.m.
Pre-show discussion at 4:15 p.m.
Sunday, Dec. 8, 3 p.m.
Pre-show discussion at 2:15 p.m.
First Congregational Church, 40 South Fullerton Ave.
MosaicDanceTheaterCo.org; 1-800-838-3006
Free
By GWEN OREL
orel@montclairlocal.news
Artists painted dancers in the Middle East, after Napoleon's campaign at the end of the 18th century opened that world to Europeans.
Now dancers perform the paintings.
In "Beyond the Image: Dancing Orientalist Art to Life," presented by Mosaic Dance Theater Company this weekend, 10 dancers whirl to Middle Eastern and Mediterranean sounds, while art is projected behind them. 
Some of the moments fixed on an artist's canvas that will be brought to life include depictions of a village marketplace and life in the harem. Paintings include "The Smoking Hookah" by Rudolf Ernst, "The Great Sphinx" by David Roberts, and "The Tambourine Dance" by Fabio Fabbi.
In the program's second half, dancers will perform to an adaptation of Nathaniel Hawthorne's "The Paradise of Children," a retelling of the myth of Pandora's Box.
Dr. Frédérique Joseph-Lowery will lecture before the show on Orientalist art, and the cast will have a post-show Q&A.
________________________________________________________________________
READ: DANCE REVIEW; MARTHA GRAHAM COMPANY LOOKS BOTH WAYS
READ: DANCE ON THE LAWN; DANCE AND FEEL FREE
________________________________________________________________________
Morgiana Celeste Varricchio, producing artistic director, founded MDTC in 2003. She is of Italian descent, and has been fascinated by The Arabian Nights since she was a child. 
"I felt there was a niche needing to be filled, with these cultures of the Mediterranean represented in the professional performing arts world," she said. 
"I fell in love with the music first," Varricchio said. "When I learned about the dance, and started studying dance, I was entranced by the many rhythms, and the feeling that was in the music. In addition to dancing the Tarantella and other dances of the Mediterranean, this is a wonderful way to celebrate the heritage of the region united by olive oil."
ART AND SOUL
Guest artist choreographer Jehan Kamal brought the project to the company. She had presented something similar before, she said. It was a natural fit for Mosaic, which has a strong educational component.
Samara Adell, artistic director of dance and choreography, has been with the company since it began.
The company rehearses eight hours a week. This production has been rehearsing since May. In addition to dance training, ideally in Middle Eastern but also flamenco and modern dance, Adell looks for dancers who have theatrical training as well.
The theatrical retelling of Hawthorne's "Paradise of Children" includes spoken language.
"Anything Hawthorne writes is worth reading aloud," said Varricchio."His use of language is so elevated. Mosaic does a lot of story theater where it incorporates dance. Any tale told must be danceable, and have movement. The story of Pandora's box had a lot of movement in it. The omniscient narrator, known in story as Quicksilver, is the god Hermes." The music in it was composed by Kamal.  
Varricchio hopes audiences will not only enjoy the opulence of the show, but will also come away with a greater appreciation for the dance and culture of the Middle and Near East. 
"I hope they are inspired to pass on the culture," said Kamal. "It is only passed on body by body, whether live or on YouTube. Otherwise it dies."