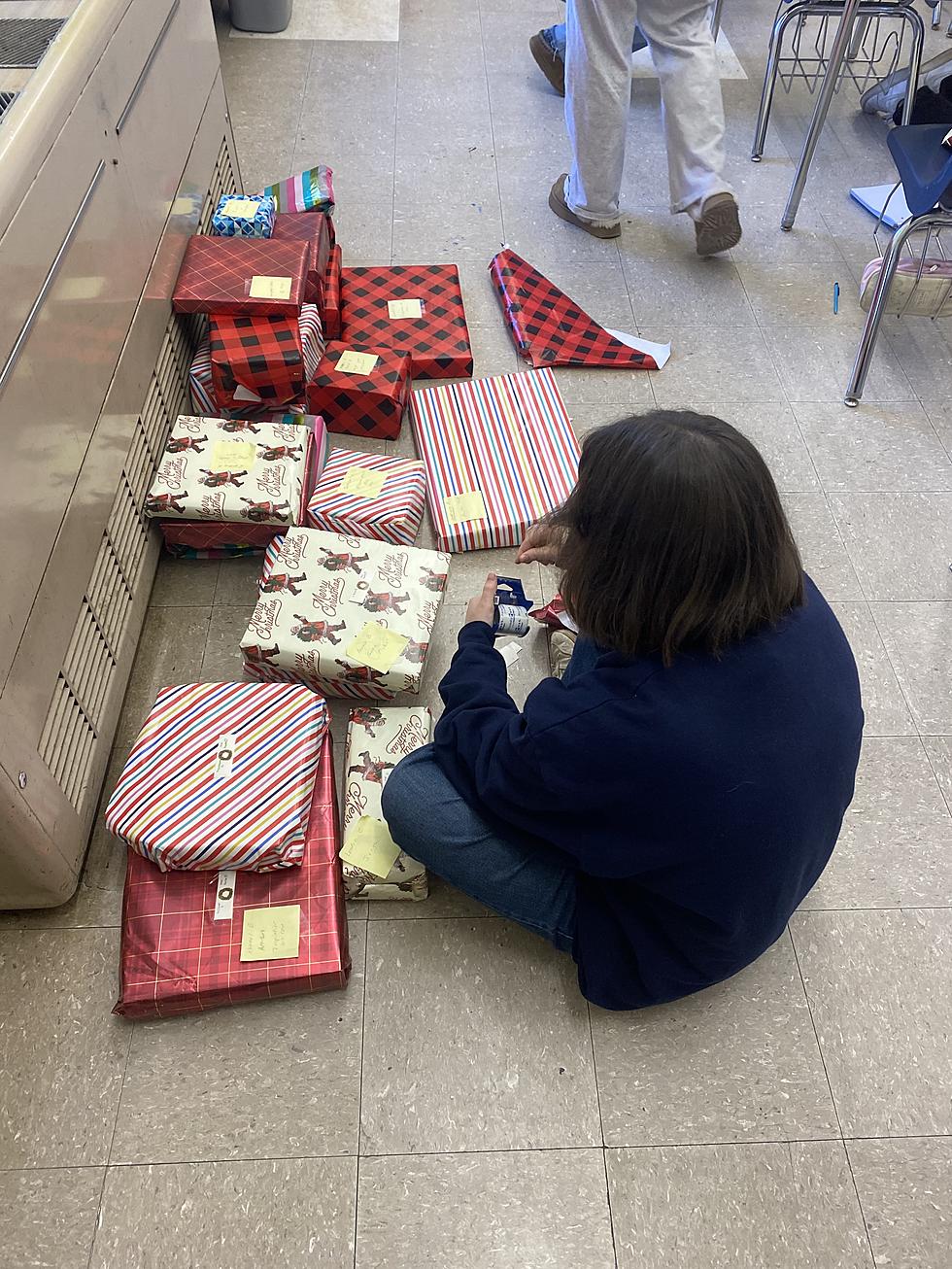 Mutual aid is this Montclair High School club's purpose
A member of the high school's mutual aid club wrapping gifts for its Christmas drive. (Courtesy of Julia Chadwick)
Cece Sherman and Julia Chadwick always wondered how they could help their community. The two juniors at Montclair High School are in the Civics and Government Institute, a small learning community that connects history and English classes to focus on political engagement and civic projects. 
Through the program, civic values are nurtured in students, and they're encouraged to participate in bettering the community. 
Sherman knew mutual aid was just one of the ways to help. 
"I had always thought about doing a mutual aid club, just because I had seen what mutual aid does to a dozen other communities, but I wasn't 100% sure that we had one in Montclair,"  she said. 
She ended up doing some research, which led her to Montclair Mutual Aid and Aminah Toler, one of the organization's founding members. Montclair Mutual Aid has hosted free food distributions, holiday gift giveaways and silent discos to raise money for the community. 
After speaking with Toler, Sherman got together with Chadwick and decided to create a Montclair Mutual Aid club for her peers. 
"There's community service clubs at Montclair, but nothing that specifically is tailored to the mutual aid idea," Sherman said. 
The girls were serious about making a difference and set out clear intentions for their club. 
"I think there's kind of more of a popularity in starting clubs, just to have it on your resume,"  Chadwick said. "And so we were trying to prove that we really had a real plan and passion for mutual aid." 
With the help of a supportive Cognitively Guided Instruction teacher who agreed to serve as their adviser, the juniors set out to create what they hope to be a long-lasting legacy at Montclair High School. 
A lot of their friends shared the same values and were interested in practicing what CGI has taught them, but they weren't sure exactly what mutual aid entailed, Chadwick said. Once they explained to their peers that mutual aid boils down to solidarity with the community and that everyone is supported, Sherman said everyone was "automatically on board."
Since the inception of the club last year, there have been about 20 members, and the students hope the club will grow. 
One of its first events was a Thanksgiving drive in partnership with Montclair Mutual Aid, in which the members brought in food and donated it to families in need on the holiday. 
The club also held a Christmas gift drive to provide gifts for the less fortunate. 
What separates the high school club from Montclair Mutual Aid is that its members want to help their fellow classmates as well as the town. 
"Because we are a club at school, and we are able to see the firsthand issues in the high school community, we decided we really want to try and focus on making education equitable for everyone," Chadwick said. 
Currently, they're organizing a book drive to gather gently used textbooks and regular books to distribute to students who don't have them.
Though they're young, the girls have an awareness that transcends their years. Chadwick is proud that Montclair Mutual Aid allows her and her peers to not only have a voice but also to be able to use it for good. 
The girls want people to know that they are open to holding conversations with the community. 
"I want people to know that we are so open to hearing their personal issues or plights in this community," Sherman said. "We obviously have not experienced everything and aren't aware of everything going on, and we want to be able to support those different perspectives in any way we can."