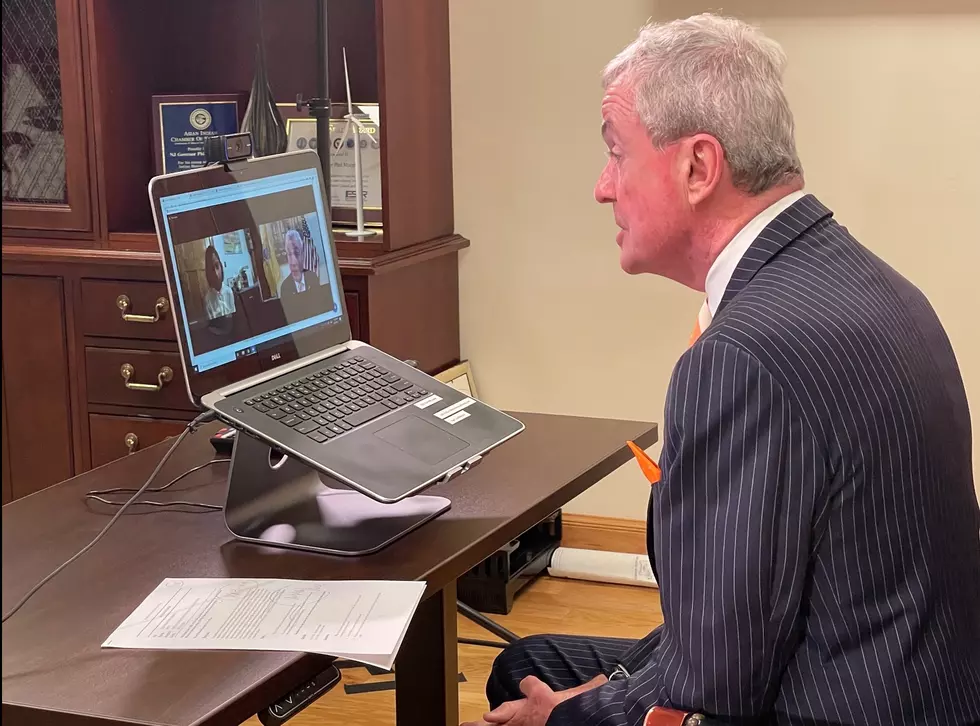 My interview with Gov. Phil Murphy (Montclair Kids News)
Gov. Phil Murphy speaks with Kavya Pasala.
(COURTESY MURPHY'S OFFICE)
By Kavya Pasala
Montclair Kids News
Phil Murphy is the current governor of New Jersey, and at around 11 a.m. on Friday, June 3, I did an interview with him over Zoom.
I was at the Bradford School, in our principal Ms. Aboushi's office, and he was at the governor's office at the State House in Trenton. He was wearing a suit with an orange tie and an orange handkerchief, which he said he had picked out for a special reason.
"Today is Gun Violence Awareness Day," Murphy said. "And the rule on that day, on June 3, is always to wear orange. And given the tragedies that we've seen, even just in the past couple of weeks, it's as important as ever before to stand up and be counted on gun safety."
Murphy grew up in Massachusetts and went to Harvard University. He moved to New Jersey in the 1990s, when he worked for the investment bank Goldman Sachs. He served as the United States ambassador to Germany before he first ran for office in 2017. He was reelected to a second term last year.
For our interview, there were 10 different questions I asked. Murphy came with some interesting answers! I hope you enjoy reading it!
Q: What did you want to grow up to be when you were a kid? And did you think you would be governor one day?
A: No, I definitely did not think I was going to be governor. So that was not on my list. We didn't have any money. So this is a good lesson for young folks who are thinking about why they follow one profession or another. I was too obsessed with "what job can I do that can make me money?" We were middle class on a good day. I think "working poor" is probably the best way to put it. But if I dreamed, I became enthralled with acting. I was an actor in middle school, high school and college. So if I had to pick one profession, when I was dreaming, it would've been to become an actor.
Q: As a kid, were you a straight-A student?
A: No, I wasn't. I was a good student, but I wasn't a straight-A student. I think the key is not necessarily the grade. "Did you try as hard as you could?" "Did you give it everything you had?" That, to me, is the test. And nobody knows that better than the student. So Mom and Dad or your teachers will have opinions on that, but only you internally know. Good grades are nice, by the way. Take it when you can get them. But the question is, "Did you try as hard as you could?"
Q: What are the most important things that you have to keep in mind being in charge of the state?
A: Well, I'd say, most importantly, safety and security. I'm a former U.S. ambassador to Germany, and that was the same top priority then and it is as governor. Keeping our folks safe, alive. Particularly in the context of the pandemic where we've been clobbered as a state, with over 30,000 lives lost. There are lots of other important jobs: addressing inequities, growing the economy, making sure the quality of life remains very high. But safety and security, I'd say, is at the top of the list.
Q: What are some things that the governor can do to help towns like Montclair?
A: Montclair has got some of the best public schools, never mind in New Jersey, but in the country. I think we could do a lot to help property taxes and deliver relief and focus on affordability because property taxes are not cheap in Montclair, as an example.
The budget that I sign at the end of this month, I think you're going to see historic steps on affordability and, specifically, in property tax relief. We just want to make sure a town like Montclair — with a great downtown, great schools, great quality of life, great street after street, after street — you want to make sure that we could do whatever we can to help your terrific mayor, Mayor [Sean] Spiller, and others on [Township] Council, keep it as high a quality of life as possible. And I commit to you, we will do that. And we have, and we will continue to do that.
Q: Can you help us to improve our school playgrounds?
A: Sure. We fund education in all aspects, more than any other state in America. If you look at the dollars spent per student, that includes facilities, and it certainly includes playgrounds.  But as a general matter, we care about all related facilities and recreational facilities, as it relates to our kids and education.
Q: Do you think we'll be able to build the Essex-Hudson Greenway bike path to Jersey City?
A: Yes, period. It will take many years, but that's going to get done. And that will also be historic. People in New York City look at the High Line, which is a fraction of the length that the Essex-Hudson Greenway will be, and they marvel at the impact the High Line has made in lower Manhattan. We're going to have a much bigger impact in New Jersey. This is 8 or 9 miles long. It's going to happen. It's going to take us longer than probably folks would like because we have to get this thing into shape. But that will happen and it will be a game-changer in the communities through which it goes.
Q: Why was banning plastic bags a good idea, in your opinion, and how else is New Jersey's government working to improve the environment?
A: Well, we're the most densely populated state in America. So on the environment, it's pass or fail. That's everything from offshore wind to solar, to environmental justice, to community solar, and now to banning plastic bags. We really have no choice. I know it's not a lot of fun for folks. It's a new habit that we all have to get into: bringing the reusable bag with us when we shop for groceries. We have no choice. We have to do as good a job as it relates to the environment as any American state, and banning plastic bags is a big step in that direction.
Q: Do you want to be president one day?
A: No, I'm good in New Jersey. I have enormous respect for the office. I think this president is doing an outstanding job in very, very difficult circumstances. But no, I love being governor of New Jersey.
Q: Do you think New Jersey could have handled the pandemic better for kids?
A: Oh, the answer has to be yes. We know so much more now than we did at the beginning. And so when you don't know much in life, you have to take extreme steps. You have no choice. And I think that was the right decision, but nobody's perfect. I know there was enormous fallout from remote learning, virtual learning in terms of learning loss, mental health stress. And we'll be making up for that for a long time. That's why our administration has put so much resources and money and energy into mental health and learning loss, and we'll continue to do that. I'm going to be chair of the National Governors Association, and that's going to be my prime focus, mental health and learning loss among our children.
Q: Do you have a favorite New Jersey food or favorite general food?
A: Well, I'll tell you, in the summer, I'm big into the stuff that we grow here: Jersey tomatoes, corn and blueberries. That to me is the epitome of great food. And lots of places grow corn, tomato and blueberries, but nobody grows them like New Jersey does. And you can tell.  It's just because it's so high-quality, particularly in the summer months.
Kavya Pasala is a fifth grader at Bradford School. This piece is co-published with the Bradford Reader.
Montclair Kids News, a partnership with journalism projects at multiple Montclair Schools, appears in the print edition of Montclair Local most weeks.
---
Journalism like Montclair Local's is only possible because of the continued support of our members. Sustaining memberships of $10 a month or more entitle you to our print edition, and help provide us with the stable, predictable financial base that helps us plan to bring you important journalism for years to come. If you value this article or others from Montclair Local, consider becoming a sustaining member; sign up with the form below.