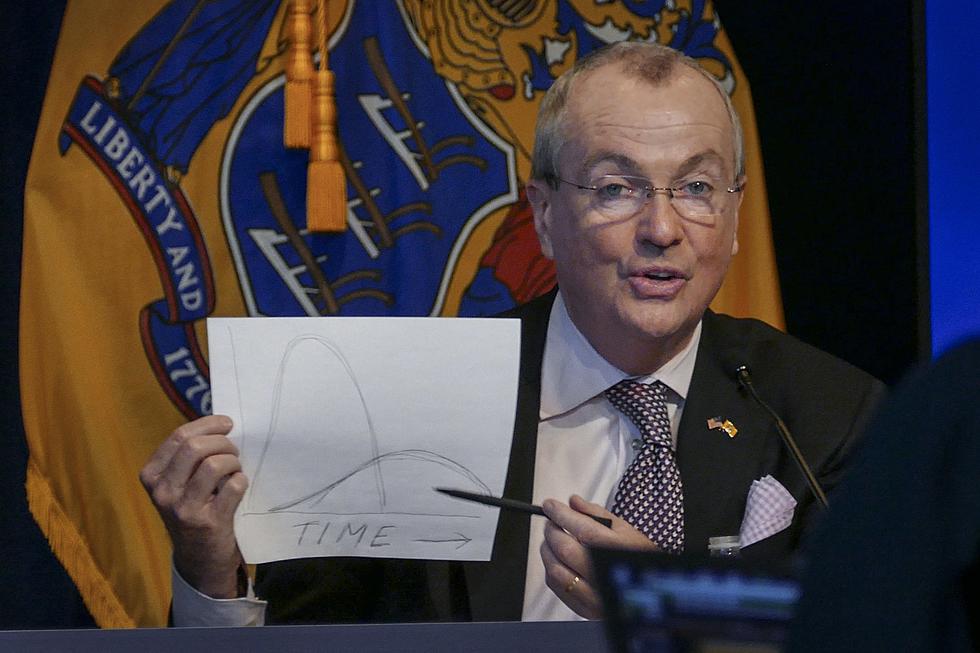 COVID-19: New Jersey sees large increase in cases, anticipates April 25 peak
COURTESY MICHAEL MANCUSO/NJ.COM Gov. Phil Murphy points to a hand-drawn chart indicating two possible curves of the pandemic during his coronavirus briefing in the George Washington Ballroom in the Trenton War Memorial, with, Department of Health Commissioner Judith Persichilli, State Epidemiologist Dr. Christina Tan, and State Police Superintendent Colonel Patrick Callahan.
By ERIN ROLL
roll@montclairlocal.news
The state today reported the largest one-day increase in fatalities related to COVID-19 to date at 365, and state officials said New Jersey has yet to reach its peak in cases.
Three more deaths were reported in Montclair.
New Jersey could see the peak of the COVID-19 outbreak on April 25. However, the modeling that predicts when the peak could occur changes from day to day, Health Commissioner Judith Persichilli cautioned on Tuesday, April 14.
Most of New Jersey's counties are seeing a slowing in the rate of cases, with the rate of cases no longer doubling. However, the numbers of positive cases and deaths continue to climb.
As of Tuesday, the state reported 4,059 new positive cases, bringing the state's total to 68,824.
On Monday, by comparison, there were 2,734 new cases reported, down from 3,699 reported on Sunday.
The state reported 365 new deaths today, more than tripling the 94 reported on Monday and doubling the 167 announced Sunday. The state death toll is now 2,805.
The grieving for the deaths has been doubly compounded by the fact that funerals or memorial services cannot take place as they usually would, with no more than 10 immediate family members permitted to attend under the social distancing orders, Gov. Phil Murphy said. "COVID-19 didn't just take them. It took away our ability to come together and celebrate their lives as we should have," he said.
Not all of the deaths reported today occurred within the past 24 hours, Murphy said. Some of them occurred a number of days ago, and have now been determined to be the result of COVID-19. The state has also cautioned that the weekend may skew the number of test results and deaths being reported on a given weekday.
Of the 128,604 residents who have been tested to date, 70,950 have tested negative, according to the state Department of Health's website. The positivity rate is about 45 percent, Persichilli said.
Hudson County has now surpassed Essex County in terms of reported cases: 8,242 positive cases on Tuesday, an increase of 363 from 7,879 the day before, compared to Essex's 8,212 - an increase by 574 cases from 7,634 reported yesterday.
However, Essex still has the second-highest rate of fatalities: 535 as of Tuesday, compared to 433 on Monday: an increase of 102 deaths.
Bergen County continues to have the highest rate both of positive cases and of fatalities: 10,426 total cases, and 550 deaths as of Tuesday, up by 334 cases and 68 deaths from 10,092 cases and 482 deaths on Monday.
The other three counties with the highest rates of cases, after Bergen, Hudson and Essex, are Union, Passaic and Middlesex counties.
Today, Montclair reported 20 new confirmed COVID-19 cases with a total of 263; the number of individuals who did not survive the illness is 28.
As of 10 p.m. on Monday, there were 8,185 people in hospitals, up by 404 patients from 7,781 at the same time Sunday night. Of that number, 2,051 were in critical care or intensive care, up by 1,009 patients from 1,042, Persichilli said, and there were 1,624 ventilators in use. In addition, 514 people were discharged from the hospital, 42 fewer than the 556 discharged Sunday night.
The Department of Labor and Workforce Development has seen a massive influx of applications for unemployment benefits, with 576,904 applications filed over the past three weeks
The department has been working to expand its call centers and other facilities to help expedite the claims, Murphy said. But he acknowledged that the long wait times on the phone and other difficulties were very frustrating for people.
"No one is going to lose one single penny of the benefits they deserve," Murphy said.
New Jersey has not yet made an official determination on whether schools will be closed for the remainder of the 2019-2020 school year. Murphy said that more information will be presented at Friday's press briefing, but he said it would not necessarily include a binary yes or no decision.
Montclair's schools have been closed since March 16, just before the state ordered all public and private schools that had not already closed to do so.
Virginia, Pennsylvania and Alabama are among the states that have already decided to close their schools for the remainder of the year.
On Saturday, New York City Mayor Bill de Blasio announced that the city's schools would close for the remainder of the year, but that announcement was countered by Gov. Andrew Cuomo, who said that closing the schools would be for the state, not the city, to decide.
New Jersey is part of a regional group of states that are coordinating their efforts to re-open their economies once the outbreak is over. The other states in the group were New York, Pennsylvania, Delaware, Connecticut and Rhode Island. On Tuesday, Murphy said that Massachusetts had joined, bringing the number of states in the group up to seven.
However, Murphy said, the state-level partnership is not meant to be a substitute for support from the federal government, which is very much needed.
New Jersey had requested 2,500 ventilators from the federal stockpile. To date, it has received 1,550, which includes a shipment of ventilators from California, meaning that there are still 950 ventilators yet to be received, Persichilli said. The state has also put in a new request for an additional 500 ventilators from the federal stockpile.
The governor reiterated that it was crucial for people to continue staying home and practicing social distancing, even though the data on New Jersey's cases was somewhat more encouraging. "This could very easily backtrack. COVID-19 could boomerang on us if we don't keep doing what we're doing."
The following was reported this morning at 10 a.m. by the county and may not reflect numbers provided today by the state and Montclair: