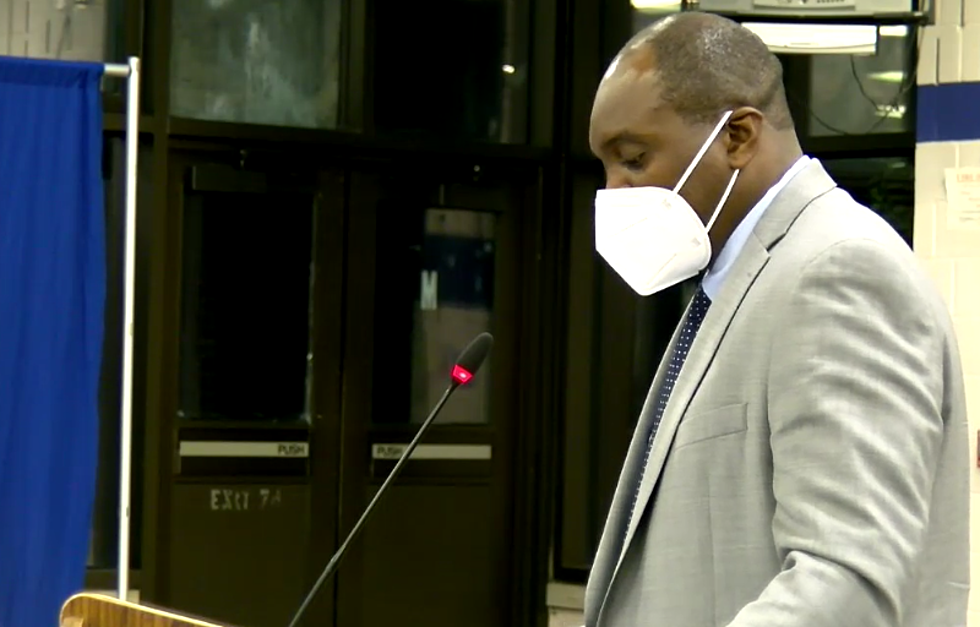 New plan: Weekly pooled tests at Montclair elementary schools
The Montclair public school district plans to begin weekly testing for all elementary school students in October, Superintendent Jonathan Ponds said at the Sept. 20 Board of Education meeting. (SCREENSHOT FROM SEPT. 20 BOARD OF EDUCATION MEETING)
By TALIA WIENER
wiener@montclairlocal.news
When Montclair schools begin pooled coronavirus testing for students and staff this fall, the district will prioritize weekly tests for elementary schools, Superintendent Jonathan Ponds said.
That's a stepped-up schedule compared to plans previously described by district officials. Earlier this month, Felice A. Harrison-Crawford, the district's director of operations and school support services, had described a rotation where six of the district's 12 schools would be tested in one week, and then the other six the next.
And the district will also aim to prioritize sixth and seventh grade students, some of whom are too young to be vaccinated, Ponds said at Monday's Board of Education meeting. Pfizer vaccines are available for those 12 and older, but Moderna and Johnson & Johnson vaccines are only available to those ages 18 and up.
Older students would follow after that, Ponds said.
But so far, the district doesn't yet have a contract in place to start testing. Testing company Gingko Bioworks will give the district a contract this week, and a proposed testing plan will be up for vote at the board's next meeting, on Oct. 6, Ponds said. 
In pooled testing, participating students and staff members in a given classroom will self-administer a nasal swab, and all swabs will be placed in a container together. The technique isn't used as an individual diagnostic, but to spot coronavirus in a population and then take further action. 
The district still plans to have families and caretakers opt-in for student testing, Ponds said at the meeting. He said he has looked into the New Jersey Patient's Bill of Rights, and he will be following language in it that requires informed consent for medical procedures.
"I would not like to get a phone call from a parent that says 'My child was tested and signed up for a test and I did not know,'" Ponds said.
School board Vice President Priscilla Church and board members Allison Silverstein and Crystal Hopkins advocated for an opt-out system — where students would be tested by default — at the meeting. They suggested a form could be sent out via the district's digital portal, Genesis, requiring all parents and caretakers to see information about testing and choose to then opt-out if they prefer their children aren't tested.
"Opting out shows we want all the kids in for this pooled testing because it's one of the components of making sure that these classrooms are safe," Church said.
Testing in each classroom will take about 15 minutes the first time, but that can be cut down to 10 minutes as students get used to the process, Gingko representative Dan Bram said at the board meeting. 
Results will come in within 24 to 48 hours of the samples arriving at the lab, and they will be entered in an online portal accessible to school administrators, Bram said. Gingko will also provide schools with rapid antigen tests so that individuals can be tested once coronavirus is identified in a given group.  
Test results taking at least 48 hours to get back are "basically worthless," parent Lani Sommer-Padilla said at the meeting. 
"Essentially you'll have a student positive with COVID in the classroom for two days spreading it before you can confirm who that student is," Sommer-Padilla said.
Sommer-Padilla is one of a group of parents who shared a list of concerns with the board regarding reopening at the Sept. 1 meeting, including several about testing protocols. 
Montclair schools have seen at least a few coronavirus cases since schools reopened to students Sept. 9. As of Tuesday, community members have sent Montclair Local notices sent to them about three positive cases at Montclair High School and one at Glenfield Middle School. Asked how many cases there have been in all, district information secretary Jennifer Fusco told Montclair Local on Sept. 13 she couldn't comment on the medical status of staff or students due to confidentiality. She and Ponds haven't responded to a follow-up email seeking the same information shared with parents via the notices.
Vaccines required 
for staff
Gov. Phil Murphy announced last month that all school staff, in private or public schools, will be required to be vaccinated or present coronavirus tests once to twice a week by Oct. 18.
Staff who choose not to get vaccinated must take tests each week on Tuesday and have results submitted to the district by Friday, Ponds said. The scheduling of testing is something the district has worked a lot on, he said. 
"It is complicated," Ponds said. "I would love to say, 'Hey you take a test,' [and] we find the results quickly" — but some testing facilities are quicker than others.
The Montclair Education Association estimates 90% of Montclair staff are vaccinated, Ponds said at the Sept. 21 meeting.
"Even with 90% vaccinated, that leaves roughly 100 [staff members] that aren't vaccinated," Ponds said.  
Board member Eric Scherzer introduced a resolution at the meeting to require all Montclair staff to be vaccinated, unless a medical or religious exemption is cited. The board decided to send the resolution to board committees and legal counsel for further discussion. 
"The schedule, which I'm just hearing about now, testing on Tuesday and reporting results on Friday, exactly exemplifies why we should strive for the maximum number of staff being vaccinated, because lots happens between Tuesday and Friday," Scherzer said. 
The board also asked for a survey by its next meeting, Oct. 6, on the vaccine status of all staff.  
The cost of the tests for staff will most likely fall to the individual staff members, Ponds said at the meeting. Many insurance providers, including the district's provider Aetna, do not cover tests required by employers.
If a staff member refuses to get vaccinated or tested, that person will not be allowed to teach, Ponds said at the meeting. The district will start pulling from the staff member's accrued sick and leave time, he said. He did not speak to what would happen once the leave time was used up.
Ventilation, mitigation
Scherzer also said he planned to introduce a resolution to install more high efficiency air filters in classrooms. In district rooms without mechanical ventilation, windows are supposed to be open to ensure air flow, but reports from parents and Scherzer's own research shows that is not always the case, he said.
Custodial staff has been arriving early to ensure all windows are opened in classrooms, and that open windows remain one of the district's mitigation techniques, Ponds said. Only at Bullock School, where open windows may damage new heating and cooling systems by causing them to continually regulate temperature, are windows not always opened, he said.
The finance and facilities committee will meet Wednesday with Ponds to further discuss the opening of windows and option of additional air purifiers. 
The district will continue to use desk shields in classrooms, a policy that is consistent across schools, Ponds said at the meeting. When three feet of distance between students cannot be achieved, the shields act as a mitigating factor to prevent virus spread, he said.
"We plan on continuing to use shields until vaccinations for other students are available," Ponds said. 
Parent Jordan Goldberg asked Ponds to remove the shields from classrooms. 
"The limited studies that exist regarding these shields also indicate they may in fact increase the risk of transmission in classrooms specifically, because they interfere with necessary airflow in the room," Goldberg said. 
The desk shields purchased by the district are also "fuzzy and opaque," Goldberg said, and they make it hard for students to see what is on the board.
"Due to the classroom setup in many classrooms, children are looking through more than one of these at a time and simply can't see at all," Goldberg said.
Ponds said he would ask the district's assistant superintendent for equity, curriculum and instruction, Kalisha Morgan, to look into any instructional problems stemming from the use of desk shields. 
The district has also purchased new tents for outdoor lunch and is working on bringing in more staff to help with setup and takedown, Ponds said at the Sept. 21 meeting. 
"We want to be outside as much as possible with respect to lunch and other activities," Ponds said. "Right now our guys are doing the work, but it's going to be a long year and it could be a tiring process."
Ponds has not yet responded to questions about the current status of tents and outdoor lunch sent on Sept. 17.