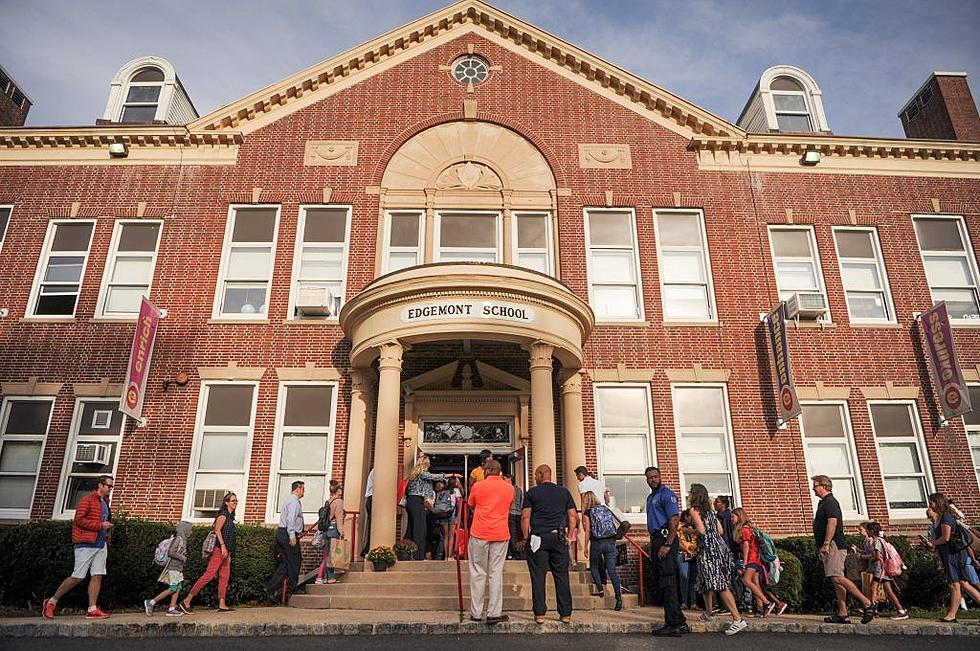 What will new school year look like in Montclair?
FILE PHOTO Students line up outside Edgemont School on the first day of school in September 2019.
By ERIN ROLL
roll@montclairlocal.news
Montclair's schools reopening plan will allow families to choose between having students attend in person two half-days each week, with supplemental remote learning, or doing remote learning only. 
The district released preliminary plans covering grades three through high school on Friday, July 24; parents are asking for more details. 
According to the plans, students who will attend in person will be divided into two groups, Mounties and Bulldogs, with the groups having a rotating schedule of in-person and remote education. 
The model will allow for social-distancing requirements with smaller classes.
The model means, however, that students will only be in school two days a week for four hours a day, for a total of eight hours of in-person instruction.
Children from the same family will be assigned to the same group so that they will have the same rotating schedule. 
"Our goal is to create a safe reopening format that best meets the needs of all students, staff and families," Superintendent Jonathan Ponds said. 
The district has yet to release plans for in-person learning for kindergarten through second grade, and for students with special needs. 
A districtwide survey revealed that as of July 24, 70 percent of responding families preferred an in-person, hybrid model, while 30 percent wanted remote-only learning. The district plans another survey next month.
Grades 3 to 12
Under the plan, students would be divided into Group A (Mounties) and Group B (Bulldogs). On Mondays and Tuesdays, Mounties will have in-person instruction, while Bulldogs will have remote instruction. On Thursdays and Fridays, the Bulldogs are in school, while Mounties will be at home. At the end of a four-hour session, a grab-and-go lunch will be available. 
On Wednesdays, all students will learn remotely. 
Students and staff will have to wear a mask at all times in school buildings, and classrooms will be set up so that desks are at least six feet apart. The schools are also working on procedures for temperature screenings at school entrances, increased handwashing, use of common classroom supplies, and safely taking breaks during the day. 
The district is exploring options such as teaching in outdoor spaces and working with local organizations for space to add elective classes to the schedules, Ponds said.
Some 25 percent of the families that responded to the survey said they would continue to use district school buses. 
Calling for no openings 
The Essex County Education Association, which includes teacher unions from across the county, issued a statement on Friday, July 24, calling for districts not to resume in-person learning in September.
The statement was signed by 27 education association presidents and chairs from across the county, including Montclair Education Association Chair Petal Robertson.
"By declaring a remote start for school in September now, this will provide parents time to arrange for child care and educators to better prepare for remote instruction," the statement said. 
"Time, though, is of the essence. Districts are wasting precious weeks creating plans with convoluted schedules and Plexiglas dividers that are plainly unworkable. Staffing these plans will prove to be impossible. We had a severe substitute shortage before the pandemic. 
"Many educators are preparing to leave the profession rather than risk their lives in buildings that they know cannot be made safe over the next six weeks."  
A bill with the backing of Assembly members Mila Jasey, Pamela Lampert, and Joann Downey would call for schools to reopen with only remote learning, and not allow in-person instruction.
Gov. Phil Murphy did not comment directly on the bill on Wednesday, but reiterated the need for in-person classroom instruction.
The MEA did not respond to a request for comment on how the association and teachers felt about going back to school and conducting remote classes. Mayor Sean Spiller, who is also the vice president of the New Jersey Education Association, which represents teachers statewide, did not return a request for comment on whether the association is backing teachers returning to the classroom.
On social media, some parents were supportive of Montclair's plan, while others questioned whether the model would be enough to keep students and staff safe. 
At a recent Board of Education meeting, Montclair teacher Elyse Hoffman, who is also an MEA representative, called for the district not to resume in-person learning until October. 
In a letter to Montclair Local, Montclair High School teacher Brian Ford criticized the plan, saying it put student and staff health at risk. 
"Montclair Public Schools, or any district, offering any in-person schooling in September, including in the hybrid model announced by Dr. Ponds, constitutes the reckless endangerment of students and staff, whose health and safety we are told is of the utmost importance," Ford wrote. 
"No amount of scheduling fixes (half the students one day, half the next) or sanitization of facilities can make me, as an education worker, feel safe enough to enter the building with hundreds of students and staff in September. This is a disaster waiting to happen."
Jenny Prewo-Harbord, a human rights researcher who has two children in the district and whose husband is a doctor at a New York hospital, called upon the schools and the community to look into different solutions, including the possibility of holding classes outdoors, weather permitting.
Prewo-Harbord said many parents did not feel optimistic that holding classes indoors would be safe, given current and prospective health conditions. 
"I think many stakeholders share similar concern and anxiety about what the fall will bring," she said. "Will the health of our children, teachers, staff and families be at risk as schools and workplaces reopen? Frankly, many families feel that the pandemic is not sufficiently controlled to ensure that in-person indoor schooling is safe." 
Instruction
District officials have promised to improve the quality of online learning, after many families said they were not satisfied with the level of instruction their children received after the schools closure in March. In addition, teachers will receive more professional development for online learning.
About 400 children will need access to a laptop, with some needing assistance with internet access as well, and the district will work to make sure those students get the devices they need, Ponds said. 
At least 300 students were provided in March with district-issued laptops and hot spots for the virtual learning period. 
After-school care
The Montclair YMCA will continue to provide before- and after-care for students, and the district is working with community groups, including the Y, to plan for more child care during regular school hours. The district is also looking at using the Y as a venue to help children with online learning on Wednesdays. 
Ponds said the details of the plan can change at any time. All protocols are based on guidance from the state Department of Education and recommendations from national, state and local health authorities. 
"We understand this is a lot of information to absorb," he said. "Your feedback and insight are welcomed, and we will be sending another survey in August as we continue to reevaluate our plans. This is a communitywide effort, and to see this collaboration is both energizing and promising."