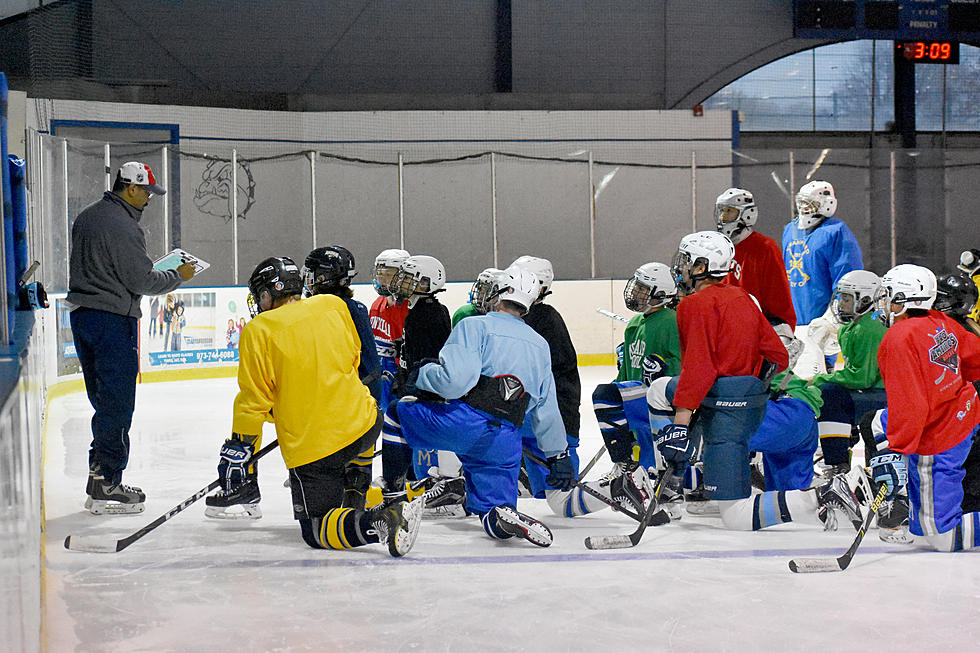 NJSIAA delays start of winter sports for high schools
While hockey gets to start practicing on Dec. 14, all other winter sports, as well as gymnastics and girls volleyball, which were moved from the fall season, will begin no earlier than January, 2021.
PHOTO BY ANDREW GARDA/STAFF
by Andrew Garda
garda@montclairlocal.news
While the fall season for high school sports isn't quite over, the New Jersey State Interscholastic Athletic Association has already begun adjusting the winter season.
On Thursday, Nov. 19, the NJSIAA announced start dates for winter sports, pushing back their traditional start from the beginning of December for all sports save ice hockey.
Unlike fall sports, which mostly began and are ending at the same time, the NJSIAA has split winter sports into three groups, labeled Season 2, Season 2a and Season 3.
Season 2 contains ice hockey, basketball, fencing and bowling. Ice hockey is allowed to begin practicing first, on Dec. 14, with games to begin on Jan. 4 and competition ending Feb. 17.
Basketball, fencing and bowling may begin practice on Jan. 11, with games starting on Jan. 26 and their seasons ending on March 6.
Season 2a will contain swimming and winter track and field. Those sports will be allowed to begin practicing on Feb. 1, with competition starting on Feb. 16 and the season finishing on March 27.
Season 3 will contain the final winter sport, wrestling, as well as gymnastics and girls volleyball, two fall sports that were moved earlier this year due to concerns over the spread of COVID-19 within indoor spaces.
Wrestling, gymnastics and girls volleyball will be allowed to begin practicing on March 1, begin competing on March 16 and finish their seasons on April 24.
Winter sports are limited to three games or competitions a week, with no more than 15 events during the season, including tournaments. There will be no multiteam or multigame invitational tournaments allowed, though multiple bowling contests may occur in the same bowling alley at the same time, if they follow the capacity limits set forth by Executive Order 196. 
---
READ: MHS BOYS SOCCER COMES FROM BEHIND TO MAKE THE NJSIAA FINALS
READ: MOUNTIE GIRLS ROLL OVER UNION CITY IN NJSIAA QUARTERFINALS
---
Per Executive Order No. 194, no teams are allowed to host interstate competition for any indoor sports, which means "no member school may host an out-of-state opponent or host an event out of state." In addition, the NJSIAA is not allowing member schools to travel out of state to compete.
Unlike during fall sports, the NJSIAA will not be sponsoring any postseason tournaments during winter seasons, though they allow that postseason play can be hosted locally by leagues and conferences if they so choose.
There are two exceptions to any of the above rules for Seasons 2a and 3.
First, the NJSIAA reserves the right to change the above rules to allow multiteam and invitational events for both Seasons 2a and 3 based on recommendations from the New Jersey Department of Health.
Second, the NJSIAA's Sports Advisory Task Force may set up postseason play for Season 3 based on feedback from NJSIAA staff and member schools, as well as sports-specific committees. There are no dates set now, but any postseason competition will end no later than the April 24 date already set.
The memo also mentioned that the NJSIAA is already looking at spring sports and will have final plans released on or before Dec. 11, and that any spring season is likely to be extended through the month of June, which is longer than normal.