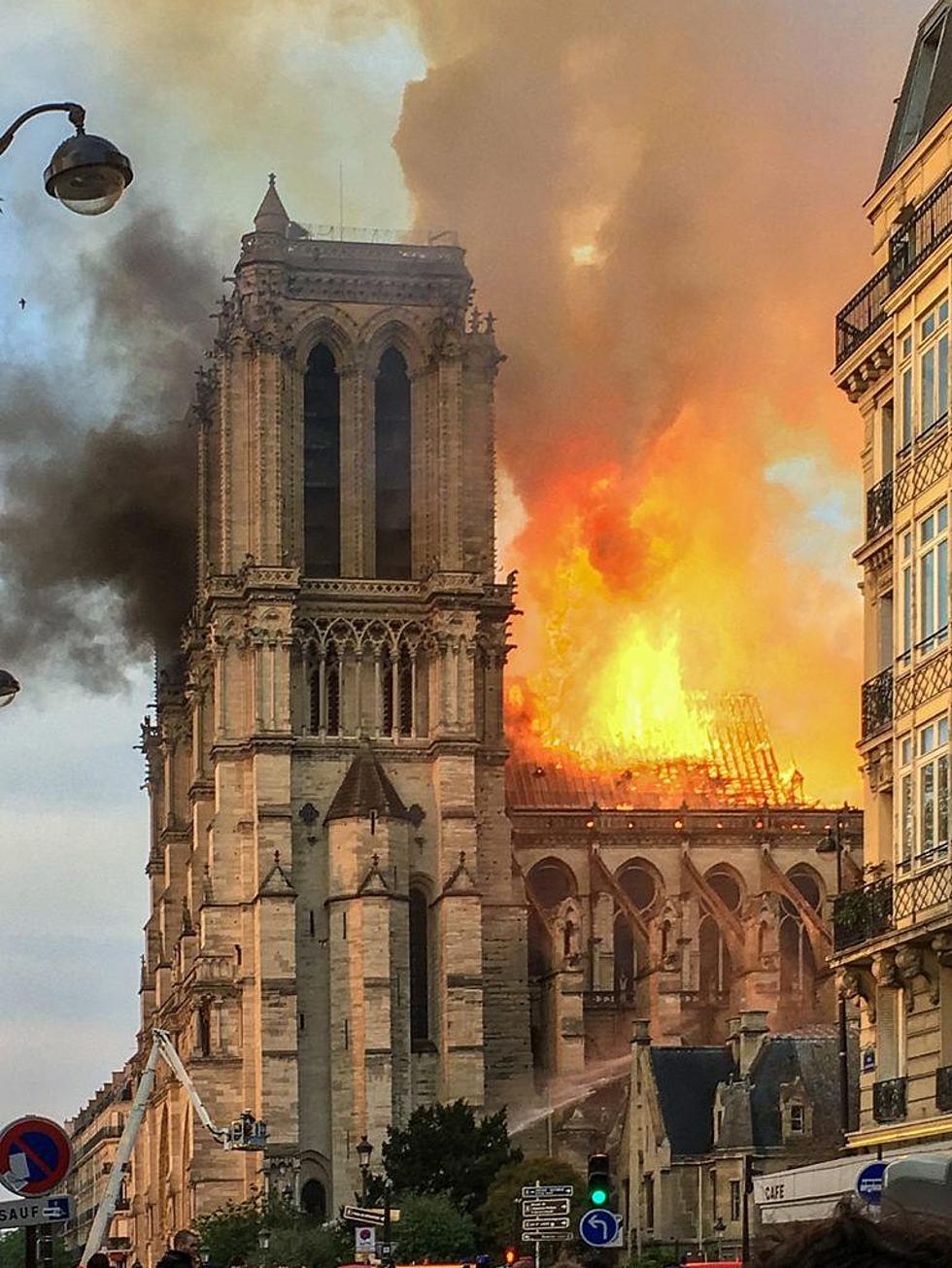 Montclair Orchestra, FIAF, raise money for Notre-Dame
Notre-Dame on fire.
COURTESY LELAISSERPASSERAA38 ON WIKIMEDIA COMMONS
French Connection
Montclair Orchestra
Sunday, April 28, 7 p.m.
St. Luke's Episcopal Church, 73 South Fullerton Ave.
Montclairorchestra.org, or 973-435-2906
Ten percent of ticket sales go to French Heritage Society. Frenchheritagesociety.org.
To donate to FIAF restoration fund, visit events.fiaf.org/notre-dame/.
By GWEN OREL
orel@montclairlocal.news
Marie-Catherine Glaser, director of FIAF Montclair (French Institute Alliance Française) often uses an ice-breaker when she teaches beginning French to adults.
What French writers do you know?
What poets?
What monuments?
Notre-Dame de Paris comes up 100 percent of the time.
The burning of the cathedral on Monday, April 15, shocked the world.
FIAF received many messages of support, Glaser said.
"Paris is one of the most visited cities in the world," she added, pointing out that the
cathedral, begun in the 12th century and finished in the 13th, is a UNESCO World Heritage site.
"It belongs not only to Parisians or to the people of France, but it is part of the common heritage of humanity, so we must protect it," she said. "People have memories. They have visited it. They have impressions about it. It's not just a picture. They saw it."
FIAF is one Montclair organization raising money for the cathedral: it established a dedicated FIAF Notre-Dame Restoration Fund, to collect tax deductible contributions.
Montclair Orchestra is another Montclair organization raising money for the restoration.
Its final spring concert, "French Connection," was planned a year ago.
When Montclair Orchestra President and Founder Andre Weker saw the cathedral burning, he felt a little beside himself.
"It's devastating," he said. "I have pictures of my kids playing in the playground adjacent to Notre-Dame."
He and some members of the board conferred and quickly decided the orchestra should do something.
Ten percent of Montclair Orchestra's ticket sales will benefit the French Heritage Society, a society that maintains French heritage through building restoration and other projects, for its Notre-Dame Restoration Fund.
On its website, frenchheritagesociety.org, the group writes that "protecting the architectural legacy of France is at the very heart of our mission." At the time of writing, they have raised more than $224,000, from people in 39 countries.
CULTURAL ROOTS GO DEEP
Programming a French concert is not unusual, said Music Director David Chan. "There was a time where the most educated, learned and artistic people were French. Many people
studied or lived in Paris for a time.
"The worldwide reaction to the fire bears that out. Such worldwide emotion shows how much French cultural roots have stayed with all of us."
Montclair Orchestra's French concert was always designed to be different from a typical French concert, which usually focuses on Impressionist composers such as Debussy and Ravel, Chan said.
Instead, Montclair Orchestra programmed  "Les nuits d'été," a song cycle by Berlioz, an early romantic; the Symphony in C by a 17-year-old Georges Bizet; and Symphony No. 60 "Il Distratto" by the Austrian composer Joseph Haydn. Haydn's piece was composed to accompany the French play "Le Distrait," by Jean-François Regnard.
________________________________________________________________________
READ: MONTCLAIR ORCHESTRA CELEBRATES GEORGE WALKER
_______________________________________________________________________
The Berlioz is particularly appropriate now, Chan said. It is a cycle of poems written by Théophile Gautier set to music, which begins with a bright, youthful love, then has a love filled with despair and death, then shows renewal. Baritone Yunpeng Wang will perform.
Like Weker, Chan has visited Notre-Dame many times. He co-founded the Musique et Vin au Clos Vougeot festival, a 10-day festival in the Burgundy region of France, in 2008. Since then, he visits Burgundy about three times a year, and often visits Paris. "So many people are so motivated right away to see it rebuilt. It's not a matter of if, but when and how," he said.
For Glaser, who was in a coffee shop with friends when she heard the news, the stupor of what people in France must have gone through was hard to imagine.
Though no lives were lost, and it was an accident, not an attack, for French people there were reverberations of 9/11 as they watched a building in the heart of the city come down.
"It's there, and you think it will always be there."
And the response has been heartening, she said. "We were all very touched, all French people, to receive so many messages of support. It reminds us that there is such a strong support and relationship between the French and American people."