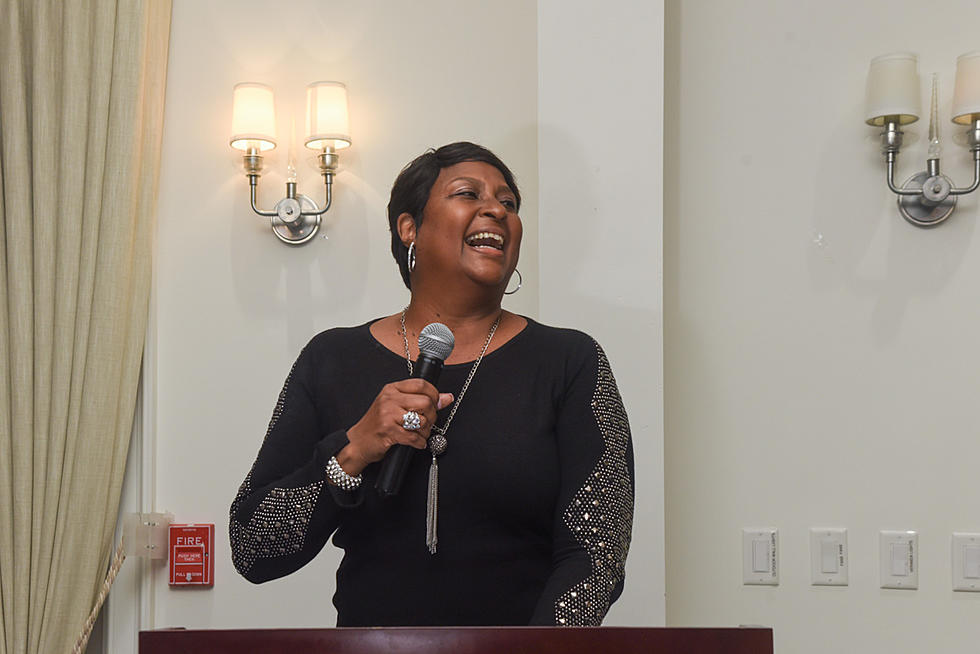 One Hundred Club honors service to Montclair
Retired Montclair Police Department Detective Kim Nelson-Edwards was awarded the 2021 Giblin and Gardner Community Service Award during the 56th Annual One Hundred Club of Montclair Awards, Wednesday, Dec. 1. (ADAM ANIK/COURTESY THE ONE HUNDRED CLUB OF MONTCLAIR)
The One Hundred Club of Montclair held its 56th Annual Awards ceremony Dec. 1, honoring former Montclair Deputy Fire Chief Louis F. Luibil Jr. and retired police Detective Kim Nelson-Edwards.
Luibil was posthumously awarded the 2020 Giblin and Gardner Community Service Award, named in honor of former Montclair Police Chief Edward Giblin and former Fire Chief John Gardner. Luibil died of complications from COVID-19 on April 7, 2020 at the age of 89. 
Luibil graduated from Montclair High School in 1949 and served in the Korean War from 1951 to 1953, according to a Dec. proclamation by the Montclair Township Council congratulating him for the honor from the One Hundred Club. When he returned from active duty, he joined the Montclair Fire Department in 1954, where he began to move through the ranks. He became lieutenant in 1963 and deputy chief in 1980. 
Luibil was responsible for introducing the home inspection program instituted by the Montclair Fire Prevention Bureau and taught fire safety courses to all ages, the proclamation says. He also taught courses on drill preparedness, institution safety and equipment management in colleges, schools, local businesses and hospitals.
-- Talia Wiener. Photos by Adam Anik
Luibil was also involved with several community organizations, including the YMCA of Montclair, the St. Sebastian Society of Montclair and the Lions Club, according to the proclamation. 
Nelson-Edwards was awarded the 2021 Giblin and Gardner Community Service Award. 
Nelson-Edwards began her career as a parking enforcement officer in 1995 and became a patrol officer in 1997, according to another Dec. 7 proclamation by the Township Council. In 2001, she began working as a school resource officer at Montclair High School. She retired in 2018.
Nelson-Edwards is a 14-year breast cancer survivor and was an adviser for Montclair High School's Breast Cancer Awareness Club, the proclamation says. She raised money and awareness about breast health to the young adults in the community through her non-profit organization.
She was also involved in the American Cancer Society, the Susan Komen Foundation, the National Organization of Black Law Enforcement Executives and the Redliners Motorcycle Club.