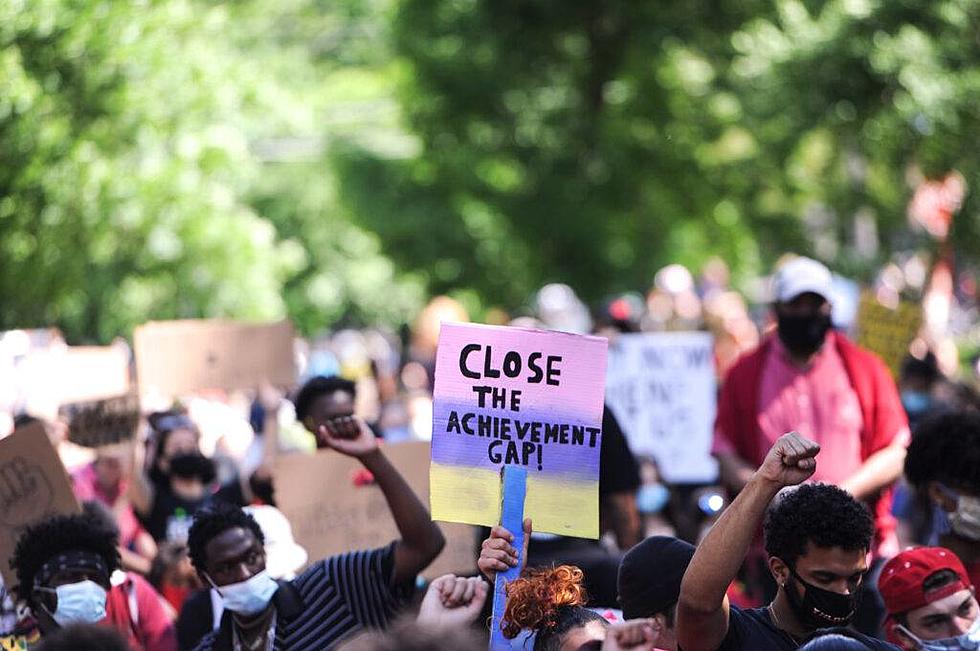 Opinion: Students amplify anti-racism demands
by ALIYAH ANDREWS, ISIS AREVALO, MIKEE ELLIS and GENESIS WHITLOCK
Special to Montclair Local
This piece is part of our "Town Square" opinion essay section. The writers are organizers of Black Lives Matter Montclair.
Over the past few months our community has shown an overwhelming amount of support for the Black Lives Matter movement. To maintain this momentum, we are expanding on the demands that were advocated for at the Unity Walk organized by Black Lives Matter Montclair. By addressing these demands we are taking the primary steps to obtain justice for Black students in Montclair:
Demand 1: Desegregate our classrooms 
Montclair High School prides itself on diversity, but what value does diversity have if our students are separated by race and socioeconomic status in our classrooms? Due to the infamous tracking system that disproportionately impacts Black and brown students, POC are placed in less challenging courses regardless of skill level.
We demand the desegregation of our classrooms and the adoption of an integrated learning system. By implementing an integrated learning system, marginalized students will not be restricted by the classes they were placed in during middle school. Montclair will be able to follow through on its integration policies like Policy 2260, which states: "Attaining minority representation within each school, which approximates the district's overall minority representation. Exact apportionment is not required, however, the ultimate goal is a reasonable plan achieving the greatest degree of racial balance, which is feasible and consistent with sound educational values and procedures."
By having more racially integrated classrooms, we are lessening the achievement gap that disproportionately impacts Black students. As students who are committed to seeing justice at Montclair High School, we look forward to both working with the new superintendent and being centered in the conversation of creating more classrooms that reflect integrated learning.
Demand 2: More Black teachers and leadership within the district
The town's past actions do not reflect equitable representation of marginalized people. We demand that the board recognize the need for Black leadership within the Montclair Public Schools.
District Policy 1140-Affirmative Action Program, addresses the district's responsibility to both value and acknowledge the diversity of Montclair. "The board's affirmative action program shall recognize and value the diversity of persons and groups within society and promote the acceptance of persons of diverse backgrounds regardless of race, creed, color, national origin, ancestry, age, marital status, affectional or sexual orientation, gender, gender identity or expression, religion, disability, or socioeconomic status."
For students of color, it is important for the staff to reflect the racial diversity of the student body. District Policy 1140-Affirmative Action Program further addresses the importance of maintaining effective and non-discriminatory hiring practices. "The board shall develop a comprehensive equity plan once every three years which shall identify and correct all discriminatory and inequitable educational and hiring policies, patterns, programs and practices affecting its facilities, programs, students and staff."
Hiring more Black teachers can enhance the relationship between Black students and the Montclair school system. Black students need to be accurately represented by district leaders in order for their hardships within the Montclair educational system to be heard and addressed in a meaningful manner.
The board must have the intention of honoring our diverse schools and match our community's devotion to create an equitable educational system.
Demand 3: Dismantle the Eurocentric curriculum 
Our district, like many others across the nation, presents a historical narrative that celebrates our country as the pioneer of freedom, prosperity and equality.
However, as many students and community members reflect on our history, we have been forced to recognize themes such as racism, colonialism and imperialism, as roots from which modern racial, gender and class inequalities have stemmed. These evils are overrepresented as virtues in our classrooms.
In addition, the space used to celebrate our flawed history often eliminates the opportunity for students to learn about and embrace the multicultural foundation of our country, pushing our diverse generational history into obscurity. As detailed in District Policy 2260, "The Board of Education shall ensure that the district's curriculum and instruction are aligned to the state's Core Curriculum Content Standards… by… ensuring that schools demonstrate the inclusion of a multicultural curriculum in its instructional content, materials and methods, and that students understand the basic tenet of multiculturalism [and] ensuring that African American history, as well as the history of other cultures, is infused into the curriculum and taught as part of the history of the United States, pursuant to N.J.S.A. 18A:35-1 and the New Jersey Core Curriculum Content Standards."
Without integrating a multicultural perspective into the district curriculum, the district falls short of not only truly recognizing and reflecting the diverse nature of its student body, but it also fails to prepare its students to become critical thinkers and analysts of the world around them.
The district must commit to actively dismantling the Eurocentric curriculum, which may include a variety of efforts, from circulating literary works written by Black authors to shifting the neutral perspective within world and U.S. history courses to one far more critical, in order to center a rich diversity of student histories, cultures and communities.
Demand 4: Training on anti-racism and cultural competency
Students have recently been coming forward to share their personal experiences with racism at school through social media, at local protests and at events regarding the Black Lives Matter Movement. These experiences range from alumni that attended Montclair schools in the early 2000s to present-day Montclair High School students. This large timeline highlights the lack of accountability for teachers that have perpetuated racism within the district.
We demand the requirement of teachers to be trained in anti-racism and cultural competency to guarantee that classrooms are safe learning spaces for all students. District Policy 0263.1 requires the board to "... provide professional and staff development opportunities and resources to facilitate awareness, knowledge and skills in anti-racism education."
When racism is perpetuated in our classrooms, whether it is by a teacher or student, the responsibility should not be on the students of color to navigate these situations. Although teachers are "required" to attend Undoing Racism training, many students have shared that some teachers have announced they don't take them seriously or have even not attended these sessions.
Granted there are many teachers who actively ensure that racism has no place in their classroom, it is vital to require teachers and other staff members to take anti-racism and cultural competency training.
In a community that is not immune to systemic racism, having racially neutral teachers is not enough. We need all of our teachers to be anti-racist and actively working to dismantle the structual racism within the Montclair education system.
Demand 5: Changing the culture
Montclair's past attempts to change the culture around racism have often led to tokenizing marginalized groups, rather than creating dialogues for our voices to be centered. We demand that the board host dialogues addressing how structural racism is perpetuated in Montclair.
Overt and covert forms of racism are often dismissed due to the lack of awareness and education on these issues. Students and staff members must first learn the complexities of structural racism in our community before having open dialogues on how racism impacts our school's culture.
One way the district can approach this conversation is by sponsoring programs/initiatives that are designed to further educate students on racial injustices as stated in District Policy 0263.1: "Learning resources will present a wide variety of historical and cultural perspectives, and also reflect the diversity of the students and communities of the district. Learning resources will be used to teach students how to recognize and address racism, prejudice, stereotyping and discrimination."
District leaders, teachers and students must learn the appropriate vocabulary and historical context of racism, along with its relationship with our educational system, in order to have productive conversations about the effects of racism on the student body.
It is important for students to learn how to express their beliefs in an effective manner before having these conversations. District Policy 2132 reinforces this idea by stating: "The board accepts the responsibility… to guide every student's growth toward becoming a self-respecting individual who can effectively function politically, economically and socially in a democratic society." These traits are necessary for students to begin their journey of understanding how racism impacts both their personal communities and our town as a whole. This is one of the many essential steps to help shift Montclair's limited perspective on racism and its impact on our community.
We hope to engage in more open dialogues about racism with the community, so we ask that the board not only sponsor our initiatives, but make every effort to engage our community as well. District leaders have recently demonstrated a desire to dismantle structural racism in the Montclair school system. We're sure that we will be able to work with the board to address our demands and enact change in our educational system. Our demands are only the first step to seeing justice for Black and brown individuals in our community. This will not be a moment, but a movement, so stay committed and be on the lookout for more calls to action!