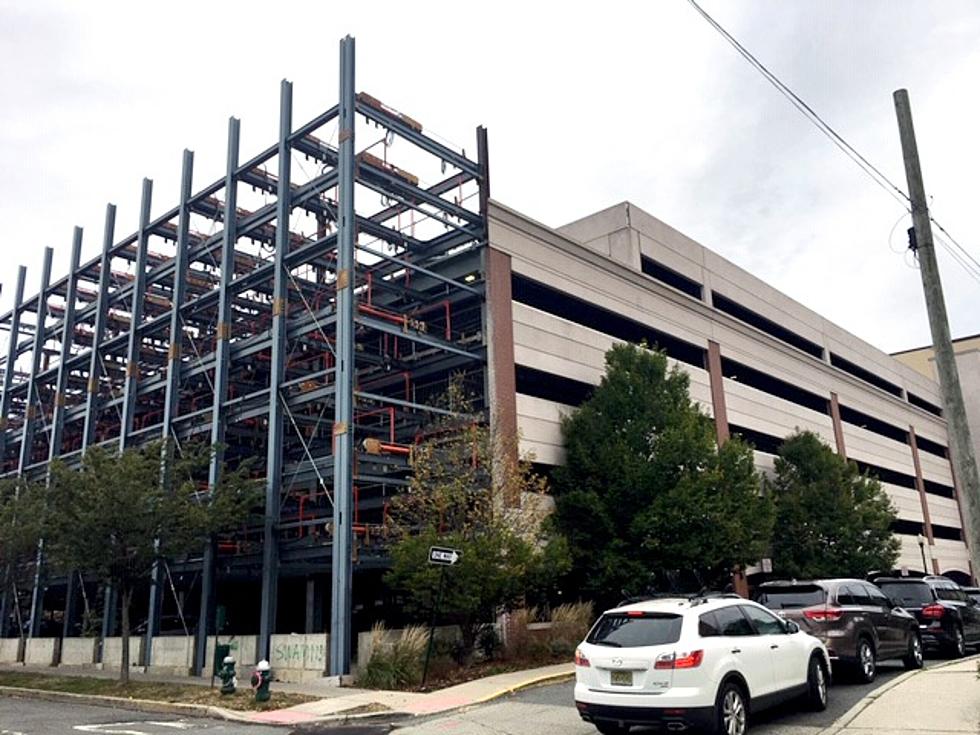 Underutilized? Developer's experts say Orange Road garage only at 56%
The Orange Road Garage is not being used to full capacity. JAIMIE JULIA WINTERS/ STAFF
BY JAIMIE JULIA WINTERS
winters@montclairlocal.news
Although residents complain of the lack of parking in Montclair, the Orange Road Garage is apparently underutilized, and spaces required to be reserved for neighboring Valley and Bloom residents are not being used to capacity, according to reports filed by the developer's parking expert for the proposed MC Residences.
The 46-unit project proposed for 33-37 Orange Road next to the garage requires 96 parking spaces by code: 87 for the dwelling units, nine for the retail component. Instead of installing a stacking system at MC Residences, the applicant proposes to provide 96 parking spaces with 38 on-site and moving the additional 58 to the adjacent Orange Road parking deck.
The deck currently provides 614 parking spaces for Valley and Bloom residents, MC Hotel occupants, the Board of Education and neighboring businesses and offices. With valet and a vehicle stacking system, the garage can hold up to 760 cars. Current use is at 56 percent, according to a review based on updated information provided in October by the applicant by Minno Wasko, ProPark Mobility and Langan Engineering.
According to a traffic study conducted in October for the 258 units at Valley and Bloom, the three-year average is .95 vehicles per unit, and the developer has committed to 119 set aside for those residents. The report argues that the MC Residences requirement is almost twice the usage, leaving many reserved spots unoccupied. 
In October, MC Hotel and MC Residences developer Brian Stolar told planning board members that there is currently a "substantial amount of empty space" in the Orange Road Garage.
The developer's experts contend that with the use of a stacking system and valet parking, 168 spaces will be available for additional public parking or to accommodate future growth. 
"Parking demand is declining as car share services such as Zip Car and transportation services Uber and Lyft continue to grow and eliminate the need for owning a car for many... Bike share and enhanced mass transit have also added to decline in parking demand. Garages will continue to be underutilized over the coming years as demand evolves to... transportation alternatives," the report reads.
The hotel requirement is at 231 with 123 reserved at all times, while 78 were set aside for BOE and public use, per an agreement with the town and the developer. The town however, leased 30 spaces back to the developer for about $52,000 annually, bringing the number of spaces reserved for BOE and public down to 48.
An evaluation of parking inventory conducted on Oct. 22 and Oct. 25 have counts ranging between 299 and 345 vehicles at peak times. According to a traffic report, 345 cars occupied the garage on the busiest day in April, before the hotel was open, but when construction workers were using the garage.
The applicant has indicated that Orange Road parking deck capacity can be maximized using valet attendants to park cars in a double or triple tandem fashion. For example, a typical parking level in the garage with 83 self-park spaces can be increased to 123 spaces if valet attendants park vehicles in a tandem fashion and/or park cars in the driving aisles. In addition, automated "Lift & Slide" machinery is currently being installed on the west face of the garage that will increase the capacity of the parking deck by an additional 116 spaces when operational. 
"It is important to note that Orange Road parking deck utilization is tightly controlled by the garage manager (ProPark). An interview conducted with ProPark's on-site manager indicated that a 'lot full' sign is posted on a fairly regular basis in order to discourage transient / public parking activity. The intent of this strategy is to preserve an adequate number of vacant parking spaces in the deck in order to accommodate Valley and Bloom resident parkers as they return home from work," according to the report.
Thirty of MC Residences' on-site spaces would be self-parking, two would be handicap spaces, and one would be a car-share spot, which actually takes up six spots, engineer Kevin Webb said. 
Tenants would pay an extra parking fee to get a spot under the building and would be granted an on-site spot on a first-come, first-serve basis. Residents with parking permits for the Orange Road Garage would not have assigned spots, but would be able to park in the 58 spots set aside for them.