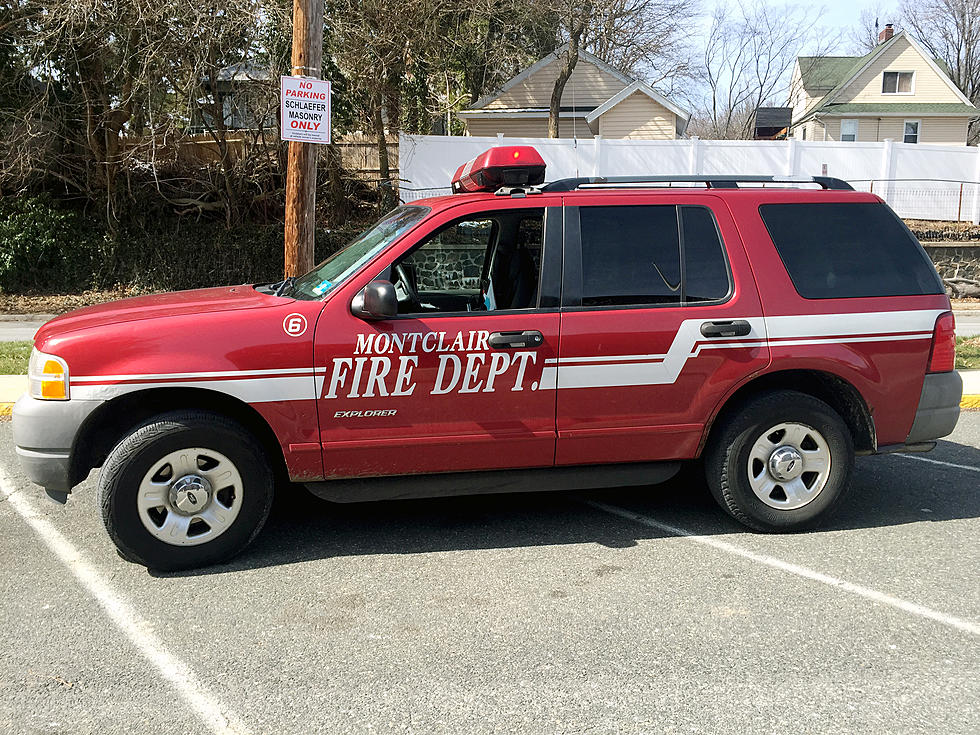 Attorney will investigate Black Montclair firefighters' claims of racial bias in promotions exam
LINDA MOSS / FILE PHOTO
This story has been updated to reflect more comments from council members, and details on recent and past promotional exams.
By LOUIS C. HOCHMAN
hochman@montclairlocal.news
The Montclair Township Council will hire an outside attorney to investigate two Black firefighters' claims that a new scoring rubric for a recent promotional test was deliberately stacked against them to favor other candidates, Councilman Peter Yacobellis said Friday.
Yacobellis is one of three council liaisons to Montclair's Civil Rights Commission. The commission and the Montclair chapter of the NAACP both demanded an investigation this week, after the groups were contacted by the firefighters and made aware of their allegations.
"It's my understanding that this isn't the first time accusations like this have been raised, whether formal or otherwise. And what I'm concerned about here is whether we have ourselves a textbook example of structural racism," Yacobellis said in a statement sent to Montclair Local late Friday morning. "I certainly hope not. But we need an independent, comprehensive investigation to draw a conclusion one way or the other. Personally, I think it would be inappropriate to promote anyone until this is resolved."
Montclair's fire department — like other municipal departments — ultimately reports to Township Manager Timothy Stafford, and not the Township Council or mayor. But Yacobellis said because the manager would have been involved in the development of the exam, the governing body is hiring an outside attorney "to avoid a real or perceived conflict of interest."
Yacobellis said he'd been in touch with Councilman David Cummings as well as his fellow liaisons to the Civil Rights Commission, Councilman Bob Russo and Councilwoman Lori Price Abrams — and all had agreed to hire outside counsel. Price Abrams had previously told Montclair Local there was "widespread support" among council members for an investigation. Councilman Robin Schlager told Montclair Local Friday afternoon she's on board as well.
"It's not just that I support the investigation, I think it's imperative that we look into exactly what happened here," she said. "Allegations of this nature must be taken seriously."
Mayor Sean Spiller, in an email to Montclair Local late Friday, said only the matter will be thoroughly and appropriately investigated."
Yacobellis said he didn't know where Deputy Mayor Bill Hurlock stood on the matter. Montclair Local left phone and email messages with each council member and the mayor Thursday but hasn't yet heard back from Hurlock or Cummings; Russo was reached but not immediately available to speak.
Yacobellis said in his statement that since learning about the accusations earlier in the week, he'd spoken to colleagues, Civil Rights Commission members and NAACP members "in trying to understand not just the present situation but the historical context, too."
If the firefighters' allegations pan out, NAACP chapter President Roger Terry told Montclair Local in an emailed statement, "there appears to be a troubling pattern of violations of civil rights within the township management." Cary Chevat, communications secretary for the Montclair NAACP, said the chapter is also waiting for information about an investigation into a separate allegation that a "senior township employee" made racially insensitive remarks to chapter members.
The NAACP forwarded the firefighters' concerns to the Civil Rights Commission as soon as it learned of them, Terry said. Christa Rapoport, chair of the commission, told Montclair Local her group would have jurisdiction to investigate, but no resources to do so — and on Monday, she emailed council members with a demand an investigation take place.
"There are serious factual allegations being raised. Enough's enough. Why wouldn't you demand that?" she told Montclair Local.
Firefighters were scored on a 100-point rubric during recent promotional exams for captain, battalion chief and lieutenant ranks, according to a June 30 memorandum from Stafford that Rapoport provided to Montclair Local. Stafford told Montclair Local in an email Friday afternoon the most recent tests took place Sept. 3, and no promotions have taken place since.
But the firefighters allege the criteria in the most recent test were changed specifically to put them at a disadvantage.
Under the rubric as described in the June 30 memorandum, the firefighters aren't given any points for seniority. Both firefighters say they were always previously awarded points for seniority, and that they would have outscored other candidates if not for the change, Rapoport has told Montclair Local.
According to the memorandum, there are 25 points for a written examination, 25 for an oral exam, 35 for a "practical evolution demonstration" in which a candidate demonstrates skills and information for responding to a scenario, and 15 for the candidate's job performance history.
A firefighter who took a promotional exam in 2010 showed Montclair Local a scoresheet from that test Friday. It appeared to award up to 50 points for a written test, up to 45 for an oral test and up to 5 for seniority. The firefighter said he believed that was the last promotional exam offered before this year. The tests are "few and far between," he said.
Rapoport said the firefighters allege they were penalized for decades-old minor discipline matters for the first time, as well as for absences — including ones for medical purposes taken after giving advance notice, she told Montclair Local.
"Discipline from 20 years and 30 years was selectively considered to negatively impact promotional scores only of African American candidates," Rapoport wrote in her message to township officials, describing the allegations. "This action has had a disparate impact on these candidates. Acquiescence by the town human resources manager should be examined."
Montclair Local has asked Stafford for more information about the exams, including details about previously used scoring rubrics and the names and scores of those tested, and submitted a formal public records request for related documents. Stafford, in his message to Montclair Local Friday, said matters covered by the public records requests would be handled as such "in the normal course;" a public entity has up to seven business days to respond to an Open Public Records Act request.
Rapoport's email to the township also says the firefighters allege "inadequate administration and supervision of the examination." She told Montclair Local at least one firefighter says he was tested based on his responses to a hypothetical scenario, but given information on a different scenario than the one used for evaluation.
"[The allegation is that] the African Americans were given the wrong scenario and then graded on that. How does that happen?" Rapoport said to Montclair Local. "These are all allegations that have to be confirmed."
And the firefighters allege Montclair's fire chief, John Herrmann, failed to "recuse himself from his son's Montclair Fire Department promotional activities," Rapoport said in the email to township officials.
Herrmann has not yet responded to a phone message left Thursday morning.
Under a contract between the township and Montclair Firefighters Mutual Benevolent Association Local 20, the union is to be provided with promotional examination scoring procedures at least 60 days before exams, but the township manager maintains the right to establish criteria and make promotions. The contract does require the township to give "due consideration" to objections or suggestions the union may have about exam procedure.
(Note: An earlier version of this story referenced a contract that went through 2020, noting no more recent contract was available on the township's website. Township Communications Director late Friday provided a copy of a newer contract lasting through 2027 with similar terms.)
The Local 20 president, Kevin Stoute, said he couldn't comment on the matter.
Yacobellis, in his statement, noted the township this week received its first-ever perfect score on the Human Rights Campaign's Municipal Equality Index, evaluating protections and services for LGBTQ populations. "It saddens me that in the same week and in the year 2021, we still have to ask ourselves and investigate if this town's laws and policies afford our residents and employees of color full equality in law and policy," he said.
"But investigate we will and with zero reservation, I want residents and employees of color to know that I will advocate for whatever changes we must make in law, policy or application of policy to make sure lived equality in Montclair matches legal equality and, frankly, matches the values that I know the majority of this town holds."