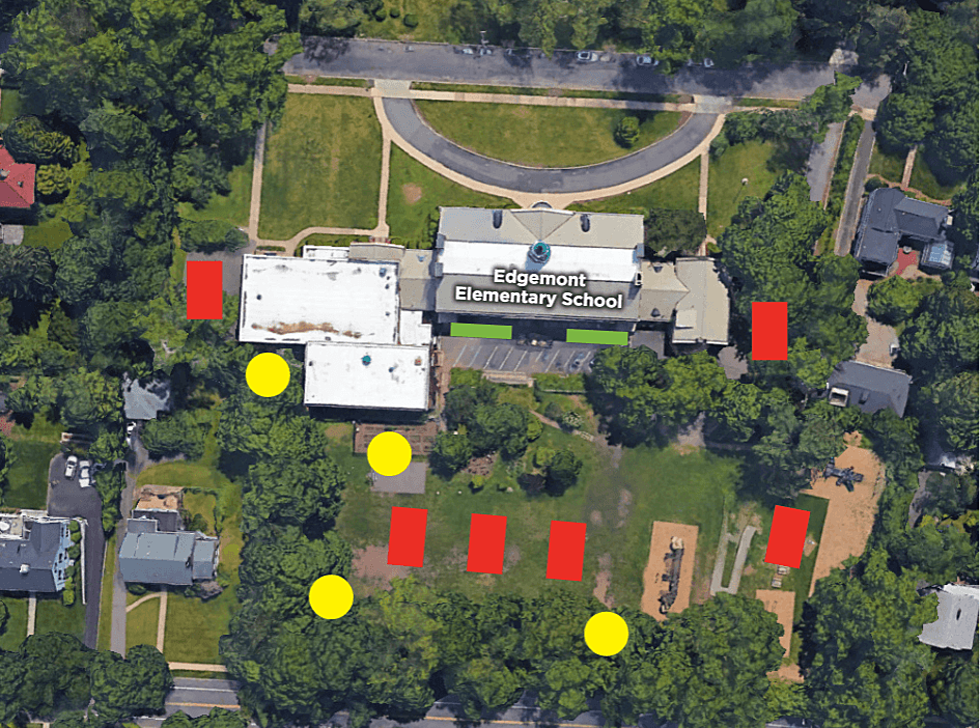 Parents suggest district look into outdoor classrooms at schools during COVID-19
PHOTO COURTESY FAYE LEDERMAN A photo diagram shows how outdoor learning spaces, with tents, open-air spaces and grab and go lunch spots, could be set up at Edgemont.
By ERIN ROLL
roll@montclairlocal.news
Could outdoor classrooms be one possible solution for Montclair's needs during COVID-19? A group of parents at Edgemont School thinks so. 
Last year, before COVID-19 was even a thought, parents and the PTA at Edgemont began planning an outdoor classroom project. Then the virus hit. 
This June, parent Faye Lederman said the Edgemont parents realized they could pivot from one outdoor classroom to more, to accommodate students outside. 
Edgemont received a $2,000 grant from Sustainable Jersey, and the PTA raised $15,000 to purchase six tents, each capable of holding 20 students. The PTA also ordered six rolling whiteboards and some hand-washing stations. Principal Jeffrey Freeman approved, the group said. 
Now the group has presented a proposal for the township's elementary and middle schools to implement outdoor classrooms. 
"Why can't Montclair, which prides itself on being a forward-thinking town, being innovative and creative, have this?" Lederman said.
The group's proposal states: "Outdoor classrooms are the solution to maintaining the hybrid model initially proposed by Montclair Public Schools. The proposed outdoor classrooms would address the ventilation issues by cutting class size by 50 percent, with an estimated implementation cost of less than $75 per student." 
Under the plan, 50 percent of each school's students could be outside, in specially outfitted classroom areas on school grounds. The proposal also includes heat lamps that could be used in cooler weather, and asks families to send their children to school with rain gear. Clothing drives and other collections have been discussed as ways to get outdoor clothes for children.
The proposal includes satellite images of school grounds, with points showing where tented classrooms could be set up, along with open-air teaching areas and grab-and-go lunch points. 
In a letter sent to families in June, Superintendent Jonathan Ponds said that outdoor classrooms were among the options being considered by the district. 
Finland, Sweden and other countries, citing the mental and emotional health benefits of spending more time outdoors, have had the "forest school" concept for many years, in which students spend part of their school day learning outside. The United Kingdom has its own forest school movement as well. 
Lederman said it is also about bringing joy back into children's lives, which she said is very much needed after the stresses of COVID-19. 
Equity is also an issue: "Once the school goes fully remote, you wind up with inequity issues around wireless access, access to a sufficient number of devices in each home, and huge problems around the need for intense parent involvement and supervision in order to make remote learning even mildly doable," she said. 
The proposal still needs to be presented to the Board of Education and the district. However, Lederman said the group was optimistic, noting that teachers and parents from other township schools have started to reach out. 
Families who wish to get involved or learn more can go to montclairoutdoorlearning@zohomail.com. 
CORRECTION: The print version of this story had an incorrect email address listed for families who wished to get involved.