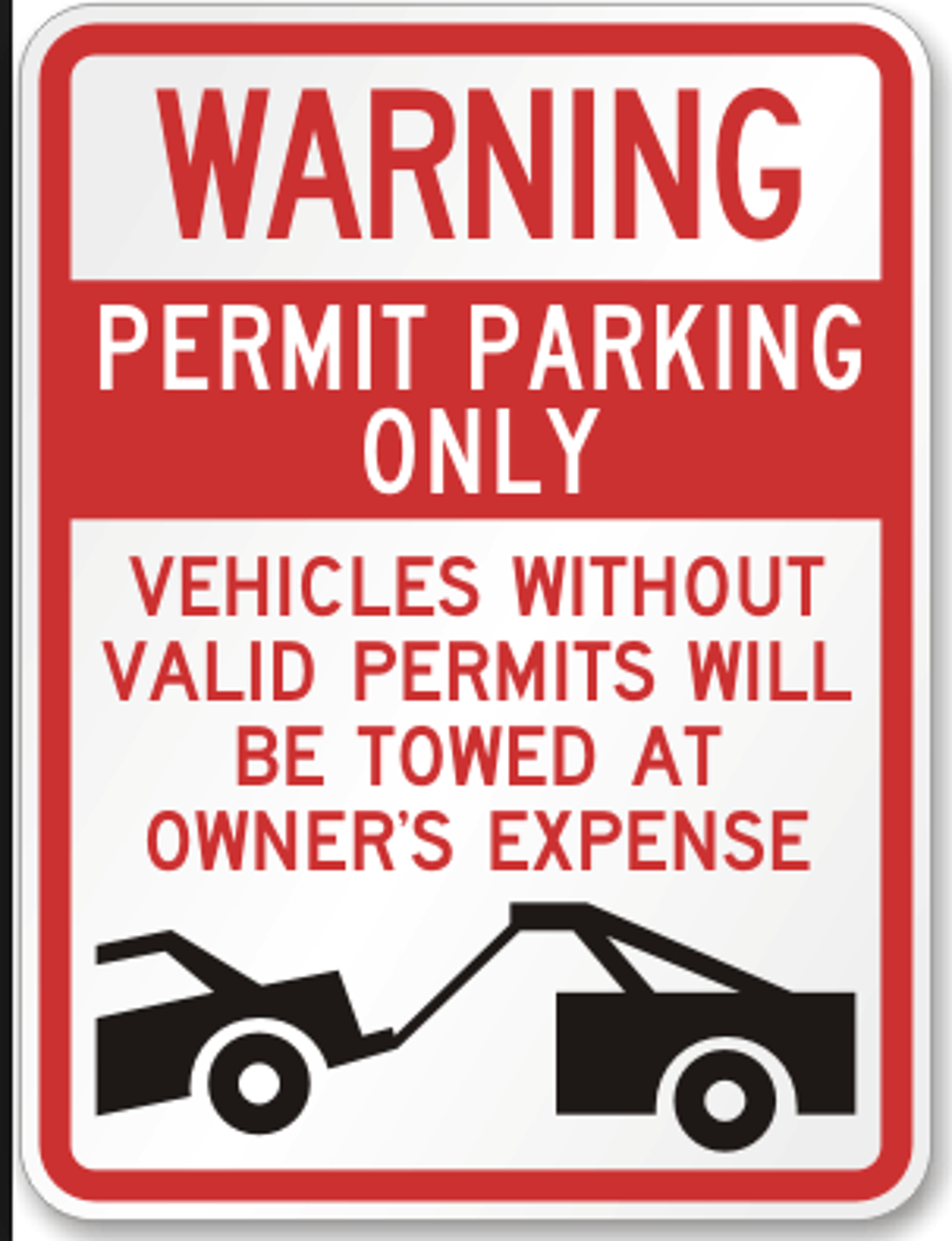 Montclair deals with fake parking permits, valet regulating
Parking permits are such a needed commodity in Montclair that some are creating forgeries.
Courtesy mypakingsign.com
BY JAIMIE JULIA WINTERS
winters@montclairlocal.news
Parking permits are at such a premium in Montclair that people are forging them, according to township officials.
"Sadly this is occurring more and more," confirmed township manager Tim Stafford.
Currently all of Montclair's parking decks have a wait list, with some residents waiting up to two years for a permit. Permits range from $50 to $80 a month, with some going as high as $100 a month next year.
So far, enforcement officials have discovered 10 permits that were found to be fraudulent, said Katya Wowk, township communications director.
Enforcement officers noticed inconsistencies on the fraudulent permits that led them to suspect that they were forged. Upon checking the town's database that matches a car's license plate to its permit, they found that the permits were indeed fakes, said Wowk.
Parking Authority Director Gary Obszarny told township officials in February that residents were unhappy with the waitlist for permitted spots, with those lists numbering up to three times the number of spots the town has to offer, especially at the Bay Street deck.
"If two more parking decks are built, I will fill them up tomorrow," said Obszarny.
Parking authority officials said the permits were created using some sort of computer graphics software.
The permits were confiscated and the offenders were issued parking summonses, according to Wowk.
"The enforcement officers are being extremely vigilant after making this discovery of approximately 10 such fakes," said Wowk.
At the next council meeting set for Tuesday, June 25, the mayor and council are expected to discuss designing specific penalties for the creation of counterfeit parking permits.
And the parking utility is in the process of evaluating license plate recognition systems, which read plates and match them to permits, eliminating the need for a hard copy permit, according to parking authority officials.
The township attorney will also be investigating regulating meter rentals used by some business establishments in town to create valet parking zones. The town currently does not offer valet parking permits, said Wowk. Instead businesses can pay to have the meter bagged for the day to set aside a parking spot for loading and unloading.
Councilwoman Renee Baskerville said she was concerned with unauthorized use of valet parking pointing to three restaurants on Glenridge Avenue. Those restaurants offering valet parking include Fin Raw Bar & Kitchen at 183 Glenridge Ave., the Crosby at 193 Glenridge Ave. and Saluté Brick Oven Bistro at 173 Glenridge Ave. All three are owned by restaurateurs Gerry Cerrigone and Robert Gaccione.
Those seeking to use metered spots for valet parking or other purposes pay the parking utility the full price of using the spot for a day – $20. There are no limitations set for allowance, time or days of the week, number of days, number of occurrences, or locations, said Wowk. All applications to "bag a meter" to set it aside are processed through the parking utility. It does not have an approval process, said Wowk.
"The parking utility doesn't offer a valet parking permit. If someone wants to pay for a spot for the day, the cost is $20," she said.
According to parking utility officials, Saluté purchases two spaces for valet use on Friday and Saturday, while the Crosby purchases two spaces, which they share with Fin, on Thursday, Friday and Saturday.
Attorney Ira Karasick said he will look at other town ordinances regulating valet parking and day-long parking space use.
In Fort Lee, the parking authority may designate an on-street curbside valet parking zone for specific days and hours upon the request of any business or businesses if the authority determines, based on its review, that a particular valet parking zone is necessary and justified by traffic conditions. Existing parking regulations and controls at the proposed location, the existing property uses at the location, the presence of other valet parking zones in the area, are considered in approving a valet parking plan. The fee is $1,500 a year and $100 for each space taken away for the valet parking.
Ridgewood allows for valet parking, but regulates it to loading zones and within the hours of 5 p.m. and 3 a.m. Permits are $1,000 a year, plus a fee for bagging the meter if applicable.
New Brunswick requires, on top of fees, that a commercially licensed valet vendor be hired by the establishment.