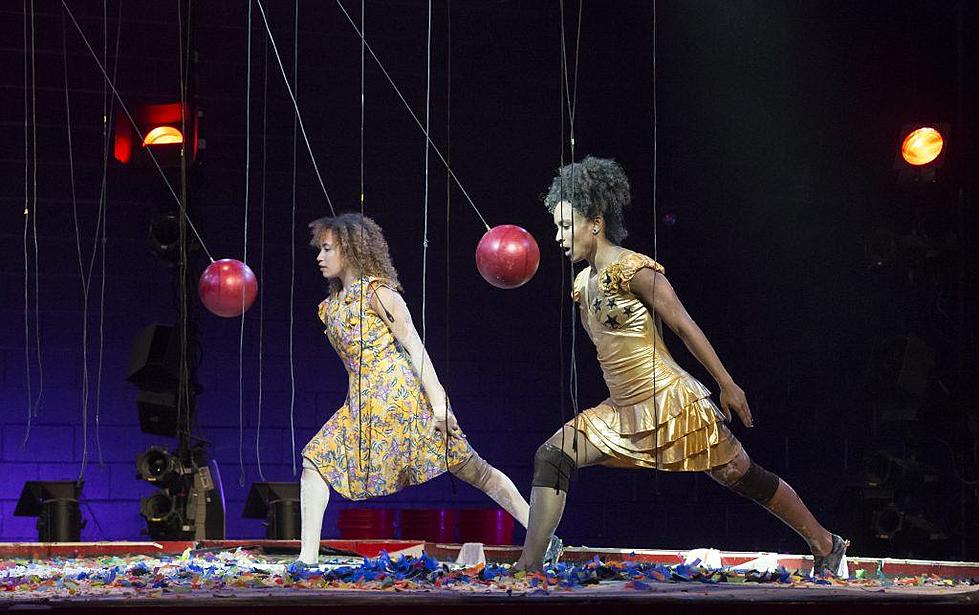 Performance review: Captivating work of Bogart and Streb in 'Falling and Loving'
Brigitte Manga and Luciany Germán perform in "Falling & Loving." COURTESY MARINA LEVITSKAYA
By ELAINE MOLINARO
For Montclair Local
Acrobatic dancers challenged gravity in Elizabeth Streb's extreme action choreography and tragicomic actors from director Anne Bogart's SITI company enlivened Charles Mee's love sonnets in "Falling & Loving," which opened Peak Performances' 2019-2020 season last week. The collaboration between Streb and Bogart was the first-ever for the two influential  revolutionaries of avant-garde performance. Mee, known for his collage-like works, has collaborated with Bogart before, as well as with Mabou Mines.
As it begins, six actors, of middle age or more, enter and form a line upstage, facing the audience, joined by six mostly very young, 30- or even 20-something dancers. A "Gunk Machine," a contraption conceived by Streb, hung over a trampoline. This machine features hanging strings which when pulled open buckets that pour a variety of materials including white powder, streams of various colored paint and iridescent confetti over the stage and the performers. As the cast step onto the platform in unison, the kinetic action began: to a score of dissonant drums and beats, sequences of dancers catapult themselves into the air, landing by slamming their bodies fully flat on the ground. These leaps alternate with the actors performing Mee's humorous and yearning love sonnets as monologues or dialogues.
But what do exploding dancers and longing actors have to do with one "falling and loving?" It becomes clear when a tall, bearded actor in a jumpsuit exclaims "I think I fell in love with him and I mean I fell in love with him like the first time I saw him." A dancer who pitches himself straight backward, harrowingly falling flat on his back, embodies the unhinging experience of falling in love at first sight. The messiness of performers being doused with falling black paint mirrors the dark descent into the recriminations of quarreling lovers falling out of love.
________________________________________________________________________
READ: DANCE REVIEW; FAYE DRISCOLL CUES THE AUDIENCE
READ: PERFORMANCE REVIEW; PROVOCATIVE 'DEMOCRACY'
_______________________________________________________________________
In less skilled hands, the dance sequences and acted scenes could have become disjointed, but Streb and Bogart interweave their mediums with finesse. Dancers speak while playing love interests opposite the actors. Several of the older risk the same daredevil falls as their youthful dancer counterparts, just as we see their characters risk the heartbreaks of love.
Throughout the piece, actors and dancers alike walk a geometric pattern through a maze of dangling strings, which they continually pull to release showers of falling confetti, powder and paint. All the while, the cast must take care to avoid being hit by two swinging red metal balls as they become more and more covered by a grand finale of falling gunk.
Not everything worked: a projection on the back wall of the stage, filmed from above, perhaps intended to allow the audience to contemplate the action from multiple angles, seemed superfluous and confusing as the live images periodically froze. 
More interesting were the actors and dancers who had stepped off the platform but remained on the sidelines of the stage, often in love pairings from previous scenes, quietly watching the action. Their stillness offered a nice contrast to the frenetic stage action. The explosive jumps and falls of the dancers were thrilling, and many of the performances rousing, especially Ellen Lauren's rip-roaring portrayal of an outraged lover with her deep, resonant voice.  
By the end, as the performers tossed and rolled in mounds of gunk with frolicking joy, the audience was metaphorically covered from head to toe as well. Through Mee's words, Streb and Bogart's movement and staging captured how life and love are a messy maze. A wrecking ball looms, but the miracle can lift us up and allow us to defy gravity for a moment.