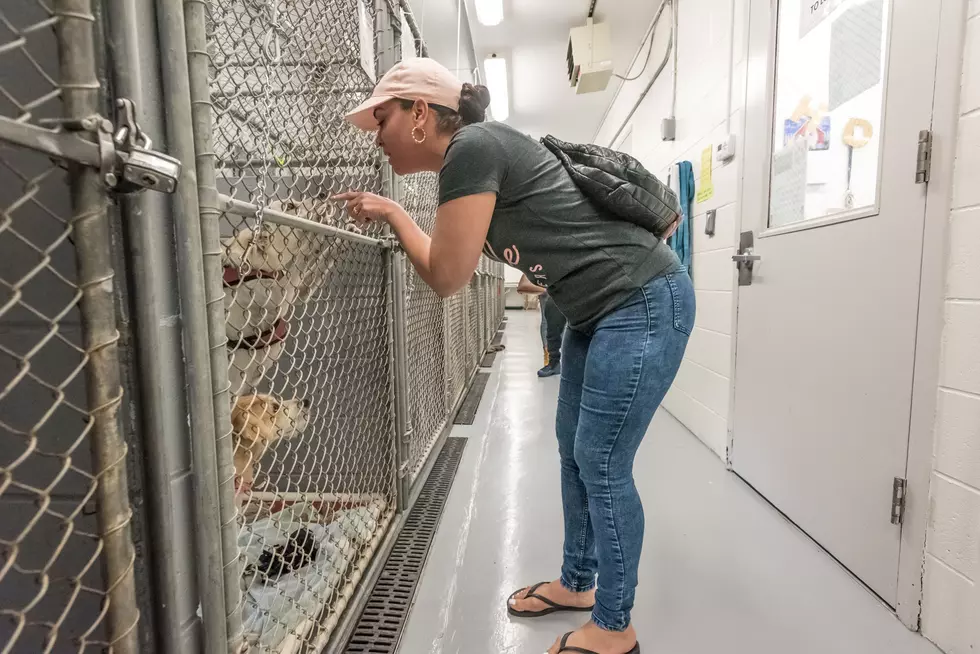 Montclair hosts special pet days in August
CLEARSHELTERS2 ESSEX MONTCLAIR 08/19/2018 Daisy Sanchez of Newark stops by one of the cages sheltering rescues from Puerto Rico. Montclair Township Animal Shelter National Clear the Shelters Bonus Day, Sunday, Aug. 18. MTAS attracts another steady stream of potential foster families after adoption fees on all adult cats and dogs are sponsored by the Friends of the Montclair Township Animal Shelter. PHOTO BY ADAM ANIK
Three events for pet lovers are coming to Montclair this August. CPAW will be doing mobile spaying, adoption fees will be waived at The Montclair Animal Shelter and Anonymous for the Voiceless is coming to town. 
CPAW holds spay day Aug. 27
CPAW NJ and People for Animals, Inc. will hold a Beat the Heat Spay Day for cats only, Aug. 27, 7  a.m. - 3 p.m. at the Acme Market parking lot, 510 Valley Road. A special discount of $45 will be granted to the first 20 Montclair residents who register by Aug. 15. Shots are not included or $30 for feral shots. Pre-registration required; cpawnj@gmail.com. 
National Clear the Shelters Day is Aug. 17-18
Montclair Township Animal Shelter, 77 North Willow St., is again participating in the NBC/Telemundo National Clear the Shelters Day. Adoption fees will be waived for all approved adoptions on cats and dogs ages one and older, during Saturday, Aug. 17, and Sunday, Aug 18. All animals are spayed/neutered and up-to-date on their shots.
Speak out for animals on Aug. 16
Montclair will play host to animal activists from Anonymous for the Voiceless on Friday, Aug. 16, from 6:30 to 9:30 p.m.
The event will be held on the sidewalk near Mundo Vegan Restaurant at 20 Church St. 
Anonymous for the Voiceless is an animal rights organization that specializes in street activism, advocating for people to switch to a cruelty-free vegan lifestyle. 
Activist stand in a cube with monitors wearing masks while other activists without masks stand by to answer questions.
Animal advocates with a variety of knowledge in animal welfare will be available to the public to discuss and answer questions on a variety of topics, including how we can end animal exploitation, the benefits of a plant based vegan diet, and how animal agriculture is a large contributor to climate change. 
For more information about Anonymous for the Voiceless visit their website anonymousforthevoiceless.org.