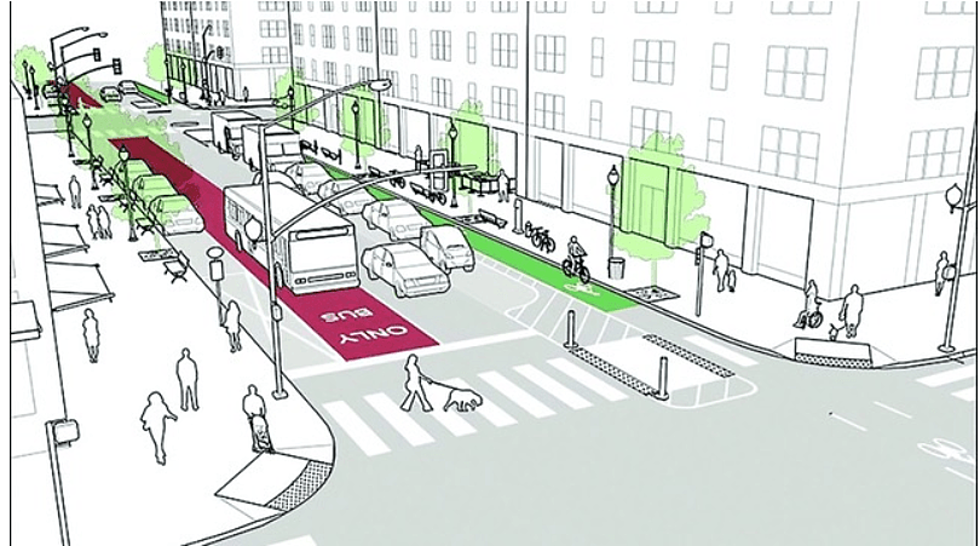 Planning board approves adding Safe Streets to master plan
COURTESY BIKE WALK MONTCLAIR Montclair's planning board has approved adding the Safe Streets implementation plan to the township's master plan.
By ERIN ROLL
roll@montclairlocal.news
Montclair's Planning Board has approved the addition of a Safe Streets Implementation Plan to the township's master plan, after 11 years of discussion and debate.
The implementation plan requires the master plan to take all roadway users — motorists, bicyclists, pedestrians and mass transit riders — into consideration when upgrading Montclair's streets or designing new infrastructure. 
The plan had been held up for three years as Planning Board members wrestled with language they felt went beyond guidance for bike paths and could be interpreted as a directive. 
On Monday the board agreed, 8-1, to amend the master plan's circulation component to include the Safe Streets Implementation Plan, but as a design guide, not as a directive.
The menu of options in the plan includes sharrows and dedicated bike paths for cyclists; a shuttle bus service to get residents to and from train stations; enhanced bus stops; streetscaping that improves circulation for motor vehicles; improved transportation options for Montclair State University students, and more illuminated signs at crosswalks.
Planning Board members, prior to the meeting, amended the document to make clear that all design aspects were suggestions only.
The plan will have to be applied on a case-by-case basis. "Proposals for street improvements that incorporate bicycle and pedestrian enhancements must be weighed against existing conditions, including but not limited to safety, convenience and parking considerations," the document reads.
The master plan will also include a preamble outlining the purpose of the implementation plan as a design guide, with a list of choices the township could follow, rather than a hard-and-fast list of steps that must be taken. 
On Tuesday, Janice Talley, the township's director of community planning and development, said the preamble will take the form of a resolution that will be adopted by the board and then incorporated into the master plan.  That resolution will be discussed at the next Planning Board meeting, Jan. 11, Talley said. 
The next meeting is scheduled for Jan. 11. 
Since 2009, Montclair has had a Complete Streets Policy that requires future roadway improvement projects to include safe accommodations for all, including bicyclists, pedestrians, transit riders and the mobility-impaired.
The township received a grant in 2016 to hire consultant NV5, which was tasked, with the aid of a steering committee, with drafting a plan to implement Safe Streets throughout Montclair. It was completed in 2017 with the intention of making it part of the master plan. Doing so would allow for funding for future streetscaping throughout town, Talley said. 
Safe Streets advocates had maintained that by not incorporating it into the master plan, pedestrian safety was not being addressed. 
Parents, longtime residents, business owners, members of township committees and representatives of community organizations such as Bike Walk Montclair, who spoke during the public comment period, voiced their support for Safe Streets. Speakers cited concerns such as public safety, environmental issues, equity for those who did not necessarily have access to a car, and potential economic benefits as reasons to back the plan. 
Jackie Mroz, the acting chair of the Pedestrian Safety Advisory Committee, said that over the years she had been concerned about one of her three children getting hit by a car when they went out to ride their bikes. 
Susan Craig, of the Senior Citizens Advisory Committee, said one member of the Pedestrian Safety Committee was struck and injured by a speeding car two years ago, and that member is still recovering. 
The plan has the support of the Montclair Police Department and the Montclair Environmental Commission. 
Montclair Police Lt. Stephanie Egnezzo sent a letter to the board explaining the police perspective. "As Traffic Bureau commander for the last 10 years, I have received and continue to receive complaints regularly about how difficult it is as a pedestrian to be able to bicycle safely around town," she wrote. 
Egnezzo said that while Montclair encourages its children to walk or bike to school, the township has not provided the best and safest means to do so. 
"Despite our best enforcement and education efforts, it cannot be done on enforcement and education alone," she said. 
One issue that has been discussed over the years is what the Safe Streets Implementation Plan would mean for parking in Montclair's business areas if parking was replaced by bike lanes. 
However, several of the speakers in the public comment section, including business owners, pointed to studies showing that improved access for bike and foot traffic actually helped increase business revenue. 
Debra Kagan said that the Essex-Hudson Greenway, which will eventually run along the old Boonton rail line between Montclair and Jersey City, will bring many bikers and pedestrians to visit Montclair. It is the town's responsibility to make sure they have a safe way to travel from the Greenway terminus near Bay Street Station to the center of Montclair, she said. 
Several speakers also noted that many people who live and work in Montclair rely on transportation other than cars to get to and from work, which represents an equity issue. 
"It was our goal to show that this was not a Bike Walk Montclair thing, a niche interest group," said John Sullivan of Bike and Walk Montclair. Everyone deserves access to safe, effective transportation, he said, adding that there is a direct correlation between street safety and quality of life. "Our streets are very, very frustratingly incomplete," he said.
Former Planning Board member Martin Schwartz, while saying that he was in favor of pedestrian and bike safety efforts, said Tuesday he had misgivings about certain aspects of Safe Streets, including a proposal for a network of bike lanes around Montclair. 
"What's missing is a demonstration of real resident demand for a full network of bicycle lanes everywhere as called for in the document to support traffic flow equity changes and space reallocations sought by cycling enthusiasts and advocates," Schwartz said.  
"We have no actual statistical evidence to show that a majority of our 37,000 residents and business owners really want the transportation changes called for, which then warrant spending millions of dollars in street reconstruction costs to accommodate redesigns proposed."    
The board members said that some of the concerns, during discussions, had been that not all of the items in the Safe Streets plan could be feasible for Montclair's streets. "Every street in Montclair is so unique, so different, that they have to be looked at individually," said Councilor Robin Schlager.
"Everything in the guide is a menu of options, and this truly is a design guide," board member Daniel Gilmer said. 
Board member Tony Ianuale cast the sole dissenting vote, with one concern being that the amendment could result in more traffic, and more kinds of traffic, on the roads. Additionally, he said, "If you separate the cars and the bikes, that would be better. This puts them together."